Frierson Becoming a Force at Striker
CORAL GABLES, Fla. – Gilbert Frierson will do anything to help the Miami Hurricanes.
The cousin of legendary Canes running back Frank Gore, Frierson grew up in nearby Coconut Grove, Fla., idolizing the University of Miami football program. When the opportunity to become a Cane arose, Frierson jumped at the chance and never looked back.
But the consensus four-star defensive back was not an instant star player at The U. Frierson began his career at cornerback in 2018 and spent most of the season on scout team, seeing action in just two games.
Frierson's career began to take off shortly after his debut season when Miami's coaches approached him about switching positions. At 6-foot-1 and 192 pounds, he was big for a cornerback, so Frierson was not surprised when he was asked to move to a new spot. But he was caught off-guard when the coaching staff asked to move him to striker – a hybrid position that is part safety, part linebacker and part nickel back.
"It was surprising hearing from them that they wanted me to move to striker," Frierson said. "[Safeties coach Ephraim] Banda used to always mess with me about it along the recruiting process, so that was the most shocking part about it. But it started from freshman year when I was on scout team, I started playing a little bit of striker and I started getting a feel for it and giving the offense a better look as a freshman. I think that rolled over into them having the idea to put me at striker for my sophomore year."
He's come a long way since first moving to striker in 2018. Frierson ranks third on the 2020 Canes with 18 total tackles, while his seven solo stops are tied for second on the team. He's also made an impact beyond the line of scrimmage, recording a team-best six tackles for loss. Frierson also has a pair of pass breakups, a forced fumble and a fumble recovery through four games this season, showing he can be a versatile athlete on defense for Miami.
Last Saturday against No. 1 Clemson served as Frierson's emergence on the national stage. The redshirt sophomore had six tackles, three for loss, a fumble recovery and a pass breakup on the road against the Tigers, earning the praise of his coaching staff.
"Gilbert was awesome. Gilbert Frierson was maybe our best player on defense," head coach Manny Diaz said following the game.
Defensive coordinator Blake Baker believes Frierson plays a huge role in making Miami's defense effective.
"Gilbert played outstanding on Saturday night," Baker said. "It was probably his best game since I've been here. He is fun to coach. He is smart and very instinctual. He understands what offenses are trying to do to you and he has the physical abilities to play in the box and play man to man."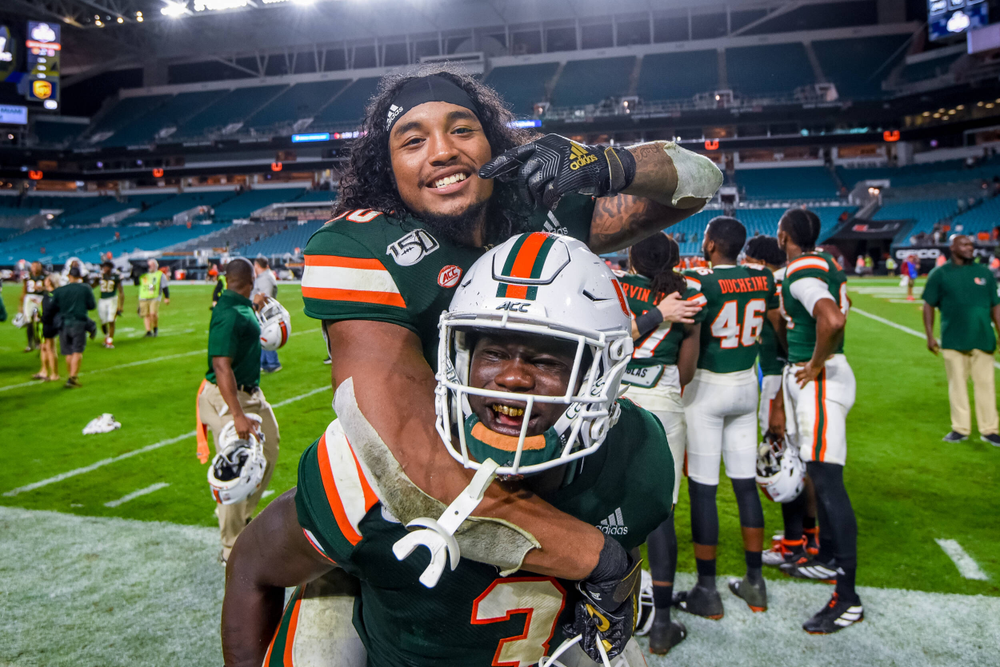 While Frierson has emerged as one of the smartest defenders on Miami's unit, that distinction did not happen overnight. He learned from former standout striker Romeo Finley over the past two seasons and that experience taught him what it takes to be a striker at a high level.
"My adjustment was last year to learn striker. Having Romeo in front of me helped me out a lot; that's the reason why I'm doing what I'm doing today," Frierson said. "Moving to striker was a different feel, closer to the box, covering more slots, quicker guys. Now this year, I know the defense so now it's more putting myself in the best position to make the best play pre-snap knowing what the offense wants to do. Then my body type, I had to get bigger because I'm dealing with more O-lineman, I'm dealing with more tight ends, more aggressive guys so, I had to get bigger but still have the ability to cover. Coach Feeley did a hell of a job with that where I'm fit enough to get my body right to still be mobile and versatile."
Miami strikers coach Jonathan Patke believes Frierson, who is known as "GB" around the locker room, benefitted greatly from Finley's mentorship.
"Players never want to sit behind an older guy, they always want to play, play, play," Patke said. "GB last year had the opportunity to play and also had the opportunity to watch Romeo, a senior, a guy that kind of waited for his time and Romeo was a guy that played at a high level for the majority of the last two seasons of his career. I think that definitely helped to see how an older guy prepared."
Diaz, who was Miami's defensive coordinator for three seasons before taking over as head coach in 2019, has seen a lot of development from Frierson since he arrived as a true freshman in 2018.
"His intelligence level for the game is really starting to show," Diaz said. "And in that setting, you really have to know, you have to show confidence not only in your abilities physically, but in your abilities mentally. I think that's what really shows when we analyze performances and Gilbert has such a great awareness of what's going on or what teams are trying to do against us. It really helps and his play Saturday showed because of it."
Frierson's mastery of Miami's defense has allowed him to elevate his game significantly. His expertise in what the Hurricanes are trying to do defensively has allowed him to begin dissecting what an opposing offense is looking to do against the Canes.
"With Gilbert, the reason he makes a lot of the plays he makes is because he knows the play before the play," Patke said. "That's all film study and the questions he asks. He wants to know everything about the defense. He came here as a corner, he knows the safety position and he plays striker, so he can get the corners aligned, he can get the safeties aligned, he can get the linebackers aligned, he can call the front, he just knows the entire defense. Since he's so comfortable within our defense and the way we do things, now he's able to look at the offense and the way they're trying to attack us. His preparation is second to none. He constantly studies."
The student has become the teacher at striker, as Frierson is trying to pass along his knowledge to fellow striker Keontra Smith much like Finley did with him.
"He's learning every day and he's really learning from Gilbert," Patke said of Smith. "They're a year apart, but Gilbert prepares and he's so smart with the game, so for him to sit in the same room as GB is really teaching him to prepare for a game. Once he gets that, he's going to be a force to be reckoned with."
Frierson's personality helped him become one of the most well-liked and respected players on Miami's roster. It's also made him an outstanding host for recruits because he is able to connect with the prospective student-athletes and help showcase the football program to them.
"I was that recruit that wanted to see what was really going on inside the program and have a lot of fun with it," Frierson said. "I like [hosting recruits] because you go out and you actually meet the kids and some come from the same struggle as I do and you can relate a lot. Sometimes it's about ball but sometimes it's bigger than ball. It's about actually getting to know people and know where they come from and seeing your situation, seeing their situation. And I think I do a good job at that because I'm a guy that grew up in this area so, I know the pros and cons to it."
The Dade County native takes pride in helping his team on and off the field, which is why he enjoyed assisting Miami with official visits before the COVID-19 pandemic struck.
"I don't mind doing it because, number one, it's for the program," Frierson said. "Those kids, they can always help in a way to build the program, even if it starting off on scout team and working your way up, even if it's coming in on special teams, even if it's just coming in getting straight to the fire, those guys always can help. Anything to help the program, I'm willing to do it."
Hard work is Frierson's calling card and he makes sure to get his work in on a daily basis. In addition to honing his craft, the upperclassman is helping his teammates, too.
"I'm always coming in, just trying to get better, get my teammates better and I always just try to be positive through the worst situations," Frierson said. "That's just how I am as a person, but my teammates, we all get along good. I'm a guy that's just trying to come in, work and have a little fun with it but always work. I'm just trying to gain their trust more and more. It's all about trust. I just want my teammates to trust me. They know I love them and I know they love me. We're just all getting a feel for playing with each other and just having fun. That's the big key."
Frierson's work ethic and determination to improve have helped him take a great leap forward at striker. But there is one area in his game that Patke believes Frierson has developed significantly.
"Where he's come a long way and where I'm really proud of Gilbert is the way he's tackling right now," Patke said. "The question with him coming inside into the box from corner was is he going to be physical enough, is he going to tackle enough? The last two games, there hasn't been a better tackler and I'm so proud that he's taken that and really excelled in his tackling abilities and being physical at the point of attack."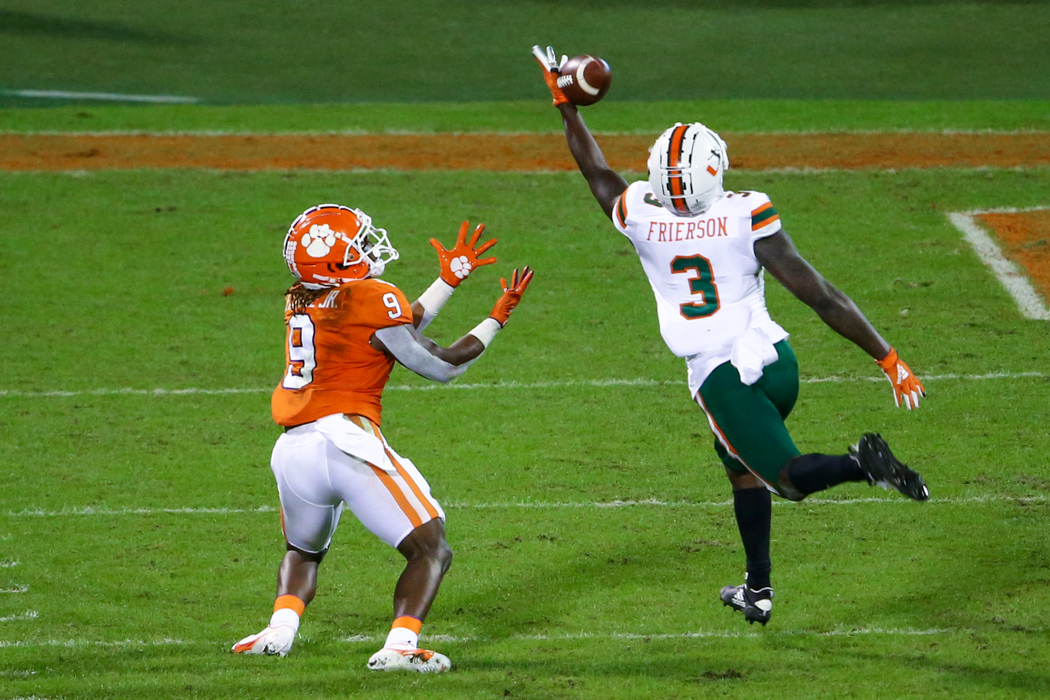 No. 12 /13 Miami hosts Pittsburgh in a key ACC game at noon inside Hard Rock Stadium this Saturday. With Smith missing the first half against the Panthers' Frierson will play an even greater role in the opening 30 minutes of action.
"We've just got to just play our ball. No matter what opponent is in front of us, it's all about us," Frierson said. "We've got to play assignment ball, we've got to tackle, we've got to just play lights out against anyone we play against. Pitt is a good team. It's going to be a tough one. We've just got to prepare for them."
With Miami coming off a 42-17 loss at No. 1 Clemson, some outside the program wonder if the Hurricanes can get back on track this week against Pitt. But Frierson is confident that the Hurricanes will be successful because of the belief Miami has in itself and the mantra the Canes are living by this year.
"We trust each other. Even in the Clemson game, things wasn't going so good, but we always stayed positive trying to just play the next play," Frierson said. "That's our motto this year, play the next play, always. Whatever happened the last play, that's the last play, you can't go back and fix that. You only can advance. You only can control your situation, always be in control your environment. Things are always going to go upside-down in life. You just got to get in that moment, be where your feet are. So that's our goal this year, always moving forward. Things ate going to happen, it's going to go good, it's going to go bad, but our goal is always move forward and get better."
Frierson's growth as a player has naturally led to the junior becoming a leader of the defense and that is a role Miami's defensive coordinator believes suits him perfectly.
"Excited about what he's brought to the table from a leadership standpoint," Baker said. "Gilbert's grown a lot since I've been here, both on and off the field, and I couldn't be more happy for the guy. He loves the Miami Hurricanes, he loves this program, he loves football and those are the guys you really want to see succeed. You can tell that all his hard work and his film preparation is paying off on Saturdays. I think he's a guy that's gotten better and better for us every single week and hopefully continues to do so throughout the season."