John Eagleton: A Tennis Life
CORAL GABLES, Fla. – "I was there to win. Losing just wasn't an option for me," John Eagleton said when looking back on his illustrious four-year career at the University of Miami.
Winning came naturally to the South African, who capped his career as a two-time singles and doubles All-American, setting a program record with 89 career doubles victories and finishing with a near flawless 165-26 overall record at singles and doubles.
However, prior to cofounding SportsEdTV, coaching two-time doubles grand slam champion Ellis Ferreira and setting the UM wins records, Eagleton was a multi-sport athlete in his home country of South Africa.
Captain of both his rugby and cricket teams, the second fastest sprinter on the track and field team and a state tennis champion, Eagleton showcased a competitive spirit from a young age.
However, set to play in the biggest game of his life, up until that point, the course of history quickly changed for the 13-year-old.
"I was playing on the South African national cricket team and there are 11 individuals competing on each team," Eagleton said. "That day, I walked out to play and I heard somebody say, 'Somebody has to sit out.' One of the guys then pointed at me and said, 'How about that guy?' And the other guy was like, 'No, he is pretty good.' But all the person could think about was, 'Well somebody has to sit out.'
"So, there I was, I get to the dream game, but some guy I had never met in my life, who had never seen me play, told me I had to sit out," Eagleton continued. "And as I sat outside the stadium, on that day at 2 o'clock I said, 'You know what? I am done.'"
Despite loving the sport of cricket, Eagleton explained that he would never play another sport where someone would have the ability to decide whether he plays or does not play. And starting at the age of 14, he only focused on tennis.
Very quickly, Eagleton vaulted up the junior rankings and entered the South African junior tennis tournament ranked among the top-four in the country. Battling a couple of the top players in the world, David Schneider and Johan Kriek, Eagleton captured the title and by the age of 15 was the top-ranked player in South Africa.
"I was No. 1 in the country and really at 15, I was good enough to turn pro," Eagleton said. "But, then I went into the Air Force, the year before Miami. It was an interesting year. I won the Air Force championship, the defense war championship, beat some guys in the finals that were top-50 guys in the world. And then, I was in the finals of the Sunshine Cup and the third seed in the Orange Bowl, ranked third in juniors and first in doubles."
The third-ranked junior in the world in 1974, Eagleton competed in the Coffee Bowl a week prior to making the trip to UM. That year, the event welcomed the top-32 junior players, top-16 Davis Cup Teams and top-16 doubles tandems to San Jose, Costa Rica.
Eagleton shined in the major tournament and helped set the tone for his collegiate career after he swept the singles, doubles and team titles. In singles, he cruised to a straight-set victory over Schneider, 6-3, 6-4.
Although even with all the success, Eagleton needed to prove himself to Miami head coach Dale Lewis, who told him he had 10 days to make the team and would play qualifiers against his soon-to-be Hurricane teammates.
Joining a Canes squad that finished 15-0 in 1973 and sixth in the NCAA point standings, the only thing Eagleton was thinking at the time was, "What the hell do I do if I don't make this team?"
"So, I played the challenge matches, and the only match I lost was to [fellow South African Andre] Zietsman," Eagleton said. "I beat [Joaquim] Rasgado, who was playing at the top singles position, 3-6, 6-1, 6-1, but the coach said, 'Sorry, but you can't play one, you are a freshman.' So he put Zietsman and I at three doubles, and we beat the fourth-ranked doubles pair in the country, from SMU.
"After the match I went up to coach and said, 'I am No. 1 in the world and I could probably get into Wimbledon this year. I am not playing No. 3 doubles. I just beat all three of these guys, I have won 13 out of 14 matches and despite being the top doubles player in the world, you have me playing No. 3 singles and doubles? I have already played pro tournaments and beat the French Davis Cup Team,'" Eagleton continued. "So I told him I was done and I left."
With his mind nearly set on turning pro, Eagleton remembers coach Lewis chasing him down and explaining that he can't play him at the top doubles position until they lose, but he would be willing to play him at two.
That change did not take long, as Eagleton capped his illustrious career at Miami with over 150 matches played at No. 1 singles and doubles.
Through four seasons, Eagleton graduated from Miami with a remarkable 165-26 combined record, winning 86.4 percent of the matches he stepped foot on the court for. The win percentage ranks first in UM history of players who played all four collegiate seasons.
Earning doubles and singles All-American status in back-to-back seasons as a junior and senior, he set the program mark with 89 career doubles victories, a record he still holds to this day.
Some of his most memorable moments includes finishing second at the NCAA tournament in Corpus Christi, Texas, defeating the nation's top-ranked doubles team in the country, playing alongside Alvaro Fillol. And in 1976, he beat NCAA champion Bill Scanton in straight-sets.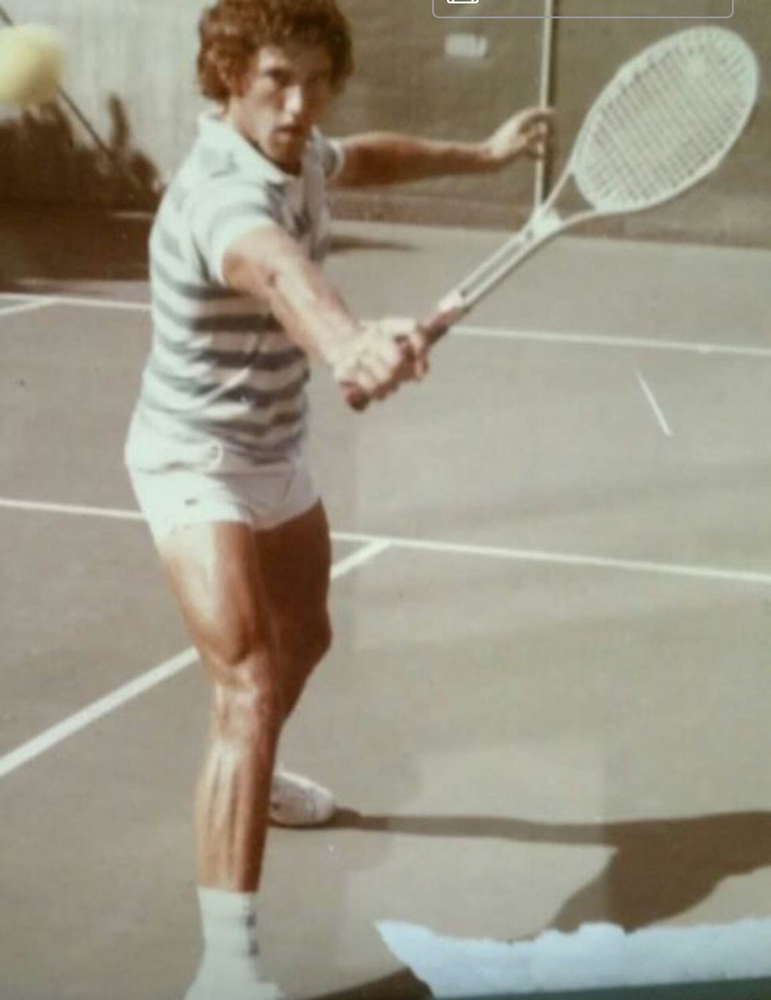 Considered an all-around player, there weren't many weaknesses in the South African's game, which he credits for his on-court success.
"I think that I served well and even today I have one of the best volleys. I was 100 in the world with five tournaments in doubles, before my back injury. And I beat a lot of people in doubles. Grand Slam winners and everything," Eagleton said. "Also, my backhand. [Former Stanford tennis head coach] Dick Gould said, 'I had the best backhand that he faced, in the sense that I could do everything with it.' That comes from Dick Gould himself.
"But I think that my game was well-rounded. Honestly, I was just athletically so much better than other people," Eagleton continued. "I just worked so hard as a kid, that I made the matches physical, before they made it physical. An hour and a half in the Miami heat, there weren't a lot of people that were going to beat me. I was too fast, too quick. And during those times, I lived with a couple football players. I lived with the quarterback George Mason, who is a minister now. And the football guys used to come out to the courts and watch me play because they used to love to watch me and the speed I played the game with."
With the physical tools he possessed, Eagleton helped Miami continue to dominate the collegiate landscape, as the Hurricanes combined to go 69-16-1 during his four-year tenure in Coral Gables.
As a sophomore, Eagleton helped the Hurricanes match the program-record, placing second in the NCAA team championship point standings in 1975. With an 89-10 doubles record, Eagleton reached the semifinals of the NCAA doubles tournament three straight years.
After turning pro, Eagleton shot up to world rankings of 220 in singles and 107 in doubles in just five tournaments, however a back injury forced the South African to retire from the pro ranks.
Following his playing days at the pro-level, Eagleton got into coaching, most notably working with Ferreira. Eagleton later ran the Eagleton-Ferreira Tennis Academy in Sarasota, Fla., and taught the modern playing techniques of the current players on the ATP and WTA tours.
"I loved coaching. I loved developing players. I coached Ferreira of course, but really I coached a lot of players and I enjoyed coaching all levels of play," Eagleton said. "I helped put a lot of players into college…I liked taking the academics and matching their tennis styles with the academics. Even now, when they call me I will say, 'Well what are the top-100 business schools?'
"So, depending on what their abilities were and what they wanted to study, getting them into the right school was the priority," Eagleton added. "I enjoyed coaching. For me, even now, I am happy to help anyone. I enjoy teaching the beginners as much as a good player."
Eagleton's focus has since pivoted from coaching to the business world, as he cofounded SportsEdTV with Ciaran Dwyer, Alexsandar Jovicic and Robert Mazzucchelli, while the four men also recruited Victor Bergonzoli, a pioneer in the world of sports video analysis, to join them two years ago.
Mazzucchelli, SportsEdTV's Chairman and CMO, said, "We basically have created a platform that gives athletes the three things they need to improve."
The first being instruction and content, where SportsEdTV providew free content delivered by world-class athletes and coaches, which is filmed in cinema quality or written in expert blog format.
The second is that they have created a community to allow coaches, parents and athletes a chance to communicate globally, similar to social platforms like Facebook and LinkedIn.
The final "leg of the stool" is a directory of facilities, which the company will be launching in November.
"Prior to SportEdTV, you had to do some of these things through Facebook groups or searching though google, but nothing was easy to find and in one place," Mazzucchelli said. "In just two years, we have already become the global leader in multi-sport free world-class instruction. There are people out there who have done some individual things, but no one is doing it as big as we are and we have now become the leader."
Previously a co-creator of Dartfish, a video performance and data analysis company working with the Olympics and several major professional athletes and coaches, SportsEdTV's Chief Executive Officer, Bergonzoli, came to the U.S. from Sweden in 2001 for what was supposed to be a quick six-month stint. However, 20 years later he has been able to raise a family in the States and two years ago he met Eagleton and Mazzucchelli to help with their new business model.
"The difference between sports fans and sports practitioners is big," Bergonzoli said. "We are touching sports practitioners, which sounds crazy, but before us there wasn't a single brand saying we are focusing on the sports practitioner. So, people are like wow, that makes total sense. 500,000 viewers to 2,000,000 viewers in the past year and our goal is 15 million. So, very soon we could be among the top worldwide websites."
Featuring top talent across the board, SportsEdTV provides instructional videos for several sports, including basketball, Esports, golf, soccer, taekwondo, tennis and weightlifting. With several more on the horizon, volleyball is next on the list and is set to debut on the site prior to the new year.
An executive director, Eagleton maintains his focus on tennis and has molded his 20 years of coaching into his new position. Bergonzoli then praised Eagleton's coaching style, explaining how he learned how to play the game from him in just three months.
"John's teaching is amazing," Bergonzoli said. "I had never played tennis before, but I went to John and said, 'I am going to watch every single video you did and go off your method.' It is pretty amazing what he did for me in only three months."
Overall, the goal for the company is to teach the world how to become better at sports.
"We are hoping, 10 or 15 years from now, when a reporter asks a professional athlete how they learned or got better at their sport, they say SportsEdTV," Mazzucchelli said. "Our goal is to really change how people learn sports around the world and be the source of the democratization of learning. The way that sports work now, the rich countries always win because they have the better access to coaches and facilities. So we are leveling the playing field, with the best coaches in the world sitting in your pocket."
With the goals set in place, Eagleton praised his team and is thankful for everything he has achieved over the years.
Currently living in Miami Beach with his office in midtown, when Eagleton isn't grinding on the business, he is out on the courts playing some pick up tennis with his co-workers or enjoying an evening jog and workout on the beach.
"I am the healthiest I have been in 30 years," Eagleton said. "I am just happy with everything and making the best of my opportunities."