The Dream Season: Part VII
CORAL GABLES, Fla. – This is the seventh and final installment of a seven-segment series creating the "dream" University of Miami men's basketball season from Jim Larrañaga's nine-year tenure, since 2011-12.
What does that mean? We went through every option for each game number—i.e. all nine season openers, all nine 23rd games of a season—and picked the best one of each group to form that "dream" season.
Some selections were made due to win quality, others for a memorable finish and others for historical achievements. Some include all of that, but each game is special in some way.
In Part VII, we make the top choice for games 31 through 37, the latter of which is the final game number at which Miami owns a win. The list, which exclusively features postseason matchups, includes an ACC Tournament title-clinching decision, a pair of NCAA Tournament thrillers and more.
Part I can be found HERE, while Part II is available HERE, Part III is HERE, Part IV is HERE, Part V is HERE and Part VI is HERE.
Game 31… March 8, 2017: Miami 62, Syracuse 57 (Brooklyn, N.Y.)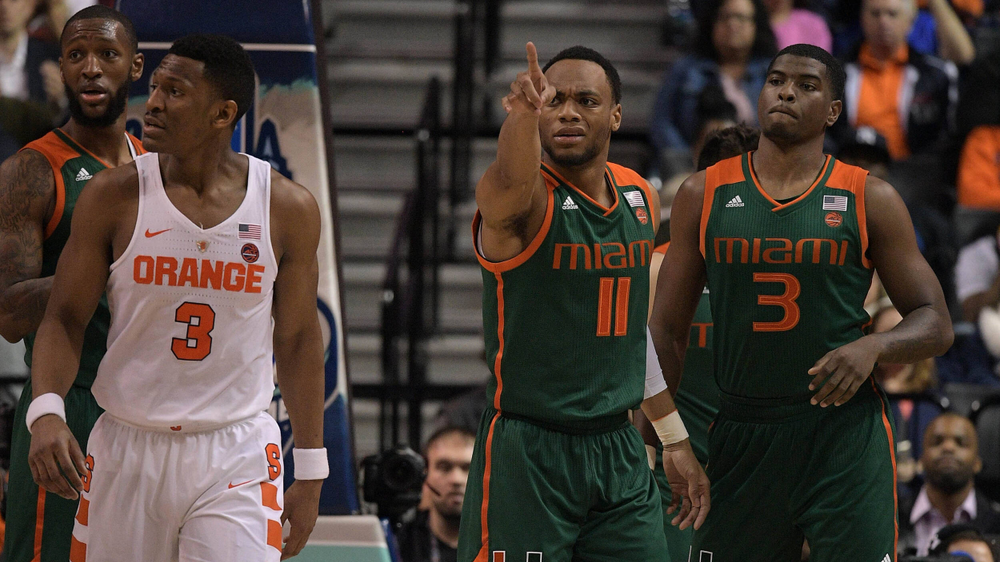 Facing Syracuse in its home state to open the ACC Tournament, Miami earned a win behind the play of a senior's strong performance in his hometown.
Kamari Murphy, a redshirt senior forward from Brooklyn, scored a career-high 16 points and added 10 rebounds to notch a double-double at the Barclays Center. He paced the Hurricanes in both categories and hit all four of his free throws, as Miami avenged its road loss to the Orange two months prior.
In a game played within a 12-point window, Miami led for over 36 minutes and limited Syracuse to just two double-digit scorers. Senior guard Davon Reed scored 14 points, sophomore guard DJ Vasiljevic posted 13 and senior guard Ja'Quan Newton chipped in 11 in the postseason victory.
Game 32… March 16, 2013: #9/10 Miami 81, NC State 71 (Greensboro, N.C.)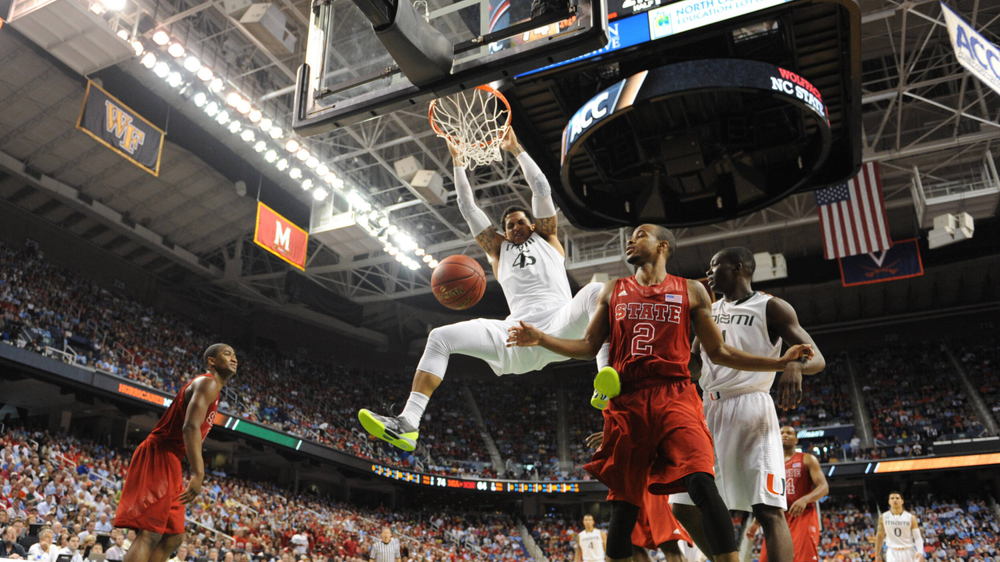 The top-seeded Hurricanes earned their spot in the ACC Tournament championship with a resounding victory over a 24-win NC State team, the preseason pick to win the league.
Miami never trailed, led by as many as 19 and had a double-digit cushion for over 17 minutes of the second half. The Wolfpack did briefly trim the deficit to six with 12:05 to play after the third of Scott Wood's six made 3-pointers, but never got any closer. The free-throw line proved significant in this one, as the Hurricanes went 23-of-30 (76.7 percent) there and NC State had just a 14-of-25 (56.0 percent) mark.
Senior guard Durand Scott had arguably the best game of his storied Miami tenure, finishing with a career-high 32 points to go along with four assists, three rebounds and two steals. He shot 12-of-18 from the field, 5-of-8 beyond the arc and 3-of-3 at the line. Sophomore guard Shane Larkin totaled 23 points and went 8-of-10 from the stripe. Redshirt senior center Julian Gamble scored 10 points and made all four of his field goals.
Game 33… March 17, 2013: #9/10 Miami 87, North Carolina 77 (Greensboro, N.C.)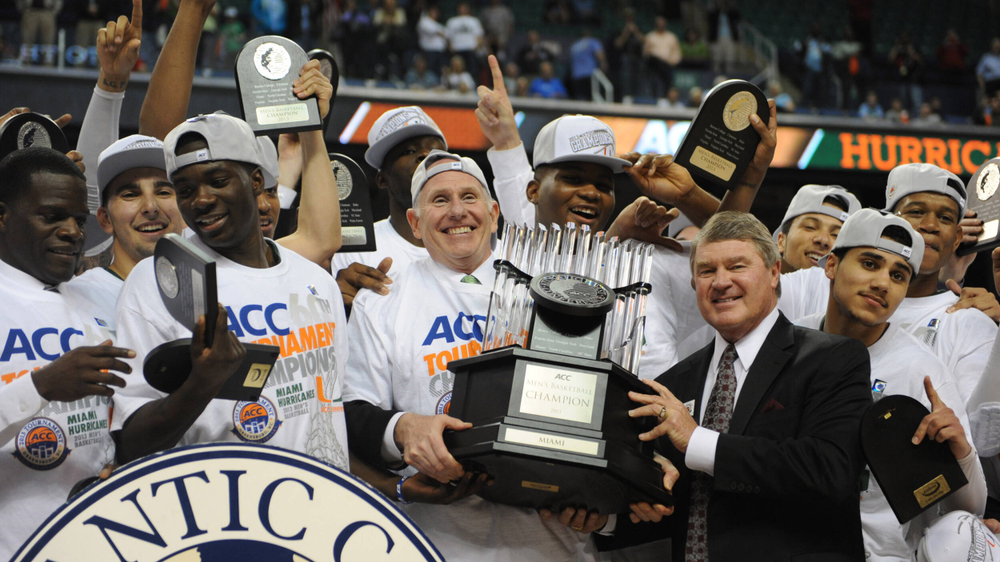 ACC sweep complete. In front of 22,169 fans at the Greensboro Coliseum, nearly all of them rooting for the local blue blood, Miami beat North Carolina for the third time in 10 weeks to win its first conference tournament crown.
A fantastic back-and-forth affair featuring 15 lead changes and 10 ties ended with a 13-6 run by Miami over the final 2:21 to seal the title. The first 38 minutes of the game were played within a 13-point window as the teams exchanged haymakers in a high-powered offensive display that featured 13 made 3-pointers by North Carolina and 12 by Miami. The two sides combined to shoot 47.9 percent (57-of-119) from the field, 49.0 percent (25-of-51) from deep and 80.6 percent (25-of-31) from the line, but Miami had the better clip in the former two categories.
Sophomore guard Shane Larkin went 6-of-6 at the stripe in the final minute and finished with 28 points, five rebounds and seven assists. Redshirt senior guard Trey McKinney Jones scored a career-high 20 points after posting a 6-of-9 long-range clip that included a dagger 3-pointer down the stretch. Junior guard Rion Brown recorded 12 points, while redshirt senior center Julian Gamble notched an 11-point, game-high 10-rebound double-double in his home state.
Game 34… March 19, 2016: #10/11 Miami 65, Wichita State 57 (Providence, R.I.)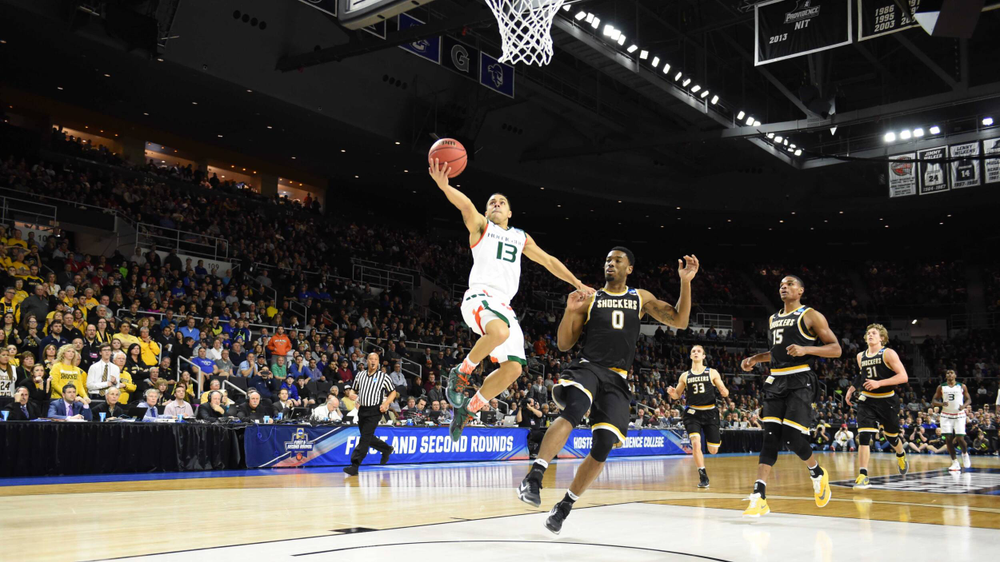 The third-seeded Hurricanes clinched their second Sweet 16 berth in four years in thrilling fashion, doing so in the city where Jim Larrañaga attended college.
Miami led for over 38:01, built a 21-point edge in the first 12 minutes and held a 17-point advantage with under 17 minutes left, but the 26-win Shockers came all the way back. A 22-4 burst in just 6:13 put Wichita State on top, 43-42, with 10:26 to go. The Hurricanes answered right back with a 10-2 run, featuring eight points by redshirt senior guard Sheldon McClellan, to go up by seven, 52-45, with 6:11 on the clock.
Ron Baker, one of three future NBA guards on Wichita State's roster alongside Fred VanVleet and Landry Shamet, helped Wichita State slice the deficit to two with 2:42 remaining. It never got any closer, though, as redshirt senior guard Angel Rodriguez countered with a jump-shot and, after a defensive stop, a dagger 3-pointer to effectively ice the game. The Hurricanes shot over 55 percent from the field and beyond the arc while holding Wichita State below 35 percent in both categories.
Rodriguez led all scorers with a career-best 28 points, finishing 9-of-11 from the floor, 3-of-4 from deep and 7-of-8 at the stripe. He added five assists and four steals, outdueling VanVleet, an eventual NBA champion who scored 12 points on 4-of-12 shooting. McClellan posted 18 points and junior guard Davon Reed added 10.
Game 35… March 24, 2013: #5/4 Miami 63, Illinois 59 (Austin, Texas)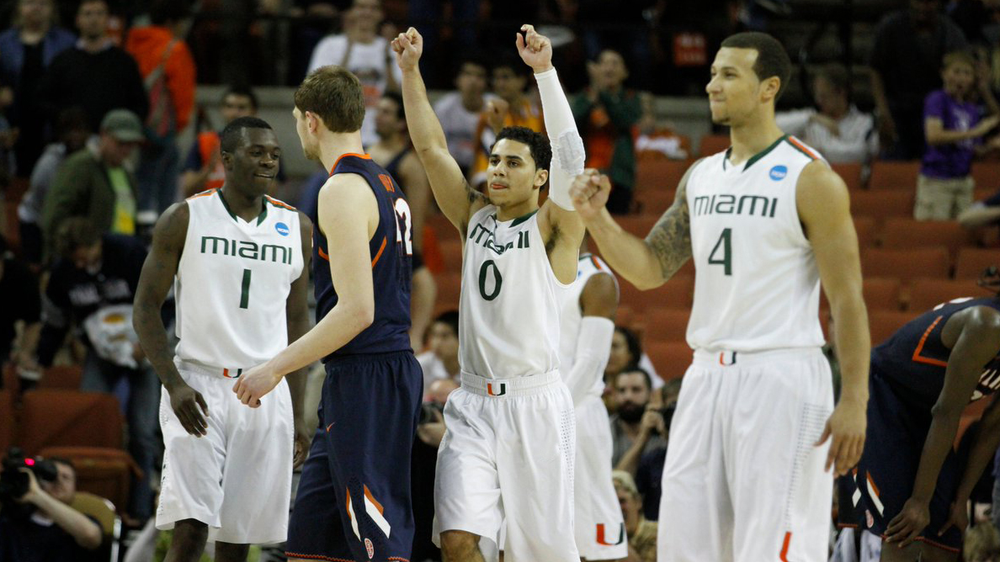 Rion Brown turned in the most important off-the-bench performance in Miami history, Shane Larkin drained the biggest shot of the season and the Hurricanes earned a Sweet 16 berth for the first time since 2000.
Second-seeded Miami led for most of the defensive affair, but Illinois used a 15-6 run to run in front, 54-52, with 3:22 left and retained that edge into the final two minutes. Senior guard Durand Scott leveled the score on a jump-shot with 1:58 to go and Tracy Abrams hit a free throw at the other end to give Illinois a 55-54 advantage 34 seconds later.
Larkin, a sophomore guard, then rose to the occasion, connecting on a step-back 3-pointer as the clock hit 1:00, giving Miami a lead it would not relinquish. Scott, Larkin and Brown combined to go 6-of-6 from the line over the final 36 seconds to clinch the program's second Sweet 16 appearance.
Brown, who came into the contest averaging 6.0 points per outing, scored a game-high 21 points and went 5-of-10 from long range. Both of Miami's seven-point leads—the entire game stayed within an 11-point window—came on 3-pointers by the junior guard. Larkin finished with 17 points and a game-best five assists, while redshirt senior forward Kenny Kadji notched 10 points and a team-best eight boards in the victory.
Game 36… March 24, 2015: Miami 63, Richmond 61 (Richmond, Va.)
The Joe Thomas game.
Miami, which trailed for over 37 minutes and by as many as 18, was down by 13, 43-30, with 11:13 to go when the redshirt senior forward entered the NIT quarterfinal contest for the first time. He scored five points in the next two minutes, helping the Hurricanes outscore Richmond by 15 points the rest of the way.
The surge included a 21-4 spurt in just 7:16 that turned a 13-point deficit into a six-point lead, 61-55, with 26 seconds remaining. Included late in that burst was a personal 7-0 run by redshirt junior guard Sheldon McClellan that flipped a three-point deficit to a four-point lead with 33 seconds to go.
McClellan paced Miami with 16 points, while freshman guard Ja'Quan Newton added 11 and sophomore guard Davon Reed notched a 10-point, game-high 12-rebound double-double. Thomas finished with a season-high seven points on 3-of-4 shooting to go along with six rebounds in his 11 minutes. The victory sent the Hurricanes to Madison Square Garden for the NIT semifinals.
Game 37… March 31, 2015: Miami 60, Temple 57 (New York, N.Y.)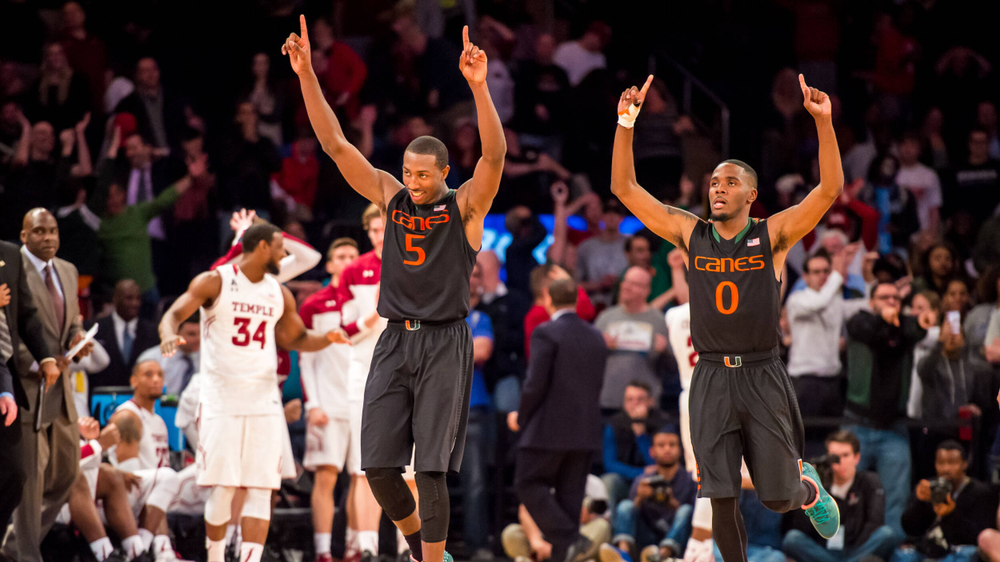 The 37th and final game number in which the Hurricanes possess a win, this one was shorthanded triumph that came down to the wire at the world's most famous arena.
Miami played without injured redshirt junior guard Angel Rodriguez and then lost junior center Tonye Jekiri to an injury of his own in the first half, but still battled back from an 11-point deficit late in the first half to reach the NIT final. The Hurricanes dominated defensively after the break, holding the Owls to a 9-of-40 (22.5 percent) mark in the final 20 minutes, including a 0-of-15 ledger from 3-point range.
Redshirt junior guard Sheldon McClellan, who hit back-to-back 3-pointers midway through the second half to give Miami a lead it never lost, paced the Hurricanes with 16 points and a game-high 11 rebounds in a splendid double-double performance. The victory gave Jim Larrañaga, a Bronx, N.Y., native, a win in his first coaching appearance at Madison Square Garden.