CORAL GABLES, Fla. – This is the fifth installment of a seven-segment series creating the "dream" University of Miami men's basketball season from Jim Larrañaga's nine-year tenure, since 2011-12.
What does that mean? We went through every option for each game number—i.e. all nine season openers, all nine 23rd games of a season—and picked the best one of each group to form that "dream" season.
Some selections were made due to win quality, others for a memorable finish and others for historical achievements. Some include all of that, but each game is special in some way.
In Part V, we make the top choice for games 21 through 25. The list includes an overtime win at Cameron Indoor Stadium, a 26-point triumph over North Carolina, a pair of ACC thrillers that came down to the last minute and a double-overtime road victory.
Part I can be found HERE, while Part II is available HERE, Part III is HERE and Part IV is HERE.
Game 21… Feb. 5, 2012: Miami 78, #7/5 Duke 74 (OT) (Durham, N.C.)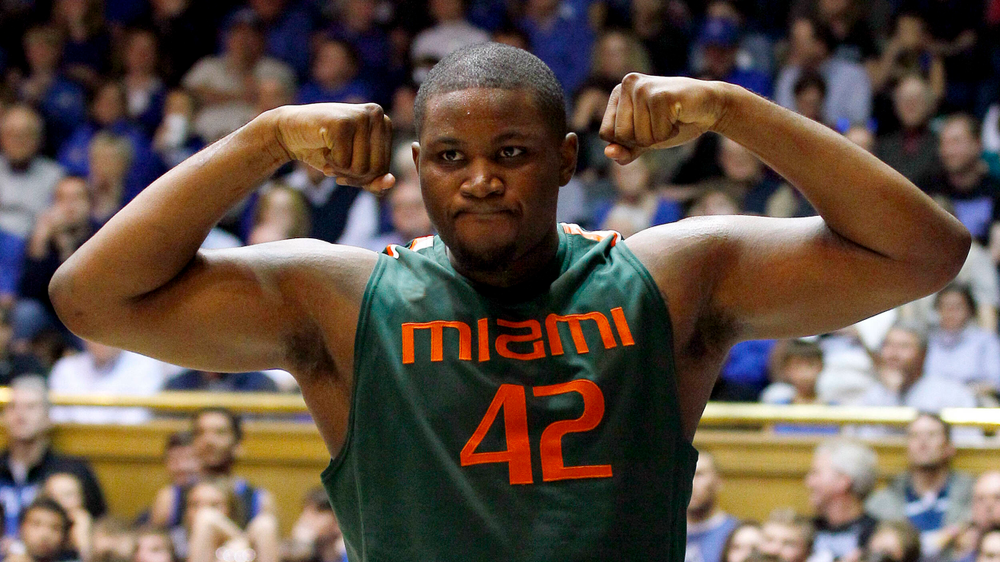 The first of Miami's five wins over Duke under Jim Larrañaga was an overtime thriller on Super Bowl Sunday.
The Hurricanes led by as many as 16 in the second half, but the homestanding Blue Devils slowly came back and eventually went in front with 2:49 to go in regulation. Redshirt junior center Reggie Johnson put Miami back ahead 58 seconds later and, after Duke answered, did so once again with 1:26 on the clock. A late free throw by Duke's Austin Rivers—one of nine future NBA players and three first-round picks on the Blue Devils' roster—sent the game to overtime.
Miami scored the first six points of the extra session, the opening four via Johnson, and led the rest of the way, securing Jim Larrañaga's first ranked win with the Hurricanes and the program's first top-10 victory since Feb. 4, 2009.
Johnson, in his home state, turned in a dominant performance with a game-high 27 points on 11-of-17 shooting to go along with 12 rebounds. Redshirt junior forward Kenny Kadj put up 15 points, while junior guard Durand Scott totaled 11 in the win. Just two Blue Devils reached double figures and Miami held future first-round picks Mason and Miles Plumlee to eight combined points on 3-of-9 shooting.
Game 22… Feb. 9, 2013: #8/11 Miami 87, North Carolina 61 (Coral Gables, Fla.)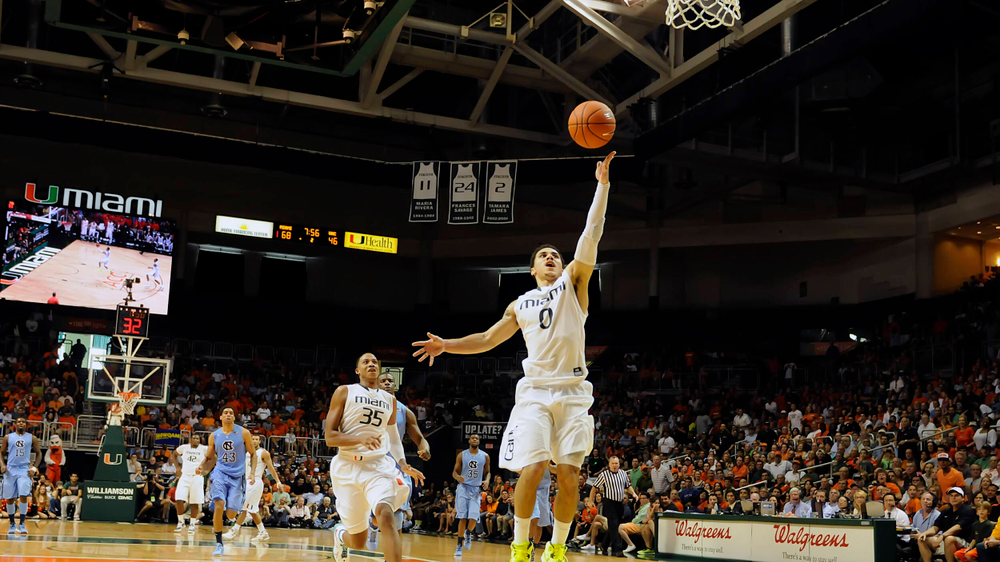 If beating top-ranked Duke by 27 in 2012-13 was not enough, Miami added a 26-point drubbing of fellow blue blood, North Carolina, just 17 days later. It is the Tar Heels' third-largest loss of the past decade and it came with LeBron James, Dwyane Wade and James Jones sitting courtside.
Aside from the star power in the audience, the game might be best remembered for Shane Larkin's off-the-backboard alley-oop to Kenny Kadji, an exclamation point on Miami's 11th of 14 consecutive wins. The Hurricanes turned in a dazzling offensive performance, shooting 31-of-57 (54.4 percent) overall, 15-of-26 (57.7 percent) from deep and 10-of-12 (83.3 percent) at the stripe. Meanwhile, they held the Tar Heels to a 25-of-65 (38.5 percent) clip from the floor and a 6-of-20 (30.0 percent) ledger from deep. Three North Carolina starters scored just two points and only one eclipsed six.
Larkin, a sophomore guard who went 5-of-8 from long range, finished with 18 points and nine assists. Kadji, a redshirt senior forward, totaled 17 points, as did senior guard Durand Scott, who made all three of his 3-pointers. Junior guard Rion Brown added 11 points off the bench, helping Miami lead by as many as 28 points and go wire-to-wire in front of a sold-out crowd.
Game 23… Feb. 9, 2016: #12/11 Miami 65, Pittsburgh 63 (Coral Gables, Fla.)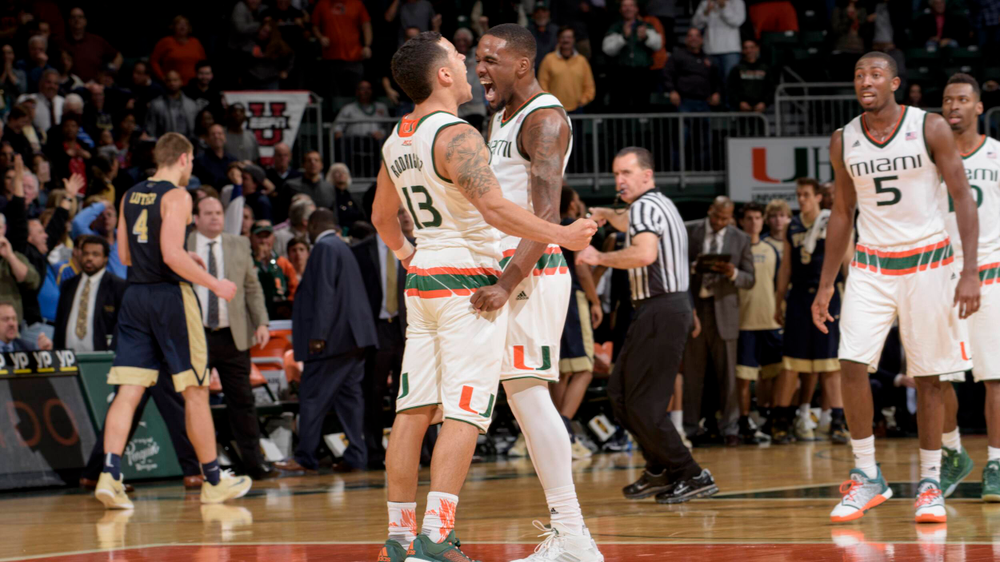 An outstanding, back-and-forth game came down to the wire and Miami won it with a tip-in just before the final buzzer.
Both teams led for over 15 minutes, with neither side holding an edge greater than eight. The contest featured nine lead changes and eight ties. Ultimately, it came down to the smallest player on the court making the biggest play of all.
After Pittsburgh led for most of the first half, the Hurricanes did so for much of the second, but James Robinson hit a game-tying 3-pointer with 31 seconds remaining. After running the clock nearly all the way down, two Hurricanes missed jump-shots before 5-foot-11 Angel Rodriguez tipped in the second miss with 1.4 seconds remaining to break a tie and give Miami the victory.
Rodriguez, a redshirt senior guard, led all players in both points (17) and assists (eight). Junior guard Davon Reed chipped in 12 points, while redshirt senior guard Sheldon McClellan added 10 and senior center Tyone Jekiri registered a 10-point, game-high 10-rebound double-double.
Game 24… Feb. 17, 2013: #3/4 Miami 45, Clemson 43 (Clemson, S.C.)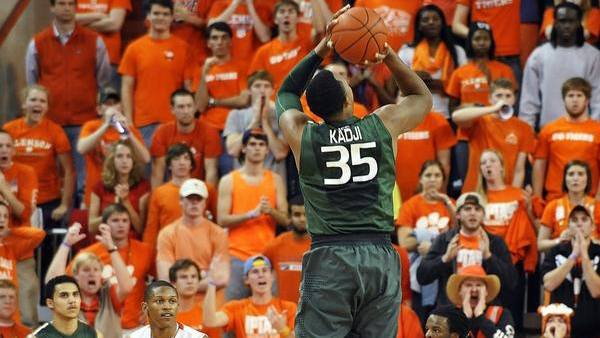 Still the only ACC victory of the Jim Larrañaga era in which Miami scored under 50 points, this defensive battle proved the loaded 2012-13 Hurricanes could win in multiple ways.
A fantastic seesaw affair at Littlejohn Coliseum featured 13 lead changes and eight ties. After neither team eclipsed 18 points in the first half, both scored exactly 27 after the break. The two sides combined to shoot 32.4 percent (35-of-108) overall, including 19.4 percent (7-of-36) from deep, on the day. Only three total players—just one from Miami—surpassed eight points. The full game stayed within an 11-point window, as the Hurricanes' largest lead was six and Clemson's was five.
While defense was the main story, Miami got late-game offensive heroics from two players. Down four with exactly one minute left, junior guard Rion Brown converted an old-fashioned three-point play to trim the deficit to one. After a Clemson free throw made it 43-41, redshirt senior forward Kenny Kadji delivered one of the most memorable moments of Miami's historic season, nailing a go-ahead 3-pointer with 36 ticks left. The Hurricanes forced a turnover at the other end, redshirt senior guard Trey McKinney Jones split a pair of free throws and then Clemson missed two shots in the closing seconds.
The triumph extended the Hurricanes' winning streak to 13 and pushed them to second in the national rankings, good for the best mark in program history. Kadji paced Miami with 12 points, while senior guard Durand Scott had a game-high 11 rebounds and dished the assist to Kadji on the game-winning shot.
Game 25… Feb. 16, 2015: Miami 89, Boston College 86 (2OT) (Chestnut Hill, Mass.)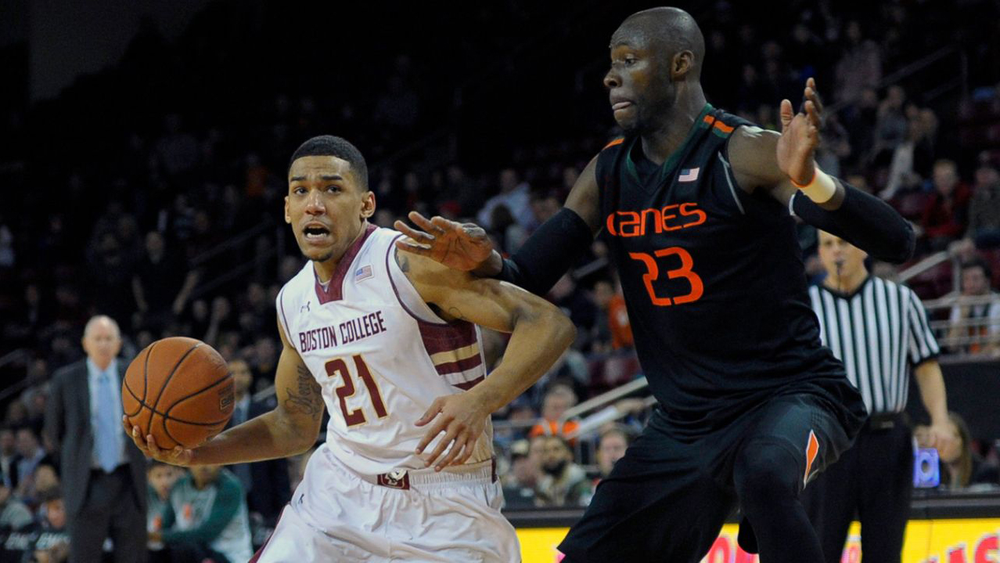 Conference road wins are always sweet, but they are even better when they feature overtime comebacks like this one did.
The game boasted 15 lead changes and 15 ties and all 50 minutes were played in a 13-point window, as Miami's largest lead was six and Boston College's was seven, which it took with just 8:27 left in regulation. The Hurricanes countered with a 13-5 run to go up by one, 60-59, with 3:38 on the clock and eventually stretched the edge to three, but Eagles managed to force overtime on their home court.
Boston College scored nine of the first 14 points in the extra session and took a 75-71 advantage with 25 seconds left, but Miami redshirt freshman guard Deandre Burnett took over. An old-school three-point play with 18 ticks left cut the deficit to one and, after Boston College added a point from the line, a pair of free throws tied the score at 76 with 12 seconds to play. After neither team scored in the closing moments, the contest went to a second overtime. The score tied at 82 with a 55 ticks remaining, Miami went on a 5-0 run in 32 seconds to seal the win.
Redshirt junior guard Sheldon McClellan paced Miami with 24 points, while sophomore guard Davon Reed had 19 and Burnett logged 13. Junior center Tonye Jekiri notched a 12-point, game-high 15-rebound double-double and sophomore guard Manu Lecomte added 10 points, as the Hurricanes overcame a spectacular 32-point effort from Boston College star Olivier Hanlan.