The Dream Season: Part IV
CORAL GABLES, Fla. – This is the fourth installment of a seven-segment series creating the "dream" University of Miami men's basketball season from Jim Larrañaga's nine-year tenure, since 2011-12.
What does that mean? We went through every option for each game number—i.e. all nine season openers, all nine 23rd games of a season—and picked the best one of each group to form that "dream" season.
Some selections were made due to win quality, others for a memorable finish and others for historical achievements. Some include all of that, but each game is special in some way.
In Part IV, we make the top choice for games 16 through 20. The list includes both a road and home win over Duke, as well as a thrashing of Florida State, an overtime classic and a last-second tip-in.
Part I can be found HERE, while Part II is available HERE and Part III is HERE.
Game 16… Jan. 13, 2015: Miami 90, #4 Duke 74 (Durham, N.C.)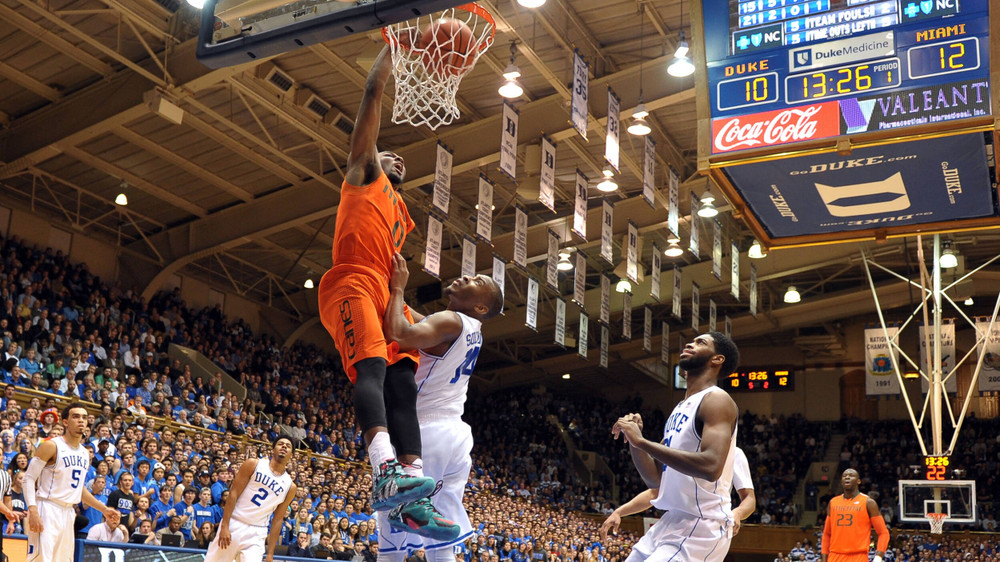 Complete domination of the eventual national champions . . . in their own house . . . to snap a 41-game home winning streak. This is, undoubtedly, one of the most memorable wins in Miami history.
The Hurricanes, who led for the final 16:33, used a 22-8 run midway through the second half to grab a 69-54 edge with 7:12 left and never looked back. They pushed their lead up to 20 in the closing minutes on Sheldon McClellan's alley-oop dunk off a lob from fellow redshirt junior guard Angel Rodriguez.
Duke, featuring seven future NBA players, including four first-round picks, two of whom went top-10 in 2015, lost just one game the rest of their 35-win championship season. Miami, though, limited eventual NBA first-round picks Grayson Allen, Tyus Jones and Justise Winslow to a combined 12 points on 4-of-17 shooting. Marshall Plumlee, another one of the Blue Devils' future pros, finished without a point or rebound in Miami's second win at Cameron Indoor Stadium under Jim Larrañaga.
The Hurricanes registered 56 points in the second half and had two players eclipse 20 points in the game. Rodriguez, who shot 8-of-15 from the field and 4-of-6 from deep, led the way with game highs in points (24), assists (five) and steals (five). Sophomore guard Manu Lecomte notched 23 points off the bench and went 10-of-11 at the line. McClellan added 14 points, while junior center Tonye Jekiri amassed a 10-point, 10-rebound double-double.
Game 17… Jan. 23, 2013: #25/RV Miami 90, #1 Duke 63 (Coral Gables, Fla.)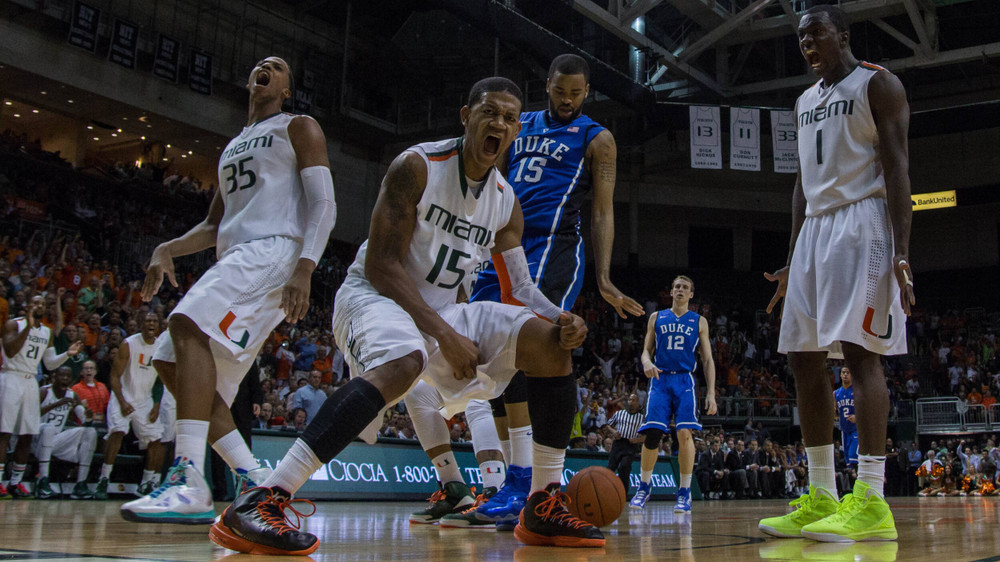 The best night in Watsco Center history; it would be hard to make an argument to the contrary. Miami thoroughly manhandled the top-ranked team in the nation.
That setback remains Duke's largest of the last 11 years and its biggest in any regular season affair since January 1984. Furthermore, Miami's first win over a top-ranked foe still stands as the third-largest margin of victory all-time against a No. 1 team.
Miami shot 56.9 percent (33-of-58) from the floor and 47.4 percent (9-of-19) from long range, while holding Duke to 29.7 percent (22-of-74) and 17.4 percent (4-of-23) tallies, respectively. The Blue Devil trio of Quinn Cook, Seth Curry and Tyler Thornton—the former two future NBA players—combined to shoot 1-of-29, including a 0-of-10 ledger from Curry.
The Hurricanes went on a 29-5 run over the final 9:42 of the first half and took a commanding 42-19 cushion into the intermission, but did not let up. They scored the first seven points of the second frame to make it a 36-5 stretch and go up by 30, before eventually extending the advantage as high as 34 in front of a raucous, sold-out crowd. As the final buzzer sounded and the fans stormed the court, it was clear to all the 2012-13 Hurricanes were powerhouse team ascending to the top of the college basketball world.
Senior guard Durand Scott scored a game-high 25 points on 9-of-14 shooting, while redshirt senior forward Kenny Kadji notched 22 points on 9-of-11 shooting. Sophomore guard Shane Larkin tallied 18 points on 8-of-14 shooting, to go along with 10 rebounds and five assists. Redshirt senior guard Trey McKinney Jones registered 10 points, while redshirt senior center Julian Gamble dazzled defensively with 10 boards, four blocks and two steals.
Game 18… Jan. 27, 2013: #25/RV Miami 71, Florida State 47 (Coral Gables, Fla.)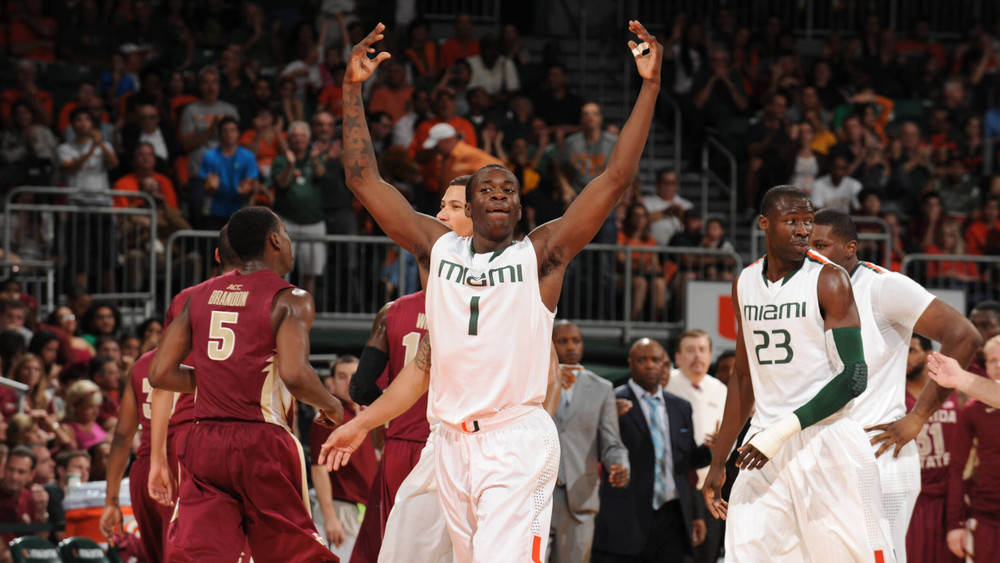 If there was any question about the legitimacy of Miami's win over Duke, this performance immediately quashed those thoughts. Four days after thumping top-ranked Duke by 27, the Hurricanes returned to the court and demolished their in-state rival by 24, the largest differential in the series since 1987.
The Hurricanes led wire-to-wire and allowed just one Seminole to score seven-plus points. They held Florida State to 16-of-52 (30.8 percent) shooting overall and a 3-of-17 (17.6 percent) mark from long range. Miami also dominated down low, posting a 44-32 edge on the glass and a 34-18 ledger in paint points.
Redshirt senior guard Trey McKinney Jones paced all scorers with 15 points, finishing as the only player on either side to surpass a dozen. Redshirt senior forward Kenny Kadji and senior guard Durand Scott each posted 11 points, while sophomore guard Shane Larkin stuffed the stat sheet with eight points, a game-high nine rebounds and game-best six assists.
Game 19… Jan. 24, 2018: RV/#24 Miami 78, Louisville 75 (OT) (Coral Gables, Fla.)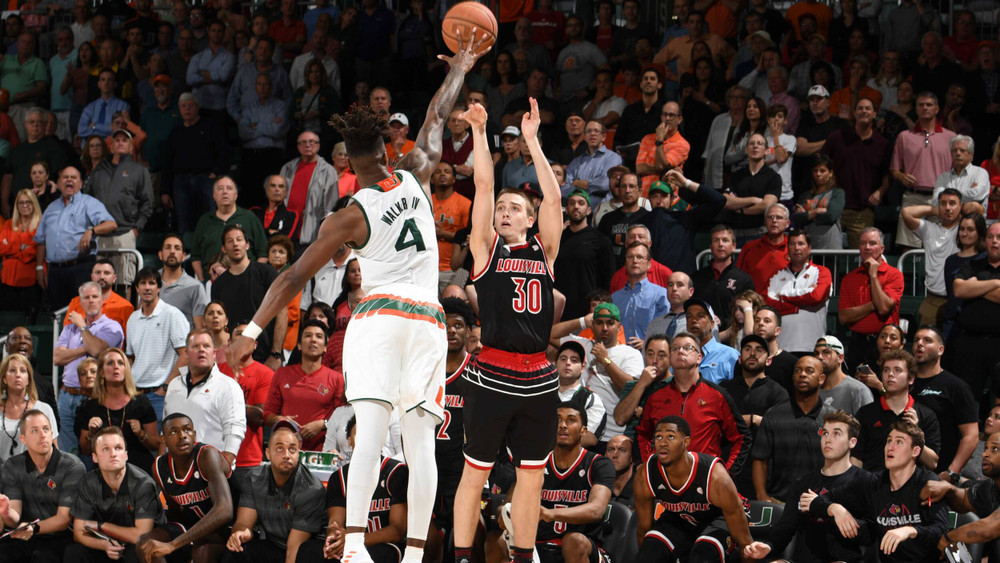 The Lonnie Walker IV game.
Miami's one-and-done, top-20 draftee put on a show in an instant classic at the Watsco Center. Walker, a freshman guard, led all players with 25 points, including an acrobatic game-tying layup with four seconds left in regulation. He shot 9-of-18 from the floor, 4-of-9 from deep and 3-of-3 at the line, adding three assists, two steals and a block, while committing just one turnover in 40 minutes of action.
The back-and-forth affair boasted 14 lead changes and eight ties, with neither team holding an edge of greater than seven points. For the final 12:57 of regulation and first 4:42 of overtime—a cumulative stretch of 17:39—it was a one-possession game at all times. The Hurricanes trailed by three with 32 seconds left in regulation and by two with 1:18 remaining in overtime, but pulled through both times.
Miami's trio of future NBA players got the job done, as sophomore guard Bruce Brown Jr., and sophomore forward Dewan Hernandez joined Walker with splendid performances. Hernandez compiled an 18-point, 12-rebound double-double, while Brown notched eight points, 11 rebounds, three blocks, three steals and two assists. Senior guard Ja'Quan Newton added 12 points in the victory.
Game 20… Feb. 2, 2013: #14/15 Miami 79, #19 NC State 78 (Raleigh, N.C.)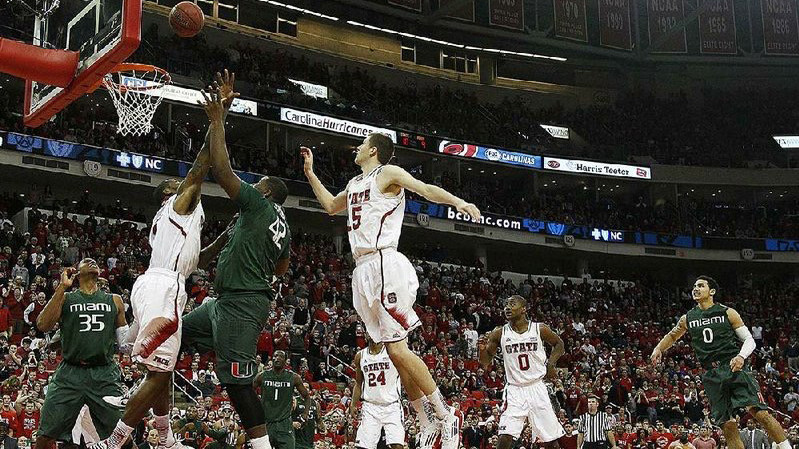 To be selected over a 15-point win against an eventual national champion—Miami beat North Carolina, 77-62, in 2016-17's Game 20—a contest must be an absolute classic. This one certainly fits the bill.
In a much-ballyhooed, top-20 showdown between the ACC leader and the ACC preseason pick, the former came away with a one-point decision on a game-winning tip-in that still stands tall in Miami lore. After thrashings of Duke and Florida State helped propel the Hurricanes into the top 15, this triumph put them in the AP top 10 for the first time since March 1999.
The Wolfpack led by 10 with 13:39 left and by six with 9:36 to play, but Miami went on a 10-0 run to go in front, 68-62, with 7:07 remaining. NC State fought back and held a five-point edge with 1:32 left, when Miami's Durand Scott began to take over. The senior guard went on a personal 6-2 run, trimming the deficit to one, 78-77, with 45 ticks left. After getting a defensive stop, Miami had a chance to win it in the closing seconds, but sophomore guard Shane Larkin's shot rolled off the rim. However, redshirt senior center Reggie Johnson, in his home state, tipped it back up and in, giving Miami the game-winning basket with 0.8 seconds to play.
Scott paced Miami with 18 points, while redshirt senior center Julian Gamble, another North Carolina native, posted 16 on 6-of-9 shooting. Johnson scored 15 points, while both redshirt senior forward Kenny Kadji and Larkin both notched 13, with the latter adding five assists and five steals.