CORAL GABLES. Fla. – Three matches into the 2020 fall season, the University of Miami soccer team continues to build experience with a lineup consisting of 17 underclassmen.
With the guidance of the upperclassmen and coaching staff, the Hurricanes are working toward maturing as a unit and improving each day.
"This fall is about getting better, getting players experience and making sure that we are ready to go in the spring season and for next season's fall," head coach Sarah Barnes said. "So, we are going to have a relentless focus on how do we improve from game, to game, to game."
10 different Hurricanes have earned their first collegiate starts in 2020 – senior Morgan Asmussen, freshman Mia Atrio, freshman Michaela Baker, freshman Annie Blair, freshman Delaney Brown, freshman Julia Edwards, redshirt freshman Jackie Koerwitz, freshman Katarina Molina, sophomore Taylor Shell and sophomore Emma Tucker –  while freshmen Gabriela Rusek amd Cailey Wesolowsky have each provided valuable minutes off the bench.
During these unprecedented times, Miami has kicked off the season with four ACC foes, three of which reached the 2019 NCAA Tournament. However, it is this opportunity to face some of the nation's best that has been most beneficial for the first-year Hurricanes.
"The first four matches were really eye-opening. It is really amazing to see the difference in speed and quality of play when entering the college level," Molina said. "After the first two matches I learned that even if the outcomes were not what we wanted, we have to continue to work hard, play our game and learn from it. As Coach Barnes said, 'There is no time to feel sorry for ourselves, we just have to keep getting after it.' If we continue to work hard for each other, I foresee only positive things coming Miami's way."
"After playing in the first four matches, I learned you have to stay positive throughout the entire game and leave everything on the field," Blair said. "You can't be hard on yourself for one little mistake, rather than focus on what you are going to do next time to have a better outcome."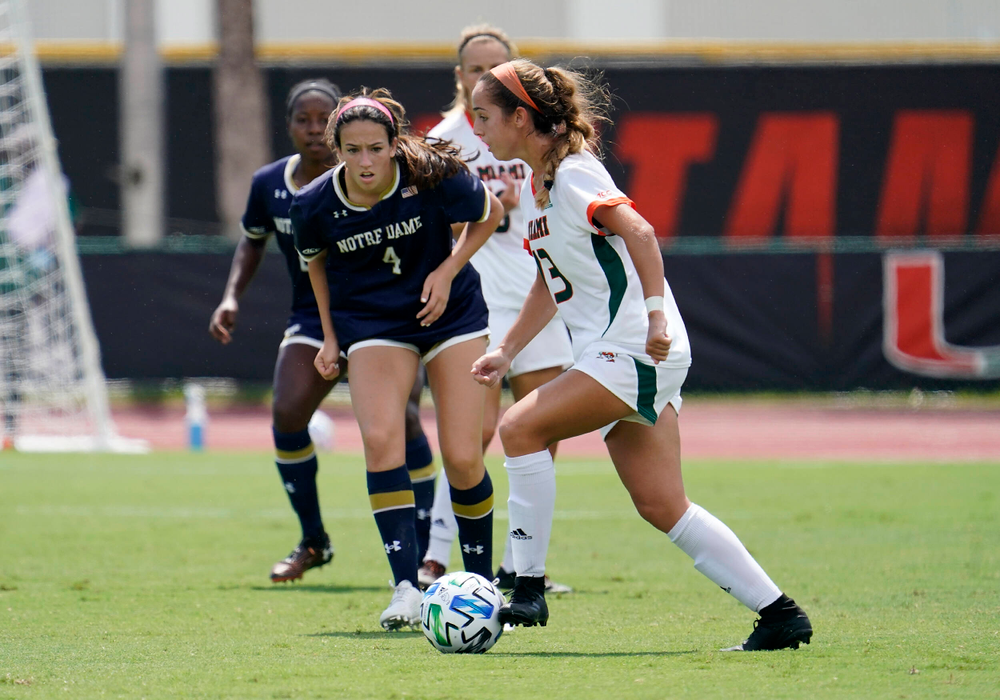 Along with the stiff competition, the opportunity to hear their names over the public address announcement as they prepared for their first collegiate starts have each been great moments for the freshmen.
"Hearing my name over the starting lineup announcement felt incredible," Edwards said. "It's always been my goal to play college soccer and to know that I've made it here and am able to have an impact is a great feeling. I'm definitely looking to just continue to gain confidence and keep adjusting to the quick speed of play in the ACC. I've learned a lot from these past three games against great opponents so I'm ready to apply it on the road."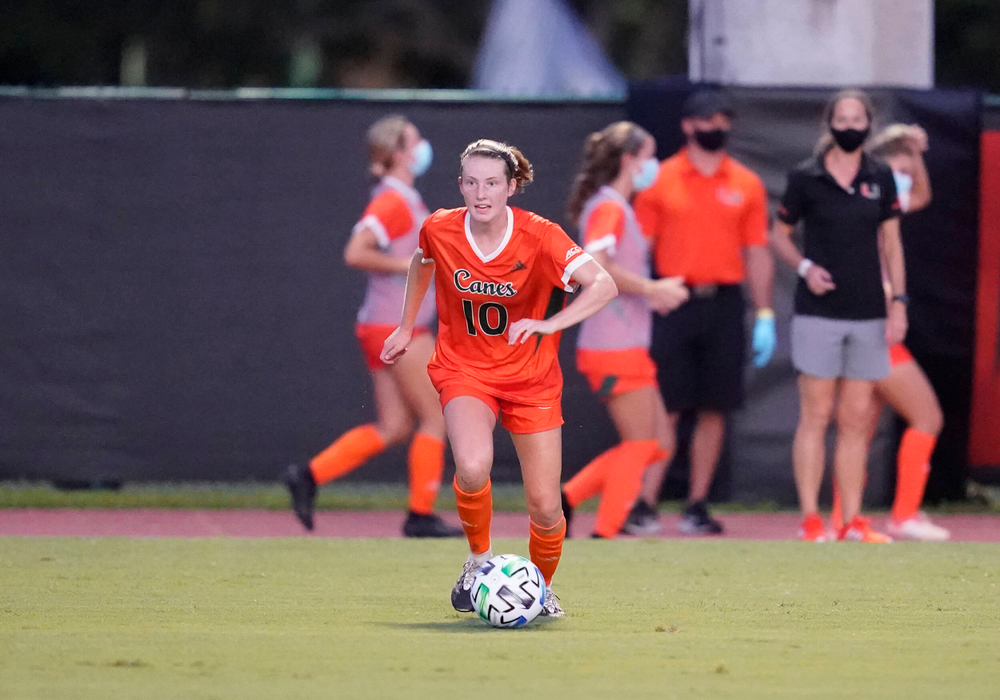 Echoing her teammate, Brown also explained what it has meant to continue to learn and compete alongside junior defender Selena Fortich. Playing center back for the Canes, Brown kicked off her collegiate career going the distance against third-ranked Clemson and has earned the start in all three matches.
"I was extremely excited to start against Clemson. Of course I was nervous, but I felt prepared. And because of all the training sessions we have had throughout the past couple months, I felt physically and mentally ready to play, and play all 90 minutes," Brown said. "I was extremely excited to get to play against one of the top ACC teams and felt like it was a great learning experience for all of us going into the ACC season. It definitely helped prepare me for the competition I will be up against in the ACC."
"I am very fortunate to be able to play next to someone as experienced as Selena," Brown continued. "Coming in I've had to learn our style of play quickly and Selena has definitely helped me learn and adjust. She's helped me to be patient off the ball and not force anything. She is also a good communicator and keeps me aware of situations throughout the game while teaching me to do the same."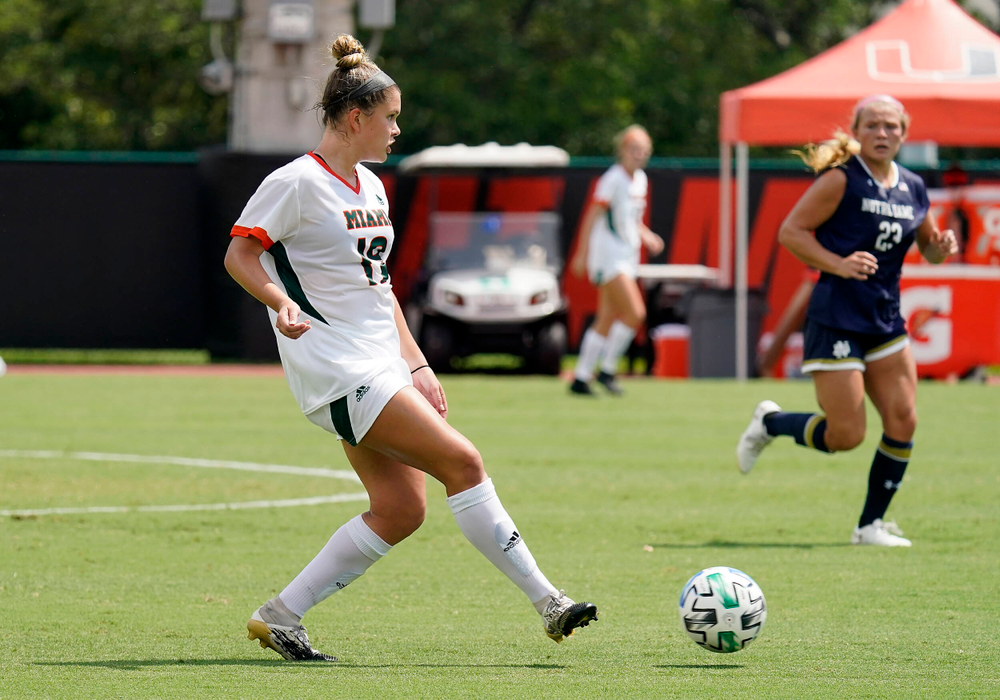 As Miami prepares for their first road stretch, the Hurricanes are looking to build off of what they learned in the first three and make improvements as a team.
"It was surreal to finally play in my first college game because it's what I have been working for all my life," Rusek said. "The coaches during practice always told me how tough the back line would be against the forwards and they were certainly right about that. The first three matches, I learned that I need to hold my ground against the other players and to be smart with my runs and how I check to the ball."
"I learned that ACC teams are by far the best in the country and no matter what team you're playing, it's going to be a tough competition and if you make mistakes, the teams will punish you for it," Baker said. "I am looking forward to [the road trip] and just continuing to develop and get better as a team."
During its previous 10 day break, Miami took the time to focus on continuing to develop in training sessions.
The Hurricanes will now look to apply what they have learned and experienced over the past couple weeks as the take on No. 10 Virginia Sunday afternoon in Charlottesville, Va. The match will be aired live on ACC Network at 3 p.m.