Rivers Hoping to Make a Big Impact
CORAL GABLES, Fla. – Donna Daniels can still remember how harsh some of the words were.
Like most mothers of young athletes, Daniels did everything in her power to be at as many of her son's basketball, baseball and football games as possible – especially once she found a football league willing to let him play.
But more than once, Daniels would sit in the stands and have to listen as other parents around her criticized her son, Jalen.
They questioned his age. Made fun of his height and size. They asked if that bigger kid really belonged on the same field as his smaller friends and classmates.
By middle school, some of that criticism made its way to Jalen's ears and he couldn't help but ask his mom if being different would ever work in his favor.
Daniels tried, as best she could, to encourage him.
"I said, 'You know what, Jalen? This is going to pay off. Wait. Wait until you get to high school. This is going to pay off. It's going to turn into something good,'" Daniels recalled. "He'll bring it up now and say, 'Mom, you were right,' but he got a lot of grief for being the tallest or wearing a bigger shoe size. It was hard on him when he was younger. But when he got to ninth grade, he was like, 'I can do this.'"
Turns out Jalen Rivers could do more than "this."
By the time Rivers got to high school, coaches knew he had the potential to be a standout offensive lineman. And during his time at Orange Park's Oakleaf High – where former Hurricanes linebacker Shaquille Quarterman once starred – Rivers grew into a 6-foot-6, 328-pound force with an 84-inch wingspan that proved immovable more often than not.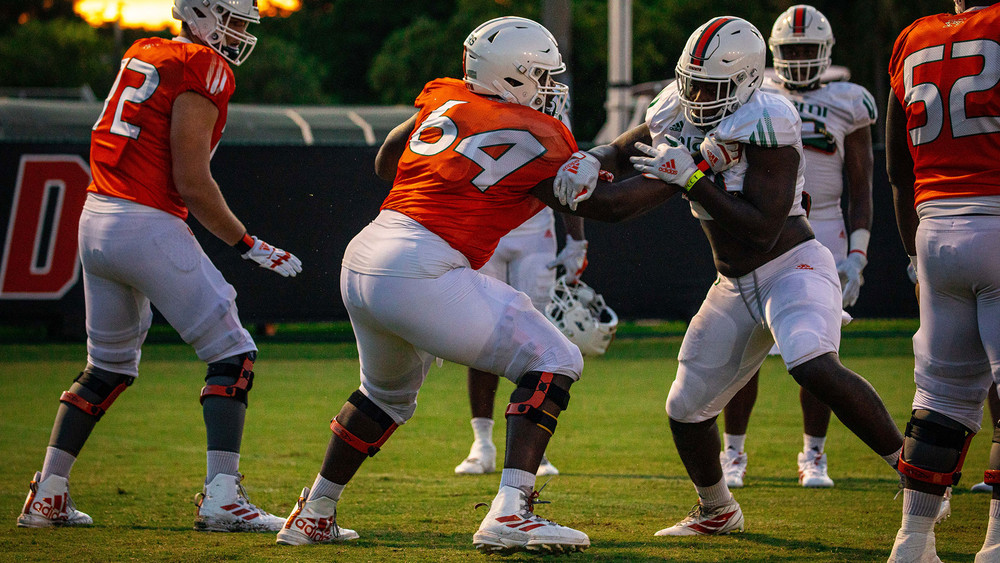 Daniels now chuckles when she recounts how some opponents didn't even line a player up against Rivers, knowing they'd have a better chance to pressure the quarterback from the other side.
His dominance eventually earned Rivers an invitation to play in the Under Armour All-American game. He was rated a consensus four-star prospect. ESPN classified him the No. 5 offensive tackle in the state and the No. 35 overall player in its national ESPN300 rankings. The 247 Composite listed Rivers the No. 15 offensive tackle nationally and the No. 145 player overall, regardless of position.
Along with football, Rivers competed on Oakleaf's basketball, weightlifting and track and field teams, too, winning a state championship in the shot put, all while collecting enough college credits to help start him on a path to graduating from college in three years and earning a Master's Degree.
College football powers like Alabama, Clemson, Florida, Florida State, Georgia, Nebraska and plenty others were impressed enough to extend scholarship offers.
But it was Miami that stood out from the pack when it continued to recruit him, even as he wondered what his best collegiate option might be. That Miami also wanted his longtime friend and teammate Chantz Williams didn't hurt. Neither did the fact both players could see the kind of star Quarterman had become for the Hurricanes.
"This school just had a different type of family environment that I connected with and it just felt like I was at home. I know that's a typical answer, but it really felt like home," Rivers said. "And academics wise, what I really looked at was the class size. Other than that, I knew they worked hard here. Everything just fit. They really recruited me, even when I wasn't looking at them at one point. They kept coming and they really wanted me. I could tell it wasn't fake."
Both Rivers and Williams – a defensive end – arrived at Miami in January as early enrollees and together, navigated all the adjustments that come with jumping into big-time college football.
They started their first college classes. Participated in early-morning strength and conditioning workouts with their fellow early enrollees. And in March, they got their first taste of on-field work when the Hurricanes managed four spring practices before the COVID-19 pandemic closed Miami's campus and sent students home for remote learning.
After a summer of uncertainty, Rivers and his teammates have navigated preseason camp and now, the opener against UAB is a mere 10 days away.
With the Hurricanes still settling on their offensive line rotation, how much Rivers will play remains uncertain. But his willingness to learn, his competitiveness and his drive have already impressed teammates and coaches.
And lining up against Williams in practice – something Rivers has been doing for years – has elicited its share of laughs and good-natured ribbing for both from the Hurricanes.
"You can just see from his upbringing, his past, he's a kid that doesn't want to see anyone fail. He doesn't want to fail. And he's going to try everything in his power to the best of his ability to make sure he does his job that way," Hurricanes offensive line coach Garin Justice said of Rivers. "He's such a perfectionist. … He's a great kid and as far as his footing, I've put him a little bit of everywhere. We've played him some tackle, we've played him some guard, we've played him on the left side, we've played him on the right side. We've forced him to be under some stress as a player mentally and to everything we've done, he's responded in a pretty good way. He's a guy that's going to have a really, really good career here."
That, Rivers said simply, is his plan.
He has done his part to learn from veterans like Corey Gaynor, DJ Scaife, John Campbell, Jakai Clark, Jarrid Williams and Cleveland Reed. He and the entire offensive line group have tried to build their chemistry, understanding the challenges that lie ahead for them as a unit adapting to a new offense and a new quarterback.
Now it's time for him to show what he can do.
"I want to bring that impact. I want my teammates and coaches to know they can trust me in anything, to put me anywhere like they've been doing and just build that trust," Rivers said. "I want to improve my performance, obviously and by the end of my career, I just want to leave some sort of impact. I want people to say, 'Dang, that guy is a hard worker. He's going to get anything he wants and desires.'"