A Tactical Mindset: Julia Edwards
CORAL GABLES, Fla. – Born and raised in the capital of Virginia, Richmond, Julia Edwards had considered staying close to home early in the recruiting process.
However, a change of scenery for a coaching staff she had early conversations with helped broaden her search and ultimately led her to the University of Miami.
"I started looking at Miami around my sophomore year, but I had known about [head] coach [Sarah] Barnes and [assistant coach Jeremy] Williams, because they were at [George Washington] when I was talking to GW my freshman year," Edwards said. "When they made the switch to Miami–I really liked them as coaches–I decided to still pursue [playing for them]. I didn't know much about Miami, but we stayed in touch and kept talking. Then, when I came down here for a visit, I immediately fell in love with the school."
On her visit, not only was the campus feel and look enticing, but what Miami offered on the academic front also played a major role in Edwards' decision.
"When I came to campus, I just really liked the atmosphere. It was obviously the prettiest campus I had ever been on. It was a little different, like I had never been on a campus where the landscaping and everything was just so pretty. So, I loved that," Edwards said. "Then, apart from the campus, I had known Miami was a good school, but after I visited and talked to the academic coordinators and looked into what programs they had, in terms of my major, I just felt like it was a really good school for me."
Wanting to help athletes with their rehab and injury prevention process once she eventually decides to hang up the cleats, Edwards is pursuing a degree in exercise physiology and a minor in sports medicine.
Until then, as she continues to work toward her academic goals, Edwards is also ready to officially take the pitch with her teammates.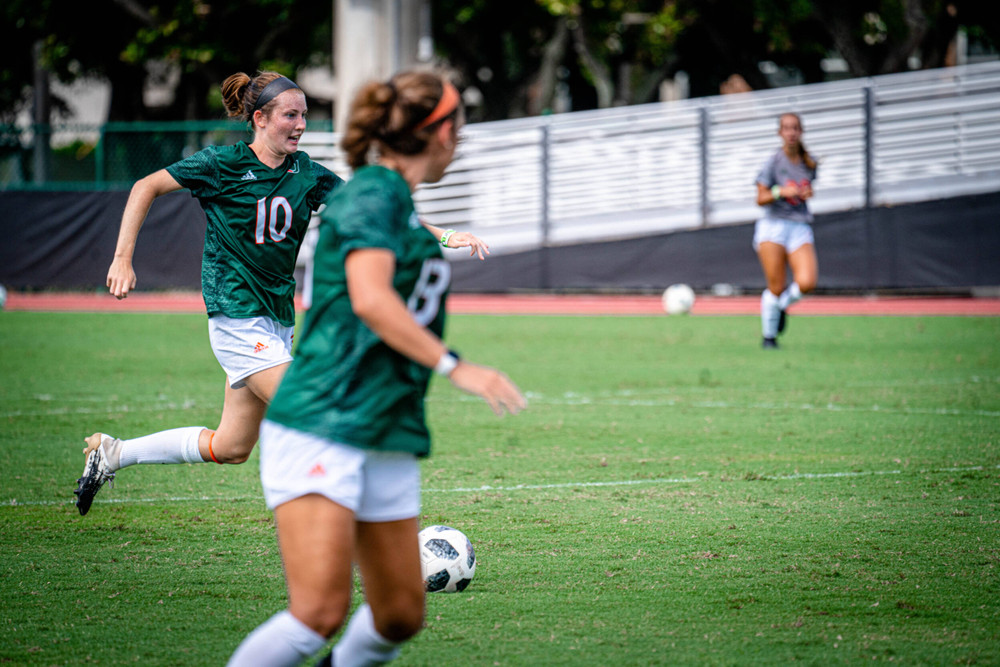 "I think short-term, this year, just hopefully contribute to the success of the team. To just come in this season and learn as much as I can from the coaching staff will be key, as well as my teammates, since I am surrounded by so many great players. So, just really learning and getting pushed to be better every day, will be huge," Edwards said. "Long-term, I would say, I just really want to help create a successful team, an environment to help build off of and eventually, I hope to play professionally because I have been playing since I was four. Why stop?"
Joining her first athletic program prior to attending pre-school, it did not take long for Edwards to fall in love with soccer.
Learning the game from her father, Byron Edwards, who played collegiately at Longwood University in Farmville, Va., Edwards explained how he was always a strong mentor for her, but is not the only reason soccer ranked supreme to all other activities for the midfielder.
"To be honest, I have never tried any other sports or even wanted to. I have loved it for as long as I can remember and really didn't have any interests in anything else. And that wasn't just because of my dad actually," Edwards said. "But, growing up every little girl looks up to the [U.S.] Women's National Team. So, just those players were people that I really looked up to. And there are a couple that I try and emulate my game after and look up to, specifically Julie Ertz.
"She is just an incredible player," Edwards added. "Defensively she is really solid and she is really difficult to get past and offensively she sort of paces the game and does a good job of distributing the ball. And I mean, for me personally as a midfielder, those are all really important skills to have."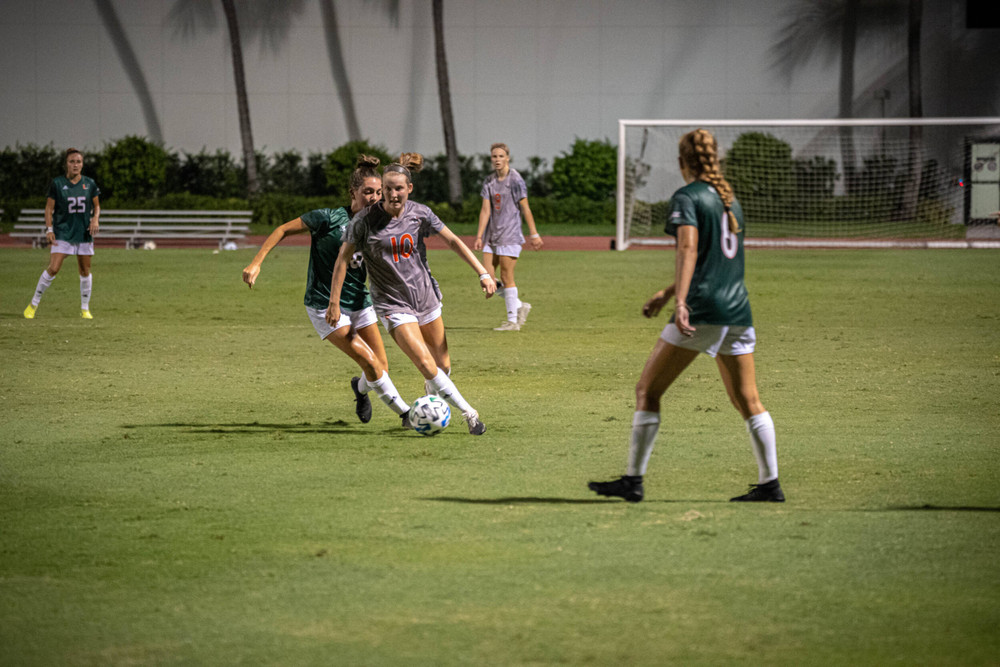 A 5-foot-6-inch midfielder/forward hailing from Richmond and a former Collegiate School attendee, Edwards has played multiple positions over her amateur career. As a sophomore, she garnered VISAA State Player of the Year accolades, while earning First Team All-State honors as a sophomore and junior and Richmond Times First Team All-Metro recognition as a freshman, sophomore and junior. In addition, she helped lead Collegiate School to a pair of VISAA State Titles.
For Edwards, she is happy to contribute anyway possible for Miami, but if she had to choose her favorite position on the field, it would be as a center midfielder.
"I pretty much always played center mid up until the past couple years when I started to move around. But I think the big contributor for why I am very versatile, is because one of my big strengths is my tactical abilities on the field," Edwards said. "I have always felt like I had a really good soccer IQ, so being able to read the game and make quick decisions, no matter what position I am playing, comes pretty easy for me. Also, my speed on and off the ball is definitely a strength and definitely allows me to play in any position.
"For me, I think the goal scoring aspect of my game could use some improvement because I want to be able to be that dangerous goal scorer," Edwards continued. "So, I think being able to consistently get myself in a position to get a shot off [will be important.] And then when I get there, being able to hit that shot with accuracy will be a big game changer for my college game."
With all of the early success, she thanked her parents for their support over the years and takes pride in her family's strong bond.
"Obviously, since my dad played collegiately, he has always been a pretty big mentor for me in terms of soccer. But he has also always been there and been really supportive," Edwards said. "Even though my mom didn't really play any sports growing up, she has been very supportive of me and, like my dad, has always given me whatever I need to succeed. I also have a younger brother, who is going to be a junior in high school and he is a big cross country and track runner."
Now, in her fourth week of training as a Miami Hurricane, Edwards is exited for the season to officially get underway and has been very appreciative of the upperclassmen.
"Everyone has been really great. During workouts, not only are they all very positive and encouraging, but they also are really good at helping push us to reach our full potential," Edwards said. "And off the field, everyone is really quick to reach out and see if we need anything. So, really everyone has been very welcoming."