Bringing the Defense: Delaney Brown
CORAL GABLES, Fla. – A hard-working individual looking to bring positivity to the University of Miami soccer team, Delaney Brown is ready to kick off the 2020 season.
Growing up in a household of five, she is the second member set to compete for an Atlantic Coast Conference (ACC) program, as her father, Christopher Brown, played free safety at Virginia Tech.
Very close with her family, Brown is appreciative of everything her parents have taught her over the years.
"My parents are very loving, fun and encouraging, but also tough on me, which has paid off," Brown said. "I have learned several things from them, but one of the most important things has been, 'You have to work for everything, nothing comes handed to you.'"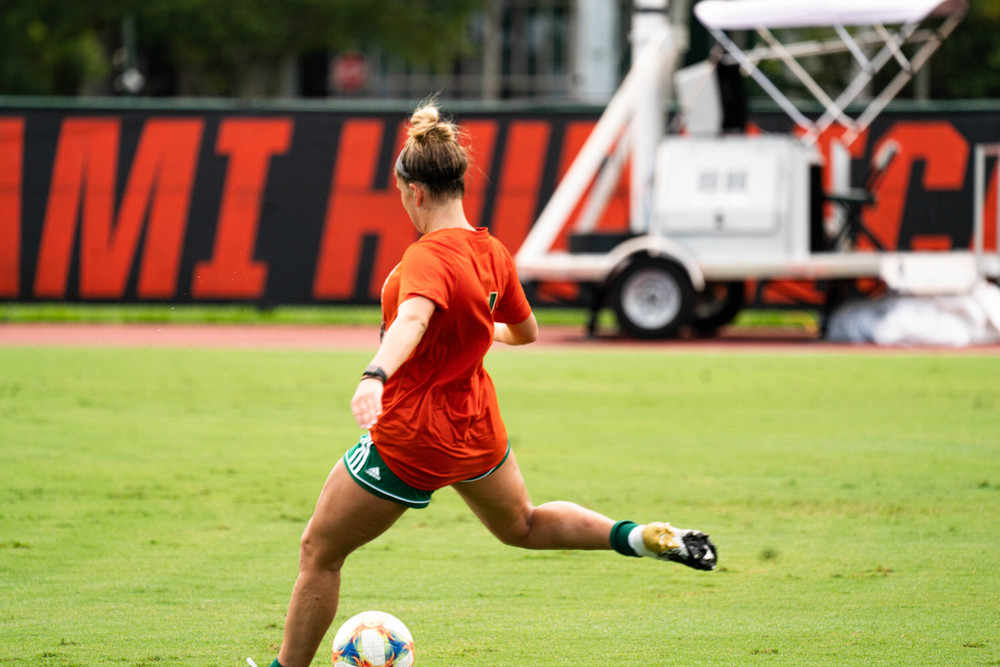 A 5-foot-6-inch defender from Johns Creek, Ga., Brown attended Blessed Trinity Catholic.
At the high school level, Brown was named the Blessed Trinity Rookie of the Year, earned Defensive Player of the Year accolades, was a team captain and in 2018 secured a spot on the Georgia State All-Region First Team.
At the club level, she participated on Concorde Fire 02 ECNL Platinum. Starting at center back, she contributed to a pair of ECNL titles, including Southeast Region Champs (2018-19) and Georgia State Cup Champions (2015).
Prior to all of the honors, Brown was first hooked to the sport of soccer at the age of four, joining a recreational league in her hometown.
However, soccer wasn't the only sport on Brown's mind, as she reached level seven of competitive gymnastics prior to high school. But spending 20 hours a week in the gym on top of daily club soccer practices, she was forced to make a decision. So, in middle school she ultimately chose to step away from the aerobatics in order to devote her time to the pitch.
The year following her decision, her freshman year of high school, coaches at the Division I level began contacting the defender.
"The recruiting process was fun and exciting, but also very stressful picking what school I wanted to represent," Brown said. "I'm happy I waited as long as I did to commit because I found the best school for me."
Deciding between several programs, including her father's alma mater, Virginia Tech, the hometown Georgia Bulldogs and a team that reached the third round of the 2019 NCAA Tournament, Santa Clara, Brown ultimately chose to take her talents to the Sunshine State.
"The campus is gorgeous and I love Miami," Brown said. "The University of Miami just gives off a good energy and I feel like I am living at a vacation resort. I also just loved the coaches and the program they are building."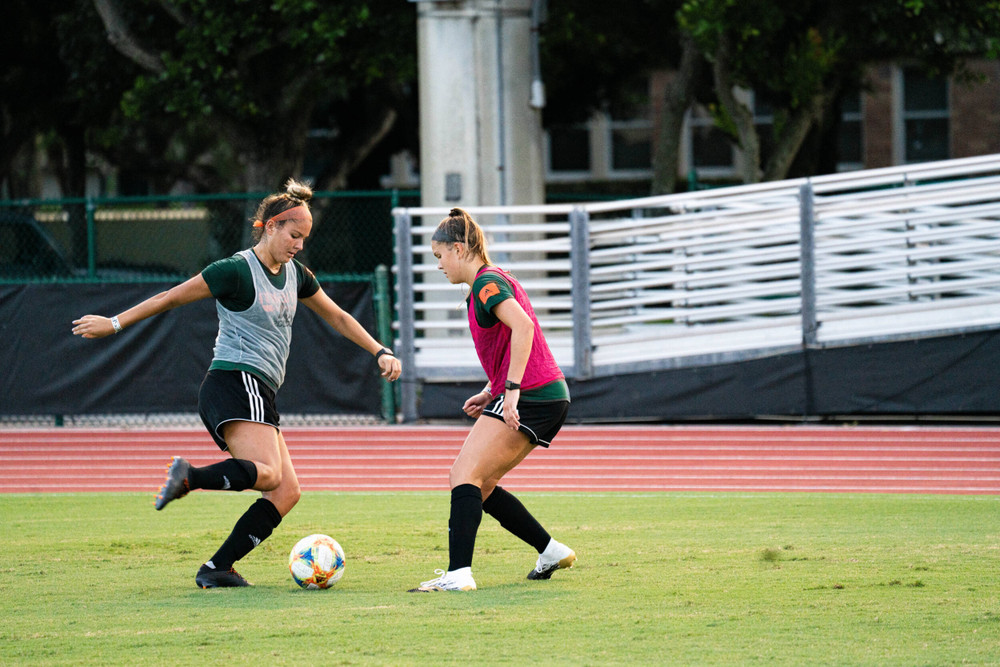 Heading into her fourth week of training with the Hurricanes, Brown is becoming more and more comfortable with her teammates and coaches and has already caught the eyes of Miami's third-year center back Selena Fortich.
"After my first interaction with Delaney I could instantly tell she was a hard worker and really wanted to learn and get better as a player," Fortich said. "I think over the past three weeks [Delaney] and all of the freshmen have grown more confident and gotten more comfortable with the team. She is super eager to better her game and is always asking us older girls any questions she may have.
"I think as a player, especially a defender, she sees the field really well and knows when the time to build is, versus going big," Fortich continued. "I also think she is a good physical player, which is a key aspect, especially being a defender."
Brown, who said, "I'm excited to grow as a player and learn from some of the best," jumpstarted her academic career on Aug. 17 pursuing a nursing degree and a minor in psychology.
With her athletic and academic paths set, Brown is ready to take the next couple of weeks to continue working on her game in preparation for the upcoming season opener.