Canes Find Success and Support On and Off the Track
CORAL GABLES, Fla. – Michelle Atherley can't help but smile when she thinks about it. 
She arrived at Miami as a transfer from Auburn hoping for a fresh start, something new. She'll leave with a national championship, an undergraduate degree and two master's degrees – at least.
"I've gotten more than I thought, for sure," laughed Atherley, who in 2019 became Miami track and field's 17th national champion when she claimed the title in the indoor heptathlon. "People tell me all the time, 'It's crazy, you were in your master's [program] and you're a national champion.' I'm sure I'll look back on it and think it's really insane how much I did at Miami and how much I was able to accomplish."
For now, though, there's little time to dwell. 
Because spring-sport athletes were granted another year of eligibility by the NCAA in the wake of the COVID-19 pandemic, Atherley is preparing to not only chase down another title, but she's working to earn a second graduate degree, this one in International Public Administration. 
She's one of six members of the Hurricanes women's track and field team that will be pursuing graduate degrees this academic year. And as they prepare for what will surely be a series of challenges both on the track and in the classroom, the group is rallying together and finding ways to support each other as they prepare for whatever may lie ahead. 
"I think it kind of goes hand-in-hand with how the University of Miami recruits and the level of competition that's within our program," said Atherley, who has spent her summer interning at the Miami offices of the non-profit S.O.U.L. Sisters Leadership Collective. "We push each other on the track and it's the same off the track. There are so many different challenges with [the Covid-19 pandemic], that to know somebody else, even if they're in a different program, they're still kind of in the same boat, it definitely helps 100 percent. I know we'll probably have study groups and things like that. To have somebody else that understands it definitely helps."
Joining Atherley in the quest for a graduate degree this year is thrower Debbie Ajagbe, who in May was accepted into an elite five-year program at Miami that will result in her earning two engineering degrees. Meanwhile, fellow thrower Zakiya Rashid is pursuing a master's in Exercise Physiology Strength and Conditioning, sprinter Alfreda Steele is pursuing a master's in Liberal Studies, while jumps athlete Darlene Charles is pursuing a master's in Criminology and Criminal Defense and sprinter Amuru Patterson is pursuing her master's in Mental Health Counseling.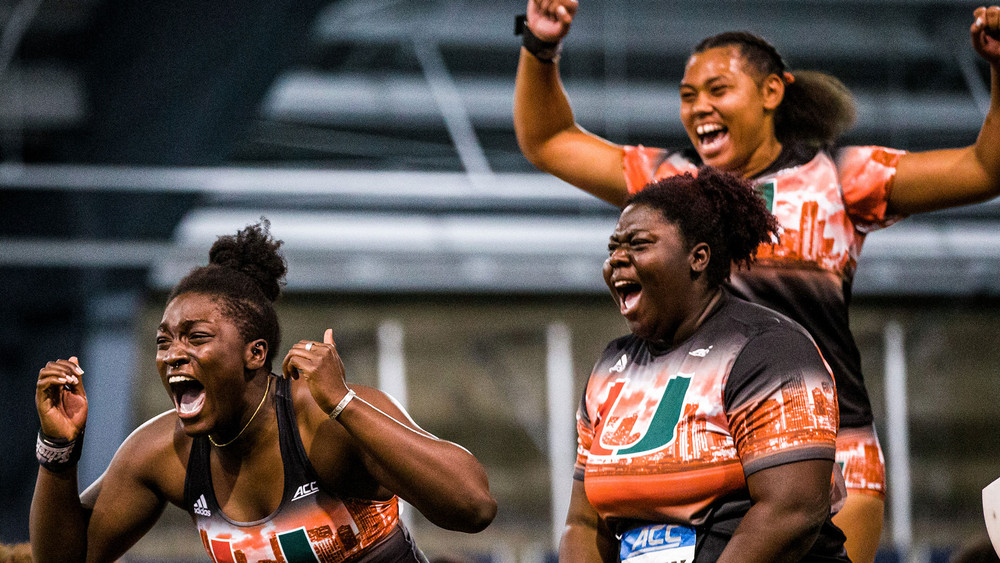 Their courses of study are as varied as their personal backgrounds and their events, but their similar competitive drives, Ajagbe says, will be key in the coming months. 
"I would definitely say that I feel like individually we are the types of people who want more and want to basically be at the top of our game," said Ajagbe, who earlier this year was named both the ACC Women's Field Performer of the Year and the ACC Indoor Track Scholar-Athlete of the Year. "We never stop striving to see how we can improve ourselves, whether it's on the track or in the classroom and I think that's what has brought us to this point. I think it's a little bit of a coincidence we're all on the track team, but we do share the same mindset when it comes to how we lead our lives."
While their drive and motivation have certainly played a role in helping the six track athletes reach this point, there is another constant they say have helped them succeed: support from their coaches and Miami's academic support system. 
Ajagbe noted that, more than once, track and field director Amy Deem and associate head coach Cory Young have helped her rework her practice schedule so she can participate in a special class or event on campus. And Charles credits the one-on-one mentorship she has received from learning specialist Dr. Felecia Theune with helping her navigate the challenges of being a student-athlete at a high-level program. 
"We have the resources to succeed. Having stuff like study hall and mentors and tutors that are able to work with us in smaller groups is what's very helpful for me because I have a learning disability and I've struggled sometimes, even though I'm a very hard worker," Charles said. "Having that kind of support at the University has helped me a lot. If I didn't have that, I don't know that I would've done as well as I have. … It's beyond 100 percent appreciation, honestly."
For Deem – a Hall of Famer who built Miami into a track and field powerhouse and was the U.S. women's track coach for the 2012 Olympics – helping her athletes find success on both the track and the classroom is a driving force. 
Championships matter, she knows. But, so too, does everything that comes after an athlete steps away from competition. 
"I'm a track and field coach. To see them perform at a high level is obviously very gratifying," Deem said. "But there is definitely life after sport, especially in the sport of track and field. For them to be able to take advantage of the opportunity of having a scholarship, of going to grad school and to take advantage of a unique situation and be able to come out of it with hopefully something like a master's degree, it's what I'm about. … I'm extremely proud of those ladies."