Always Been Soccer: Michaela Baker
CORAL GABLES, Fla. – Growing up, it did not take long for Michaela Baker to grow fond of soccer.
Picking up the sport at the young age of four, only a brief offseason of gymnastics in the third grade ever took her focus away from the pitch.
A standout midfielder/forward at San Marcos High School in San Diego, Baker began to draw attention from numerous college staffs, including Army West Point, Northeastern, San Diego State and Texas, but a visit to the University of Miami campus quickly changed her recruiting direction.
"My first interactions were obviously very positive," Baker said. "I was never really thinking about attending any schools in Florida. To be honest, I never really even thought about Florida. But, as soon as I visited campus, I immediately fell in love with this place. It quickly became my dream school.
"I love the culture of Miami," Baker continued. "I really just love the atmosphere. It always has good energy and is very positive here."
At San Marcos, the 5-foot-3 attacker achieved several awards and accomplishments over her high school career, including offensive player of the year honors, finishing as the team's leading scorer and first team all-conference distinction.
Playing "aggressive" to compensate for her size, Baker takes pride in her ability to read the game and credits these strengths to her success at San Marcos and the club level.
"I am quick and I would say that I read the game very well and that my soccer IQ is pretty high," Baker said. "But, while I am at Miami, I am looking to work on and continue to improve my final product. For example, when I make a move past my opponent, can I get the shot off, can I score the goal or can I get the cross or pass off? That is an area I want to continue improving at."
A native of San Diego, Baker participated at the club level from U12-U18 for San Diego Surf, including four years in ECNL and two years in USSDA. She later finished her club career at the U19 level with LA Galaxy San Diego. In 2018, she led San Diego to the USDAA U17 Surf Cup Championship title and this past season was granted Top Drawer Offensive Standout honors.
Recently taking the 2,600-plus mile trek across the United States, Baker is quickly starting to settle in at The U thanks to the support of her new teammates.
"I feel like everybody has been very welcoming and just open to helping [the other newcomers and I] along," Baker said. "The rising sophomores all took us out to dinner one night, and then Tia [Dupont] and Selena [Fortich] took us out another night. They have all just been very welcoming and willing to help out if we have any questions. It has been really great."
Preparing for her second season at Miami, Sacramento, Calif., native Jackie Koerwitz has been pleased with what she has already seen out of Baker.
"Michaela made a great impression right off the bat. It's obvious that she is excited to be here and she brings great energy to every lift, conditioning and training session," Koerwitz said. "She picks up on things quickly and she brings grit, intensity and skill. She also has the ability to use both feet under pressure. I can't wait to see how she develops this year, as well as the following three."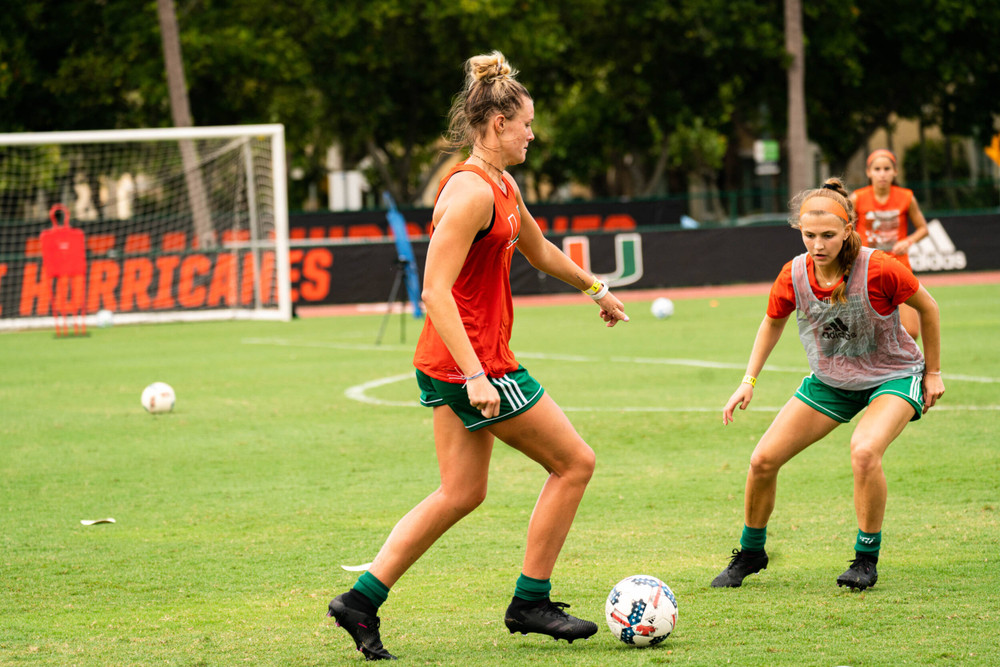 In addition to her great interactions with the Miami upperclassmen, she expressed how the freshman class has quickly formed a strong bond with one another. Joining a fellow Southern California native in January early enrollee Cailey Wesolowsky, the transition has been seamless for Baker.
"It has actually been really positive. Cailey and I are both from San Diego and since our first official visit we have been best friends. We are rooming together; we are pretty much inseparable," Baker said. "As for the other girls, every Friday we get dinner, hang out and continue to get to know each other, since we don't have to wake up early the next morning for training. Also, if we need to go grocery shopping, go to the beach or anything like that, we will all text each other and see who is available to hang out."
With the first week of training officially underway for the Miami soccer program, Baker is looking forward to the upcoming season.
"I am just really excited to improve and see how my game can change playing at such a high level, competing against some of the very best," Baker said. "I am just super excited to start working toward my goals and becoming the best player I can."
With a plan to enter the school year pursuing a double major in criminology and psychology, Baker detailed a few of her short- and long-term goals as a Hurricane.
"Something I have talked about with the coaches is to work toward winning an ACC honor, that would be my dream," Baker said. "And then on the smaller side, working toward becoming a very well-rounded player. Examples being to use my left foot, as well as my right foot, or just improving my decision making [on the field].
"Academically, I love to learn and I love school. So, I am really interested to see how I can grow as a student," Baker continued. "I have always been a stickler for getting good grades, so staying focused and motivated in maintaining a high GPA is important to me."
With the beep test in the rear view mirror, the former Golden State resident is ready to make her mark in Coral Gables.