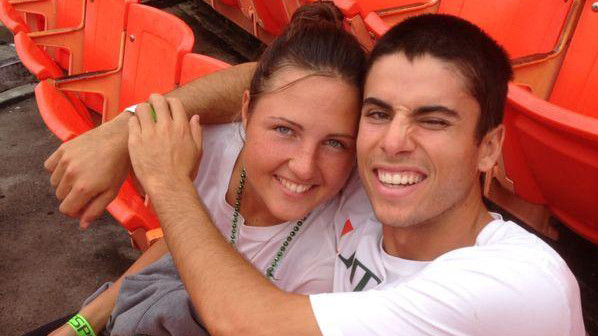 CORAL GABLES, Fla. – On her first day in the United States, Lina Lileikite met her future husband.
The Liepaja, Latvia, native arrived in Coral Gables in January 2012 to begin her tenure as a University of Miami student-athlete. Lileikite went through an orientation with her new teammate, Melissa Bolivar, at the Neil Schiff Tennis Center and was about ready to return to her dorm when a car pulled up to the facility.
Omar Aly, a member of the men's tennis team, just finished driving to Miami from his home in Edmond, Okla. He stopped at the courts to pick up his teammate, Gabriel Flores, and offered to drive both Bolivar, a fellow sophomore, and Lileikite to the dorms, as well.
"Initially, what I think is, he liked me from the first time [we met]. I kind of had too much going on because it was my first time here in the United States, first time somewhere really far," Lileikite said. "I was overwhelmed with everything. I definitely did not have anything in my mind about getting a boyfriend or anything. [I was] focused on other stuff, but eventually we started talking more."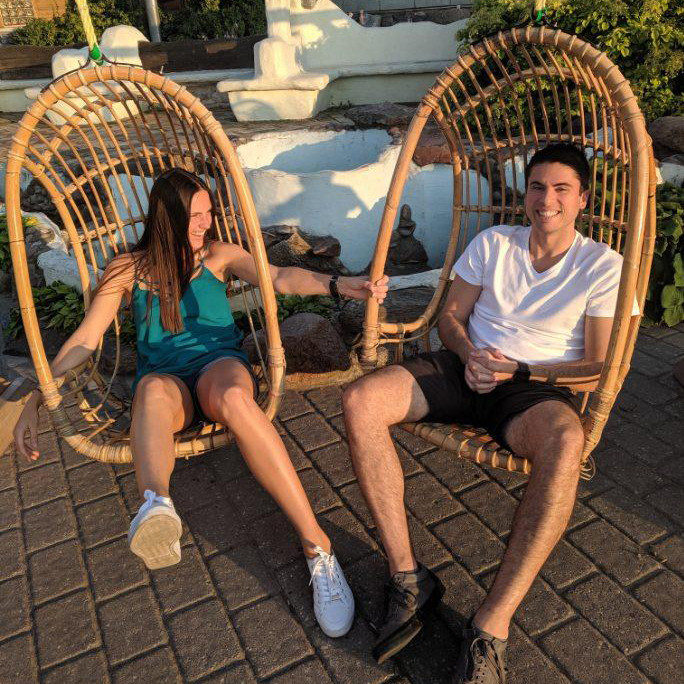 There is some dispute about just when Aly started to develop a crush on Lileikite, as he says it was not for another three or four weeks.
What is for sure, timeline aside, is that Aly eventually decided to pursue Lileikite, but was admittedly quite nervous about doing so. Thus, he went to his teammates for help.
"So, I basically, I guess, sourced out the initial conversation with her to them," Aly recalled. "Meaning, I basically gave them my phone and they were texting her for me. So, that's how that started . . . I guess I finally just mustered up the courage to ask her out myself without the need for intermediaries."
On her end, Lileikite had some suspicions that Aly might be getting advice on what to say, but was totally unaware the beginnings of her talks with Aly were, well, not actually with him.
"I think I had a feeling they were helping him with the texting because they were also approaching me without Omar's presence and asking things about Omar, like if I like him or not, but I had no idea they were the ones texting until way after the real relationship started," Lileikite said. "You always have those secret stories that the other half doesn't know at the beginning of the relationship that are shared and laughed about years after. This would be one of them."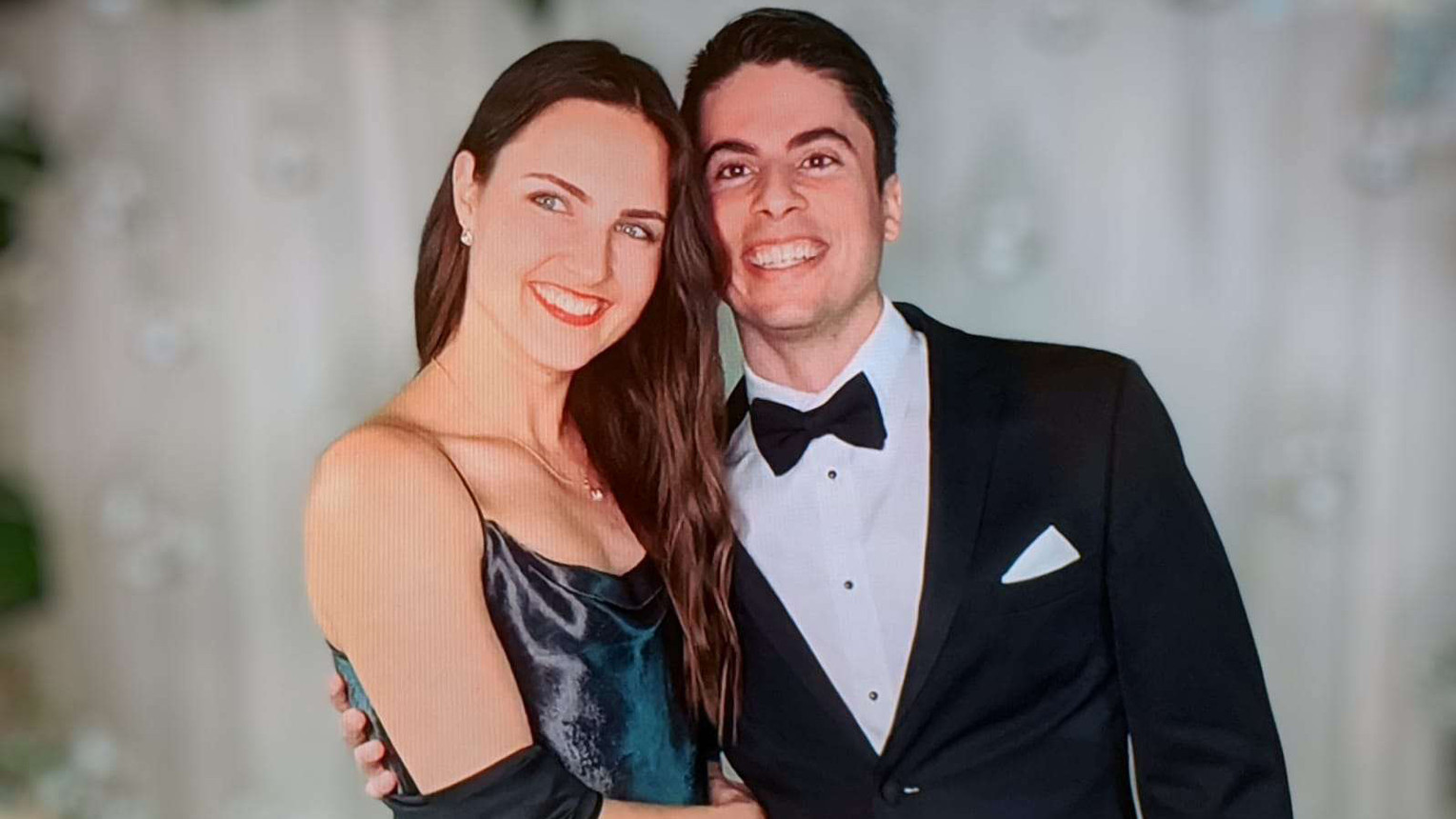 As they began to spend more time together, Lileikite noticed Aly's smarts and humor, as well as his similar interests and life viewpoints.
They did, however, have a slight language barrier. Lileikite, a trilingual speaker, certainly knew English, but was not fully comfortable with it just yet. Neither one was deterred by that, though.
"She was going to school in the U.S. and, presumably, she was going to figure out the language within the first semester in order to get through her classes," Aly said. "So, it was like, if she didn't do that, I guess we wouldn't have a relationship. I was kind of betting that she could figure it out."
Lileikite indeed improved her English abilities and did so with Aly's help; she asked him to correct her mistakes and he obliged.
While their backgrounds, native languages and accents—Aly thinks Lileikite's is "awesome," by the way—might have been different, their college experiences were quite similar. Both were not only Miami students and Miami athletes, but also Miami tennis players.
"I think that's another part that definitely unites you with another person. You have so much in common," Lileikite said. "You have almost the same routine, you have the same challenges, you understand what it takes in the fitness room. You don't even have to vent it out, you understand that person, what he goes through. So, it kind of like bonds you together."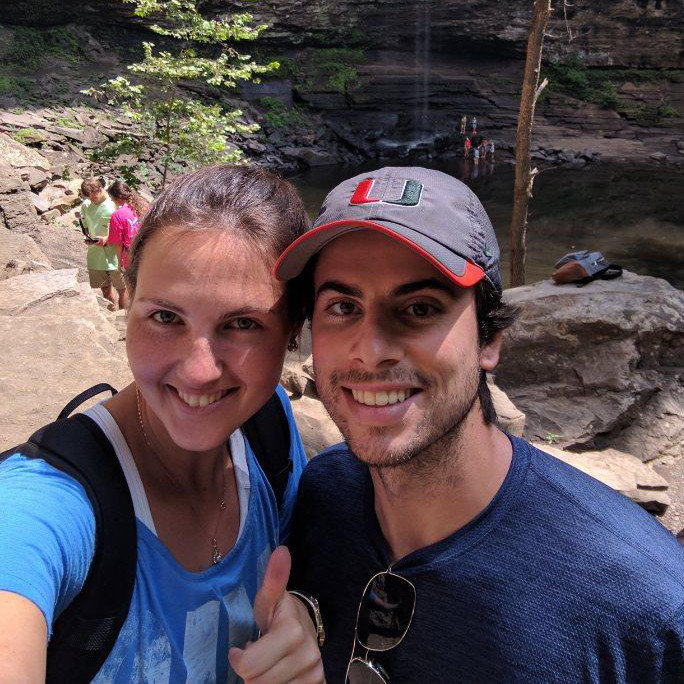 "The cool part about it was we were almost like hanging out together, but weren't, in a way that we would see each other at the courts and she would be practicing and I would be practicing," Aly added. "We'd know [what] each other was up to and what we were dealing with at the time, if it was a bad practice or even a good practice. We would see each other at the track, we would see each other in the gym."
They both, however, maintained hectic schedules as Division I student-athletes. Thus, despite their similar regimens, Aly and Lileikite actually spent considerable time apart.
Aly, though, feels that ended up being a positive side effect of their busy days, as it helped prevent early burnout.
"We'd only see each other a couple times a week. It made it more special when you did see that person because you were apart for a while," he said. "Ultimately, in the beginning of relationships, generally, people spend 24-seven together because it's new and it's fun and it's exciting, but those responsibilities kind of put a damper in that and maybe even prolonged that exciting period of time for the start of the relationship."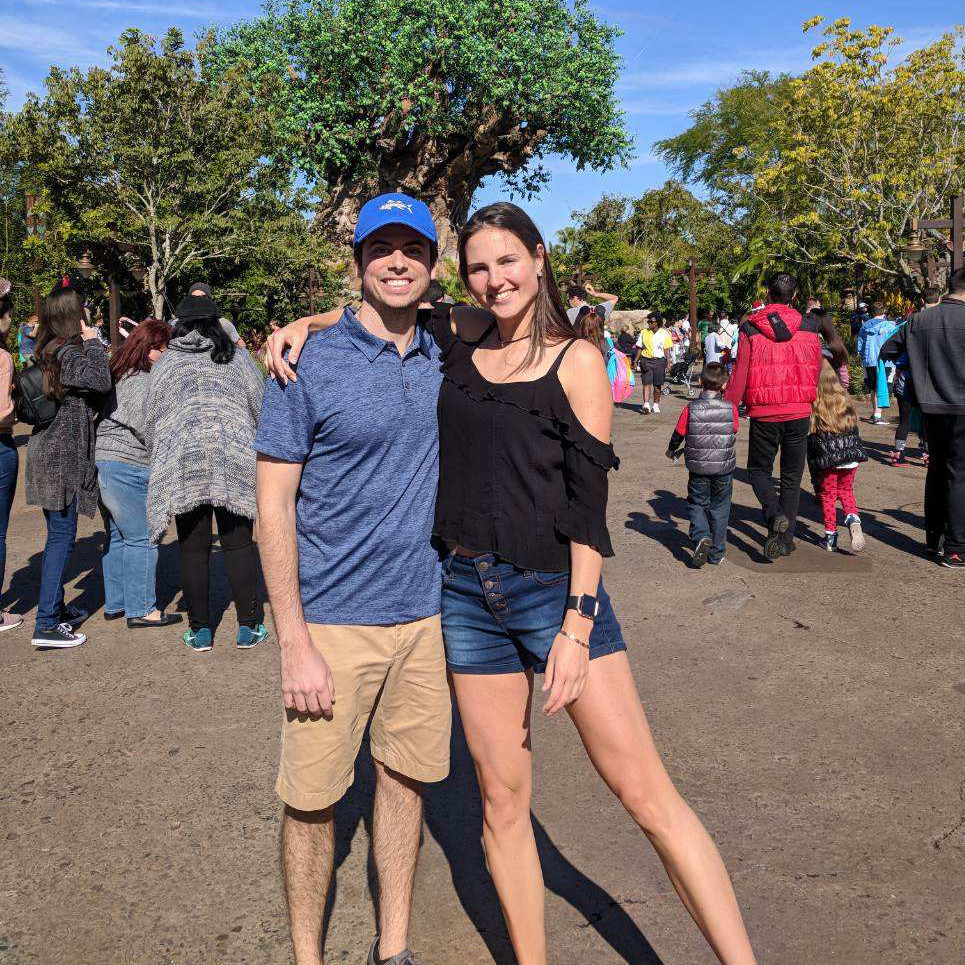 After about two years together, the pair split up briefly, right around the time of Aly's last season of collegiate tennis and final semester in school.
Just a few months later, the pair got back together and in the long run, the conversations they had during that time have helped them to this day.
"We talked about what was going on and what both of us wanted to see differently and improve on and it went from there," Aly shared. "It continues to this day."
Lileikite still had three semesters of college left when Aly graduated, but their relationship remained strong despite the latter's change in schedule.
"You have almost the same routine, you have the same challenges, you understand what it takes in the fitness room. You don't even have to vent it out, you understand that person, what he goes through. So, it kind of like bonds you together." -Lina Lileikite
When Lileikite, a four-time All-ACC Academic Team honoree, finished her tennis career in May 2015, she had one semester of school left and spent much of it living with Aly.
That allowed the duo to feel comfortable taking a big step as a couple the following summer, as they got married July 13, 2016. They moved into a new apartment together 10 days later, but other than that, not much has changed.
"The only thing different is talking about houses and kids and stuff like that, but the relationship, fundamentally, is the same," Aly said. "We had lived together previously before, so we knew we could do it."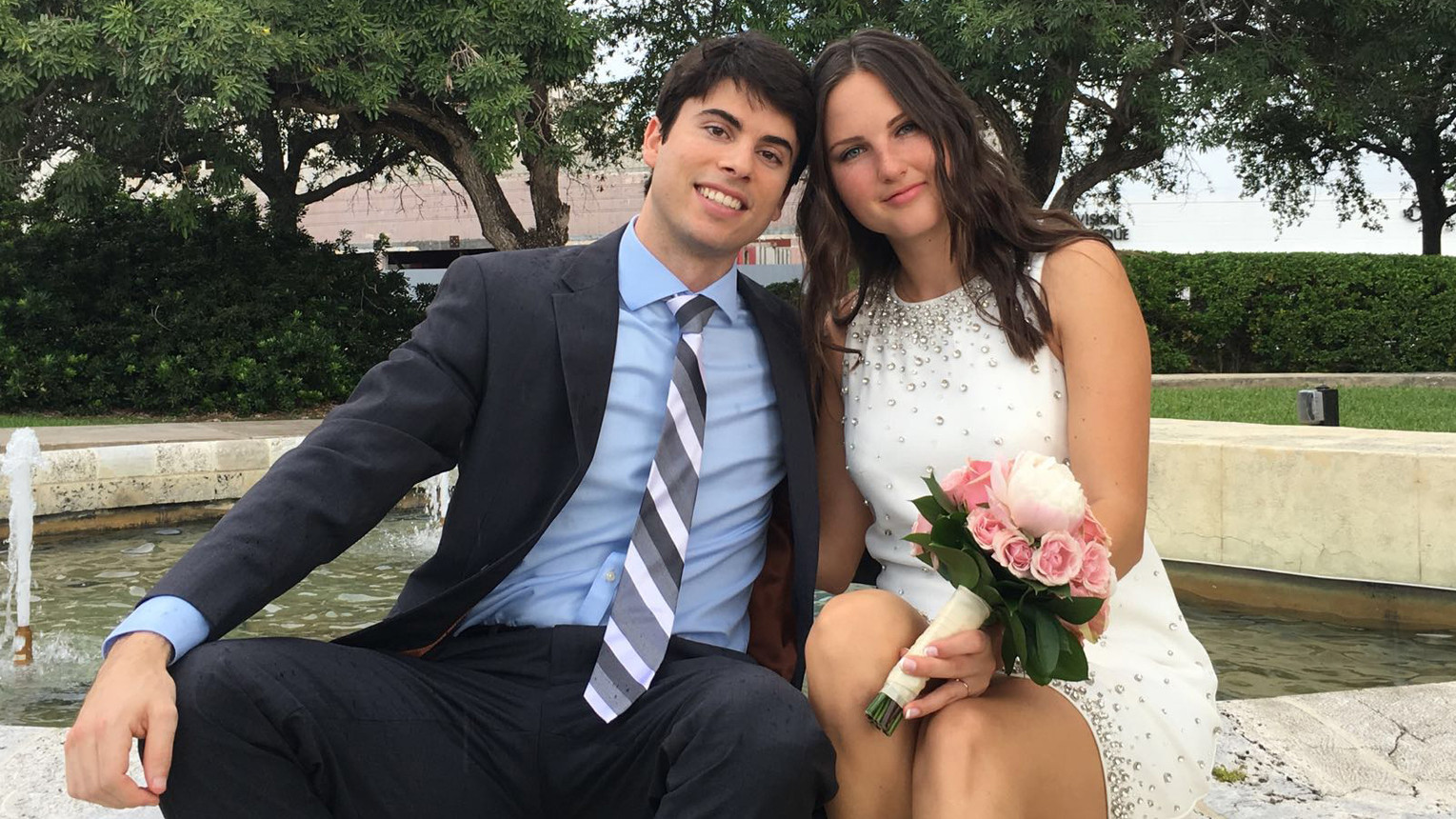 Another thing that has stayed the same is reliving their first official date, which came March 2, 2012, at Villagio in Merrick Park.
"We've went there every year since to just remember how it was the first time," Lileikite said.
One adjustment they did have to make was learning how to live as working professionals, rather than collegiate student-athletes.
Fortunately, they had each other to lean on as they handled a transition that can be difficult for anyone after finishing an athletic career.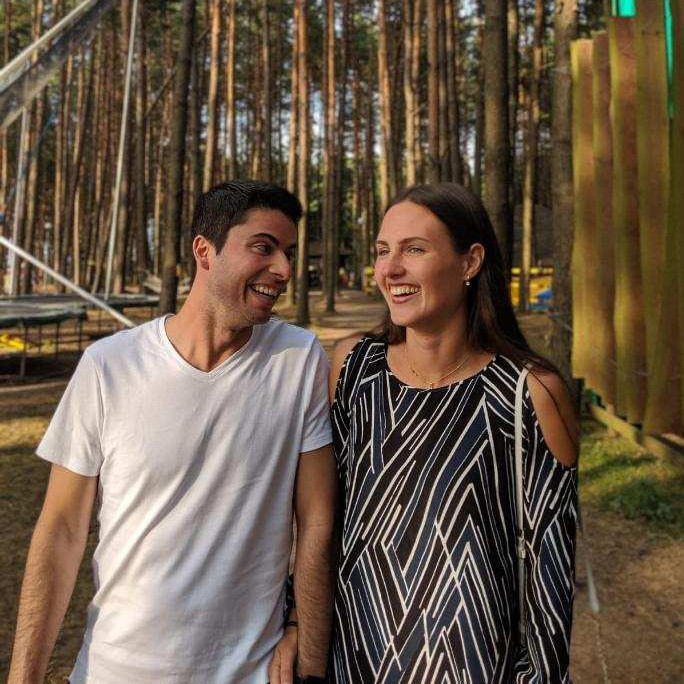 "I think what changed was just trying to get through this new period in our lives," Aly said. "It was kind of like we were starting over because we had identified as tennis players our entire lives and then, I think—of course, many people go through this—then we figured it out together. She'd support me and I'd support her. So, it was nice that [we both] had that."
From college sweethearts to newlyweds navigating a new life to planning a future together, Lileikite and Aly have their encounter on the former's first day in America to thank for setting them on this path.