How J.D. Arteaga Helped Mold Miami Into a Pitching Factory
His name carries so much weight in college baseball.
J.D. Arteaga is one of the greatest pitchers to ever step on the mound at Mark Light Field, home of the four-time national champion Miami Hurricanes.
The Miami native is also among the best hurlers to ever toe the rubber at Rosenblatt Stadium, the longtime home of the College World Series and a place Arteaga helped the Hurricanes reach in four straight seasons from 1994-1997.
Miami retired Arteaga's No. 33 on Feb. 5, 2003, prior to its season opener with FIU.
But this story is not about Arteaga's success on the mound.
This is about how, less than a month after his number was forever immortalized by the program he loves so much, Arteaga was back at The Light for good. And, 18 years later, he has built a pitching factory in Coral Gables.
On March 4, 2003, nine games deep into Miami's season, then-head coach Jim Morris named Arteaga the Hurricanes' next pitching coach and the legendary southpaw officially ended his playing career to start a new opportunity tutoring Hurricane hurlers.
Arteaga's style and approach to pitching was vital in J.D. Cockroft's development into the ace on Miami's 2003 club. Cockroft, a crafty left-hander much like Arteaga, went 11-3 with a 2.72 ERA in a team-high 119 innings, including three complete games and one shutout. A year later, Cockroft would become the first of 48 draft picks produced by Arteaga.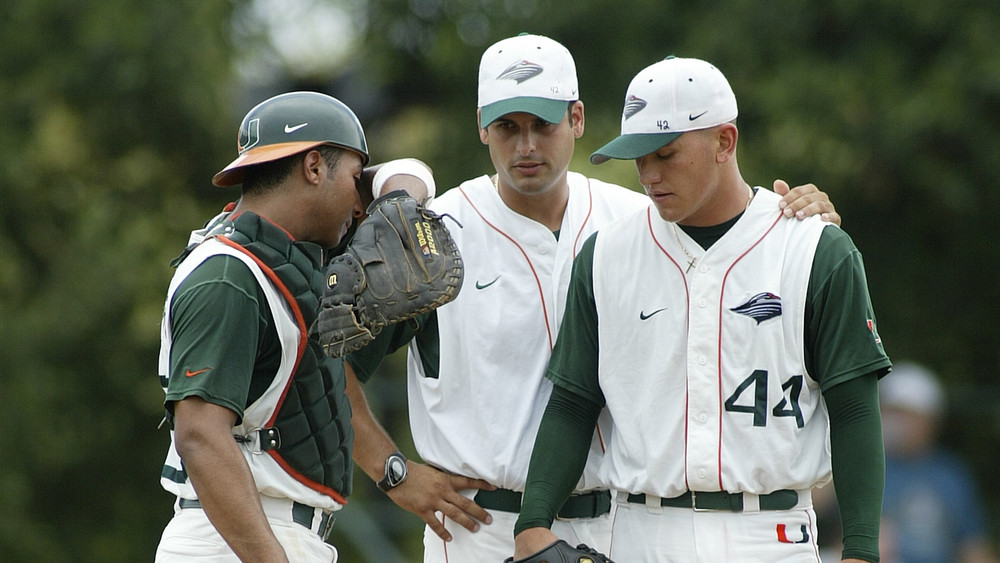 The numbers speak for themselves.
43 pitchers signed professional contracts
4 MLB first-round draft picks
9 pitchers selected in the top five rounds of the MLB Draft
19 pitchers picked in the top 10 rounds of the MLB Draft
A pitcher taken in 17 consecutive MLB Drafts dating back to 2004
Without a doubt, Arteaga can develop pitchers. But you won't catch the coach who has produced 25 All-Americans taking a victory lap around Mark Light Field any time soon.
"I would have thought we would have won a national championship by now," Arteaga said. "Yes, maybe my career has gone well, but not where I would have expected. I expected to be better. In whatever I've decided to do, I've always had the utmost confidence in myself and know that I can do it."
Cockroft kicked off a stretch of 17 consecutive MLB Drafts with a Hurricane pitcher selected. Most recently, hard-throwing right-handers Slade Cecconi and Chris McMahon joined that illustrious group of pitchers sent to professional baseball after spending time under Arteaga's tutelage.
But whether it is a crafty pitcher like Cockroft or first-round picks like Cesar Carrillo, Chris Perez and Carlos Gutierrez or power arms with electric stuff like Cecconi and McMahon, Arteaga knows pitchers cannot be successful without the two things he preaches most.
"There are a lot of ways to be successful as a pitcher," Arteaga said. "Whether it's a guy that throws hard or a guy with a really good breaking ball or good changeup or good command or good movement, everybody has something, a physical attribute that sets them apart from other pitchers. The one constant with all great pitchers and successful pitchers is the mental toughness and the enjoyment of competition.
"You've got to be able to compete and enjoy competing," Arteaga continued. "That's all pitching is. If you're a starting pitcher, you've got to compete about 100 times a game. Every pitch you throw, you've got to be willing to compete, willing to put stuff out there to fail, and enjoy that process. To me, that is an absolute must for any pitcher to be successful; that characteristic of being a competitor."
Arteaga, who threw three complete games at UM, was the ultimate competitor on the mound. He left Miami as the program's all-time wins leader with 43 and the all-time starts leader with 72. He ranks second for innings pitched in a career with 458.1. He is also fifth on the all-time strikeouts chart with 343 career Ks.
"I was very confident in my ability as a pitcher when I pitched and I wasn't very talented," Arteaga said. "I think that's one thing that's helped me become the pitching coach that I am. I was able to have success without great physical ability and instead just understanding pitching and getting hitters out."
But all of that knowledge and understanding is worthless if you cannot connect with your players and convey that message in a way that makes sense. That's why Arteaga works so hard to build and maintain relationships with each and every one of his players. Without that genuine connection and trust, there cannot be any growth and development.
"I think the first key to success in coaching is that the players understand that you have their best interests in mind," Arteaga said. "You absolutely have to have that and it's got to be real. Players understand when you're fake. To me, my first goal is to make sure they understand that their best interest is my first interest. Once you want to establish that, then they're more willing to listen and they allow themselves to be coached and molded to who you want them to be because they understand you're trying to make a better person and a better pitcher overall."
But don't take Arteaga's word for it.
Bryan Garcia knows first-hand what it's like to learn from one the best coaches in baseball.
"Clearly what he's doing is working," Garcia said. "When you get there as a freshmen or a JUCO guy and it's your first fall there, I like to think of it like he wears us down a little bit and makes us understand how things are supposed to work. And then, it's just building you up. He helps you realize like, 'Okay, I've got to change some things.' But he does it in a way where he doesn't force you to do anything. He makes it work and he gets you to do what he wants to do. And once you're there, then it is all about building up and becoming the best that you can be."
The 2016 Stopper of the Year, Garcia spent three seasons under Arteaga's mentorship and left Coral Gables as Miami's all-time saves leader. In 2019, the hard-throwing right-hander made his MLB debut with the Detroit Tigers, becoming the 64th Hurricane to play in the Major Leagues, but Garcia's path to the big leagues began in Coral Gables learning from Arteaga.
"His mental side of the game is second to none," Garcia said of Arteaga. "And he really puts that on us and makes us think and believe that nobody is better than us on that mound. I think that has a lot to do with it, the whole mental side. On top of that, how he was a pitcher, he could make the ball do whatever he wanted it to. So he knows what pitch will work for some guys and what pitches he needs to teach some guys. I think he just has a great overall understanding of pitching, in general."
Identifying competitors and building their mental strength has become a key part of Miami's pitching success under Arteaga and the two traits work in unison to help separate Hurricane pitchers from others around the country.
"I definitely feel like it's a winning atmosphere," All-American Brian Van Belle said. "Obviously, around the whole country, nobody goes out there trying to lose games. But I feel like J.D.'s competitiveness and leadership is what he instills in his pitchers as soon as you get there. I'd gotten to know him a lot through my recruiting process, when I was in junior college to get to Miami. And then once I got there, from the get go, I could just notice how competitive he was and his leadership working with people in the fall and with the strength and conditioning phase of the fall workouts."
Miami's pitchers, both current and former, swear by Arteaga's philosophy and teaching methods. Whether they are current players or Hurricanes that have gone on to professional baseball, they all agree that Arteaga has helped them improve tremendously at their craft.
"It just goes to show you I mean the track record we have down there and the pitching quality we've had over the last decade really," McMahon said. "A lot of that goes to J.D. because J.D. really knows what he's talking about. He's developed my pitching ability so much since I stepped on campus my freshman year. And then you also see it with the other pitchers that he works with. He works with everybody the same. Everybody, he's dialed in for and he wants them to get better. He's another guy that I really fed off of his competitive energy and that guy wants to win as much as anybody on the field and so he takes his job very seriously and he helps out a lot a lot of kids with their pitching."
Arteaga establishes the Miami standard from the first moment a pitcher arrives on campus and he reemphasizes that expectation every day for the rest of a player's career.
"I wouldn't say he's a perfectionist, but he's pretty close to it," Van Belle added. "When it comes to preparation and your routine and really paying attention to detail, that's something he always emphasizes in your bullpen and throwing every day. You always have to do things you have a purpose."
Van Belle overcame multiple injuries and played JUCO baseball before arriving and starring at Miami. Though humble about his achievements, he is proud of his accomplishments and knows his competitiveness and desire to succeed has helped him achieve everything he has earned in baseball. But the recent free agent signee with the Boston Red Sox organization knows his two years at Miami under Arteaga's watchful eye helped elevate him to unprecedented levels of success.
"I talk about it to this day with my family and friends. I look back at my time at Broward College and, yeah, I used to compete and I used to pitch well, as I have to this day, but just going to Miami kind of took my game to the next level," Van Belle said. "Back at Broward, I wasn't really on anybody's radar and then coming to Miami and proving myself on this platform has taken it to the next level. But I feel like that goes hand in hand with what J.D. has preached, and obviously Gino [DiMare] as well as the head coach. They've instilled that determination and motivation in all the players. Day in and day out, I feel like it's our preparation, our grind and instilling that that dog in us that helps us succeed.
"Learning from J.D., you pretty much know that you have to pay attention to detail," Van Belle continued. "With J.D., due to the fact that he's really high on paying attention to detail, I feel like that's what all pitchers that have gone through Miami and succeeded, that's what we all have in common. We all have that 'it factor.' I feel it's definitely part of our mindset and mental toughness. I feel like before Miami, I had some of it but it totally went up to another level once I got there."
Arteaga has mastered connecting with his players and it's those connections that have helped him instill an unwavering competitive desire in each pitcher that steps on a mound in a Miami uniform for nearly two decades.
"I think it's our philosophy in our program, from top to bottom, Whether it's offensively, defensively or pitching, it's about the individual and what makes that individual successful," Arteaga said. "There's plenty of different ways to be successful, but the mental mindset is the constant. But you've got to be willing to adapt as a coach. I'm very willing to adapt to the pitcher because I have to. I've 14 different pitchers on the staff on some years, sometimes 17 and I've had year's where it's only 12, but whatever that number is, it's that number of individuals that I have to work with and I have to learn them. I've got to learn when and how I have to push for each individual player. Certain guys have a characteristic where they may need a hug sometimes and other guys need a kick in the butt sometimes. You have to learn how guys are on a good day and on a bad day. Everybody is different and the psychology behind it plays a big, big role in being able to connect with each and every guy individually. I know I can't always do that, but I like to think that I do my best to connect with everyone and, more often than not, I'm able to. You just want to get the best out of your guys. That's all you can do as a coach."
As a coach, seeing your players succeed on the field is obviously important. But Arteaga knows his job goes beyond success between the foul lines. Having so many members of the tight-knit Miami baseball family constantly coming back to campus to work out and train in the offseason or even just to see him and catch up confirms that he is doing things the right way.
"The family atmosphere part of our program, to me, that's something that comes naturally. I've always said, 'Yes, we've had some great pitchers, but we have better men coming out of our program after they leave here. It all kind of comes together when you care about your family. You care about your brothers and your sisters and your parents. You care about each other and that's part of them understanding that their best interest is your first interest."
Much like Arteaga did as a player and continued as a coach, older Miami pitchers mentor younger ones. After all, they all share the common bond of being Canes and they all love to help their UM brethren.
"I love going back and seeing everyone, meeting the new guys and talking to them if they want to hear anything from me," Garcia said. "I remember I used to love when I was a player and guys that played with me and left to pro ball or even older guys that were in pro ball would come back and work out. I loved talking to them in the locker room and learning from them. I love going back and working out there and it just feels like home. It's just one of the things I don't even think about. It's just where I go because it's where I want to go."
"It's an elite group of guys," Cecconi said of Miami's pitching fraternity. "It's a special organization with a special coaching staff and being a part of that for two years definitely helped me get to where I'm at today and I'm forever grateful for that. And I definitely intend on coming back and continuing to work with them whenever I can in the offseason."
"Me and Slade both loved our time down at Miami and all of our teammates, our coaches, everything was a great opportunity," McMahon added. It was a great experience for me to travel down there and experience Miami for three years. You see the alumni come back and work out. You see the way they work and they talk to the players and I plan to do the same. Just kind of always go back, talk to the people that I really love. The game of baseball brought me a lot and I think that's just the type of program Miami is."
Miami's future on the mound is bright. Several highly rated recruits are set to join the program this fall to begin learning under Arteaga. Van Belle, who is one of the many successful pitchers produced by Arteaga, is confident those newcomers will benefit greatly from being Hurricanes and working with Miami's pitching coach.
"I've heard a lot about some of the high school guys that are coming in now that were supposedly ranked highly in the draft. Even though the draft didn't work out in their favor, it's all part of God's plan and it is what it is," Van Belle said. "They're meant to go to Miami and succeed there and do their part and obviously go to school, get a college degree, which is huge. I feel like they're in good hands going to Miami."
"I feel like it's going to be a powerhouse with pitching for years to come just as it has been in the past nearly 20 years that J.D. has been there," Van Belle continued. "There's not a doubt in my mind that they're going to go to Omaha and win a national championship soon."