Rewriting the Recruiting Playbook
CORAL GABLES, Fla. – There was a moment recently – between the virtual staff meetings, the Zoom chats with players, the phone calls with recruits and the watching of online game film – that Manny Diaz couldn't help but catch his breath and somewhat chuckle to himself.
How, the Hurricanes football coach wondered, would it have been possible for him to do his job if the coronavirus pandemic had struck 20 years ago, before the advent of the technology that's helped him stay connected over the course of the last two months?
There was no easy answer.
"I had that thought about a month ago," Diaz said this week, the tenth since Miami closed its campus to aid in preventing the spread of COVID-19. "What would we be doing if it was 1998? Coaches would be literally just sitting at the house doing nothing. They'd be going absolutely crazy. The technology – in many lines of work, not just ours – has made working from home so much more productive than it was five years ago, ten years ago, and absolutely 20 years ago."
One of the fronts where that technology has come in handiest for the Hurricanes? Recruiting.
During a spring evaluation period unlike any other, Diaz and his staff have managed to stay the course, they believe.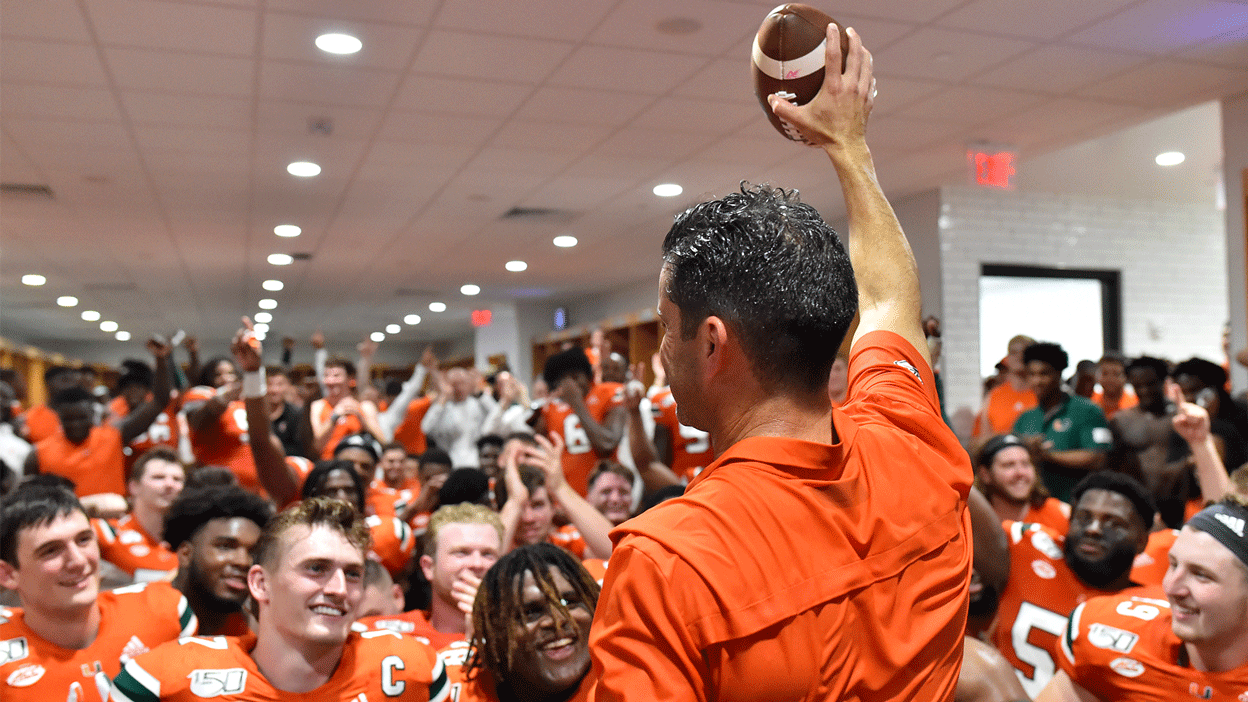 They've spent hours studying the prospects on their recruiting board thanks to online film-sharing sites like Hudl. Unable to bring those recruits and their families on campus, the staff has hosted a number of virtual tours of the South Florida community, the football facilities and of course, campus. They've facilitated virtual meetings between prospects, their families and members of Miami's academic services staff, who have highlighted the support Hurricanes student-athletes get as they work toward earning their degrees.
And when they've finished with all of that, Diaz and his staff have used any available and permissible time left to try and get to know those recruits better, building the kinds of relationships they hope will help them connect with some of the top high school football players in the country.
There's no doubt coronavirus has forced the Hurricanes to change how they've recruited this spring. But the goal of building a better roster has remained the same.
"You absolutely are able to connect with them by phone. You have their undivided attention and you get to really, really build that relationship with that young man and that family," said Ephraim Banda, Miami's safeties coach and co-defensive coordinator. "Or, you can also sense that maybe they're not all focused or locked in, which helps you make a decision on whether you want to take them or not. I'd definitely say that's been the biggest benefit of this time, getting to know the young man. …
"At the end of the day, this is a people deal. It's not a pieces deal. You have to find the right people that you want in your culture to help you build what you're trying to build. If you take it like putting pieces together – 'I'm going to take this piece and fit it in here' – it may not fit your culture. We're definitely trying to get to know them and really get to know whether they'll fit into what we're trying to do."
It's a process that has required plenty of creativity and teamwork.
The Hurricanes have relied on contributions from Miami's digital, graphic design and video production teams to help them put together the content needed to show prospects the kinds of resources, experiences, training and facilities they'll have available to them at Miami.
Andrew Rossetti, Miami's assistant athletic director for video services, not only helped create a video for prospects showcasing the work of Strength and Conditioning Director David Feeley, but has put together prospects' game film for the coaches to study, while dealing with any hardware or software issues that have popped up for the staff over the last 10 weeks.
Meanwhile, Director of Player Personnel Andy Vaughn, has continually been updating Miami's recruiting board while evaluating recruits' film with members of the coaching staff and has helped coordinate the production of content Miami's coaches have relied on during this time to reach the prospects they can't meet with in person.
Every contribution, Diaz said, has made an impact.
"I think what the staff did – whether it was the video staff, the recruiting staff, everybody, everybody shifted their tactics. If we couldn't be together, if we couldn't be in the office, if we didn't have access to some of the normal channels and avenues that we normally do, we've all taken what we've got and made it happen," Diaz said. "It reminds of the scene in Apollo 13 when they had to fix the filter and they just dumped all the tools they had out of a box and said, 'This is what we've got to work with. Let's go build a filter.' Everybody just started grabbing things and they found a way to stick a round peg in a square hole. I think you're seeing the same thing from our staff and certainly all around college football."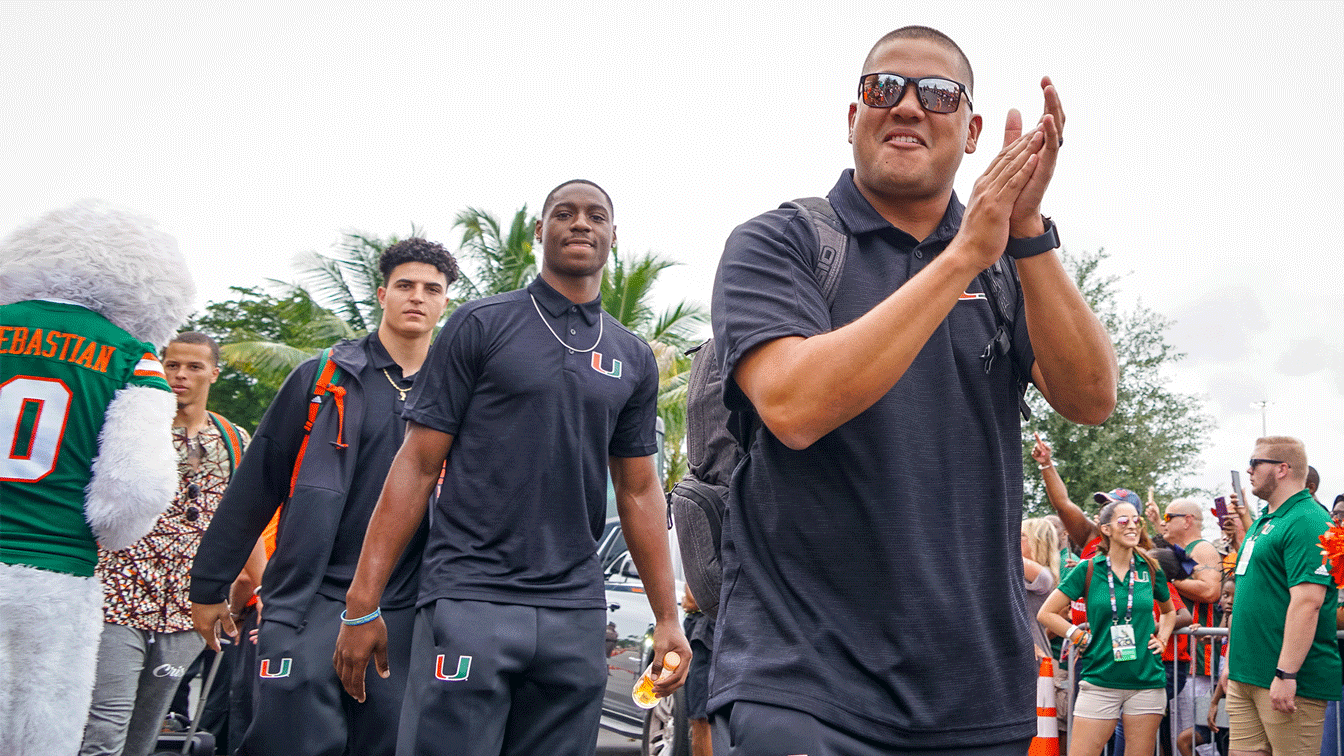 Despite his staff's best efforts, Diaz knows some of the recruiting challenges the Hurricanes – and other teams across the country – have faced during this time will take a toll, which may not be fully known for years.
Judging players solely off game film isn't ideal. Not being able to see prospects on the field or at camps will make evaluations that much more difficult. And, as well as the phone calls and video chats have gone, it's still no substitute for in-person conversations.
"I think you might see some great players that fall through the cracks," Diaz said. "This is a one-off deal. Everybody will look to see what happens with this class, not only when they sign on Signing Day, but what happens with them the next four years."
Still, do the Hurricanes – who believe they have home-field advantage recruiting in talent-rich South Florida – feel they've handled this unexpected change as well as possible? Yes.
And they remain hopeful that will pay off come the Early Signing Period later this year.
"I think the way our staff is set up, from top to bottom, the personalities and the people we have on staff, it really caters to their strengths," Vaughn said. "I think we have a lot of great personalities, a lot of genuine guys on the staff that are very good communicators and I think this is right in their wheelhouse for a lot of them. They're so good at communicating and coming across in a genuine way. They're being themselves, they're comfortable in their own skin and I think that really has been a benefit for us as a silver lining in this whole deal."
Added Banda, "I will also say this: the benefit of how we're designed to recruit South Florida, where we have two coaches in each county, we're always ahead of everyone else on kids because we're down in these schools before everyone else is. We know these kids. … We don't have one coach recruiting all of South Florida. We have six of them. … That's definitely helped."