Diaz, Canes Keep Pressing Forward
CORAL GABLES, Fla. – It's been 10 weeks since Manny Diaz last saw his team on the field.
Ten weeks since he surprised five walk-ons with scholarships.
Ten weeks since the Hurricanes went on spring break having no idea how much the world would change while they were gone.
Since that morning in early March, the coronavirus pandemic has forced the coach and his players to adapt to a new reality none of them could have expected earlier in the year.
Stay-at-home orders closed their campus and their practice facility. In-person meetings were replaced with video conferences and phone calls. Players' classes moved online and for a stretch, football has been secondary, with players and coaches focusing on health, family and academics more than anything else.
It's been at times, the coach conceded, tough for the Hurricanes to stay connected, especially with the spring semester now officially in the books and the team on a break before summer classes begins.
But with those classes now looming, Diaz is confident that in some way, football will be played this season and that, he hopes, has captured his players' attention.
Soon enough, it will be time to get back to work in earnest.
"I do think there will be college football. I think that's been pretty consistent, the optimism from our leaders on campus and the conference, throughout the country," Diaz said Friday. "In terms of getting prepared for that, I think what we're all trying to come to terms with is a universal start date for practice [so] that every school has the same opportunity to get their team ready. I think we feel like a 6-week time period would be the minimum it would take to get our guys ready, even though we have worked on contingencies if somehow it was less.
"How long would it take to get a team ready to play? That's all dependent on what we're coming out. Are we coming out of shelter-in-place? Are we coming out of an eight-week [phasing system] where things are less restricted? It's so hard to say."
One of the first challenges Diaz expects the Hurricanes – and college football teams all across the country – will face when they reconvene will be addressing players' conditioning. From there, the focus can turn to offense, defense and special teams play.
"You'll have very different levels of conditioning. Some players have access to weights, some players don't have access to weights. Some players have access to cardiovascular conditioning than others," Diaz said. "The sooner we can get everybody back together again and assess what their conditioning level is … when that happens – maybe – it's only six weeks before the first game, but whatever it is, we're going to make it work. As long as everybody's somewhat on the same page with what we get practice time, I think we'll feel the spirit of competition will be intact for the football season."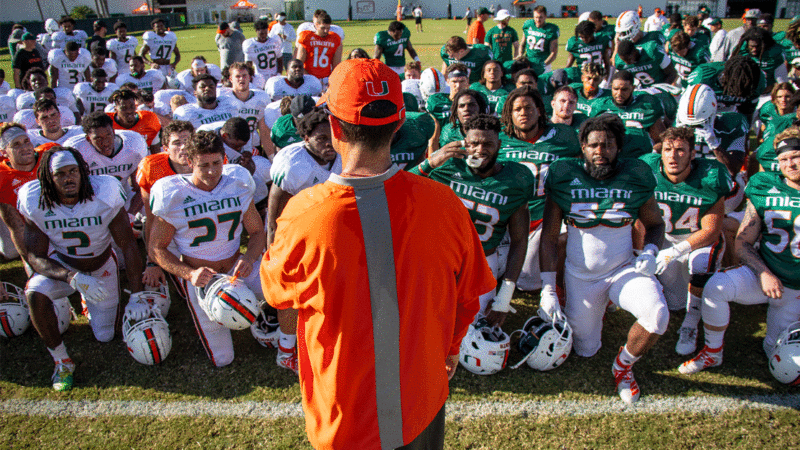 In the meantime, though, Diaz stressed Friday that there is something the Hurricanes can do to prepare for that moment.
With shelter-in-place orders being lifted across South Florida and beyond, Diaz said he and his assistant coaches made it a point this week to remind their players to be responsible and follow all of the health and safety precautions made by state and local officials.
The goal now for the Hurricanes? Protect themselves because in essence, that means protecting the team.
"The next six weeks will be more important than the last six weeks. Obviously now, people will have more of a chance to come in contact with one another than we were when we were all sheltering in place," Diaz said. "Our players have to understand – even if the data says their age group is not at risk of serious illness, which at this point we're still learning exactly what that data point is – at the minimum, you're talking about a two-week quarantine [if they're exposed]. Is that the two weeks of the six that we get in preparation for the season? Is that the first two weeks of the season? Is that the last two weeks of the season in November?
"We want our players to understand every one of them has a responsibility to protect the team. So if they say we have to be socially distant, we have to be socially distant. If they say you have to wear a mask to go into a pharmacy, you have to wear a mask. 'But what if it's uncomfortable?' It doesn't matter. It's not about your comfort. It's about protecting the team. … If you're a corner and you're carrying it and you're asymptomatic and you play bump and run on a couple of our wideouts and four of our wideouts get it, we're going to have a hard time fielding an offense. So, our messaging to our guys was 'It's not about you. Protect the team.' And if you think about it broadly, that's really all our messaging. Even if the disease is not a direct threat to you. … you still have a responsibility to protect the greater collective. And if we do the right thing, then we will."
As challenging as it is to be away from his players physically, and as much as he has worried about them over the course of the last 10 weeks, Diaz stressed Friday there have been some positives that have come out of this surreal time for the Hurricanes.
Twice during his 28-minute conversation with members of the media, Diaz pointed out the Hurricanes had had a strong academic semester, with players rising to the challenge of distance and remote learning.
And with the world having slowed down, he says he's confident his staff has made significant progress on the recruiting front.
While in-person contact with recruits has been limited, he and his coaches have had time to study prospects' film. And during the windows available to them, Hurricanes coaches have spent time getting to know those prospects via phone and video conversations.
It's been, the coach said, "a boost" for the Hurricanes recruiting efforts.
"I do think, especially with some of the new members of our staff who are all outstanding recruiters – [offensive coordinator Rhett Lashlee, offensive line coach Garin Justice and receivers coach Rob Likens] – I think it's really given us an opportunity to really play catch-up in some spots and really start to solidify some relationships in the recruiting process because everyone's home. That's just one of the things, everyone's life kind of slowed down. Not just us, but the young men."
That slowdown, of course, has happened in Diaz's home too, where he and his wife Stephanie have now both had extra time to spend with their three sons, Colin, Gavin and Manny.
That hasn't been something the coach has taken for granted.
"It's not just how busy my life is. It's how busy their lives are," Diaz said. "Everybody, no matter what age you are, we're all overbooked, right? With what's happened, we've all gotten a big, red stop sign for the last nine, ten weeks and you've got to slow down. …
"As a parent, it's nice to know you've got some time there that's not promised to us. It helps you appreciate those relationships and the time you have."