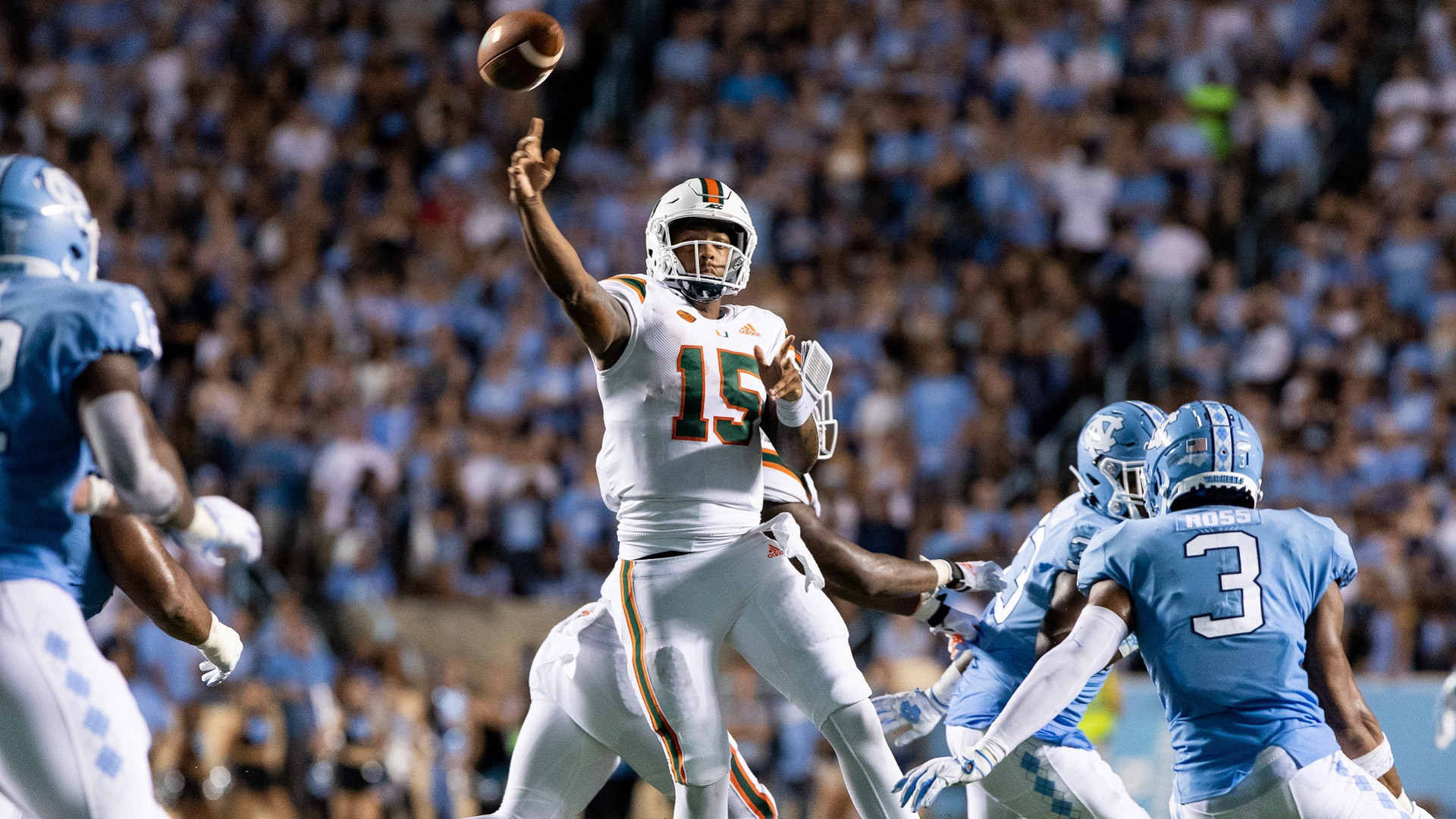 By David Villavicencio
HurricaneSports.com
 
CHAPEL HILL, N.C. – There were missed kicks and blocked kicks and big plays on both sides, but Saturday night's matchup between the Miami Hurricanes and North Carolina Tar Heels ended in a 28-25 UNC victory.
 
Miami and North Carolina entered the fourth quarter with the Hurricanes chasing a one-point deficit, 20-19, inside a sold-out Kenan Memorial Stadium.
 
Momentum swung in Miami's direction midway through the fourth quarter, as UNC kicker Noah Ruggles missed a 49-yard field goal to keep the Hurricanes within a point and give them the ball on their own 32 with 8:46 remaining in the game.
 
The Hurricanes carried that positive energy into their offensive possession, driving 68 yards to take the lead for the first time all night when tight end Will Mallory hauled in an 11-yard touchdown. Miami went for two, but Williams and Mallory could not connect again and the UM lead was five points, 25-20, with 4:38 left on the clock.
 
Miami's defense did its part immediately after the Canes took the lead, sacking UNC quarterback Sam Howell on consecutive plays that put North Carolina in fourth-and-17 from its own 40. But the true freshman QB rose to the occasion and hit Rontavious Groves for a 20-yard gain and a new set of downs.
 
Five snaps later, Howell found Dazz Newsome in the end zone for a go-ahead 10-yard touchdown that completed a 75-yard scoring drive. Running back Michael Carter sprinted to the pylon to complete the two-point conversion and give UNC a three-point lead with 1:01 remaining in the game.
 
After a touchback, Miami took the field with all three of its timeouts and 75 yards away from the goal line. Williams opened the drive with an 18-yard rush up the middle and then hit Jeff Thomas and Mike Harley to move the Canes to the North Carolina 32. 
 
The UNC defense held firm at that spot and the Hurricanes sent kicker Bubba Baxa out with nine seconds remaining to attempt a 49-yard field goal with the hopes of evening the score and forcing overtime. The sophomore, who missed a 26-yarder in the second quarter and had an extra point blocked in the third quarter, pushed his attempt wide left and the Tar Heels survived to earn their second comeback win in as many weeks.
"It is very similar to a week ago," head coach Manny Diaz said. "They are competing, they are playing with toughness, they are doing a lot of the things we're asking them to do. There is not a guy in that locker room right now, coaches included, that can't do more and can't play or coach better than they are right now."
 
Miami had 488 yards of total offense, with Williams completing 30-of-39 passes for a career-best 309 yards and two touchdowns. DeeJay Dallas led the Canes with 107 rushing yards, while Cam'Ron Harris ran for 60 yards and a score and K.J. Osborn and Jeff Thomas each caught seven passes to lead a group of 10 different Hurricanes with a reception on the night. 
 
While North Carolina was held to 99 fewer yards of offense on Saturday night, Howell proved to be a dangerous quarterback capable of doing damage under pressure. The true freshman threw for 274 yards and two touchdowns against Miami and wasted little time showing off his skills. 
 
A 39-yard completion from Howell to Antoine Green propelled a scoring drive on Carolina's first possession of the game that ended with a 37-yard field goal by Ruggles.
 
UNC's defense forced a three-and-out on Miami's first drive and Howell hit on an even bigger play on the first play of their second possession, connecting with Dyami Brown for a 62-yard touchdown that gave the Tar Heels a 10-0 advantage and energized the sold-out crowd at Kenan Memorial Stadium.
 
Williams also was excellent leading the Miami offense. The redshirt freshman quarterback led the Canes on a 10-play scoring drive that ended in a career-long 50-yard field goal by Baxa. The kick brought the Canes within seven points halfway through the opening quarter.
 
UNC continued its success offensively, marching down the field with a series of big runs. A nine-yard rush by Howell turned into a 23-yard advance for the Tar Heels, as Miami's Amari Carter was called for targeting and ejected from the game after hitting the quarterback while he slid at the Miami 33. 
 
A pass interference by DJ Ivey gave the Tar Heels the ball on the Miami 2 and a fresh set of downs, but Javonte Williams barreled into the end zone on the next play to push the UNC lead to 14 points with 4:04 remaining in the first quarter.
 
Miami's offense was poised to answer back, with Williams threading tight windows to Brevin Jordan and Mike Harley for first downs and several impressive runs by Dallas and Osborn putting the Hurricanes inside the UNC 10. But the Tar Heels defense held firm and forced a 26-yard field goal attempt that Baxa missed wide left to keep UNC's advantage at 14.
 
But the first half was a tale of two quarters, as Miami outgained UNC 159 to 5 and forced two Carolina punts while scoring 10 points and blanking the home team in the second quarter.
 
After Baxa's missed kick, the Hurricane defense stymied the UNC momentum whenf a Trajan Bandy six-yard sack on third-and-10 from the UNC 35 forced Carolina to punt.
 
Williams and the Hurricanes got back to work and marched back down the field thanks to a 16-yard completion to Jordan and three bruising runs by Harris that put Miami at first-and-goal from the UNC. But the Tar Heels limited the Canes to three points on a 29-yard field goal by Baxa that cut the UNC lead to 11 with 2:55 left in the half.
 
Miami's defense forced a three-and-out and the offense put together its best drive of the half, marching 47 yards in six plays to score the Canes' first touchdown of the night. Williams threw a dart to Osborn for a six-yard touchdown that brought Miami within four points and gave the redshirt senior wide out his first TD as a Hurricane.
 
The Hurricanes opened the second half with a methodical 11-play drive into the UNC red zone. But the Tar Heels stopped Williams just short of the line to gain on fourth-and-1 from the 19 to take over possession on downs.
 
The defensive stand resulted in points for Carolina, as Howell led a 10-play scoring drive that ended in a 40-yard field goal by Ruggles to push the UNC lead back to seven points, 20-13, with 6:14 left in the third quarter.
 
Miami's offense would not be denied on their ensuing possession, driving 75 yards in seven plays. Harris bulldozed into the end zone from four yards out, but Baxa's point after attempt was blocked by Deerfield Beach native Jason Strowbridge to keep UNC ahead by a point, 20-19, with 2:58 left in the third quarter.