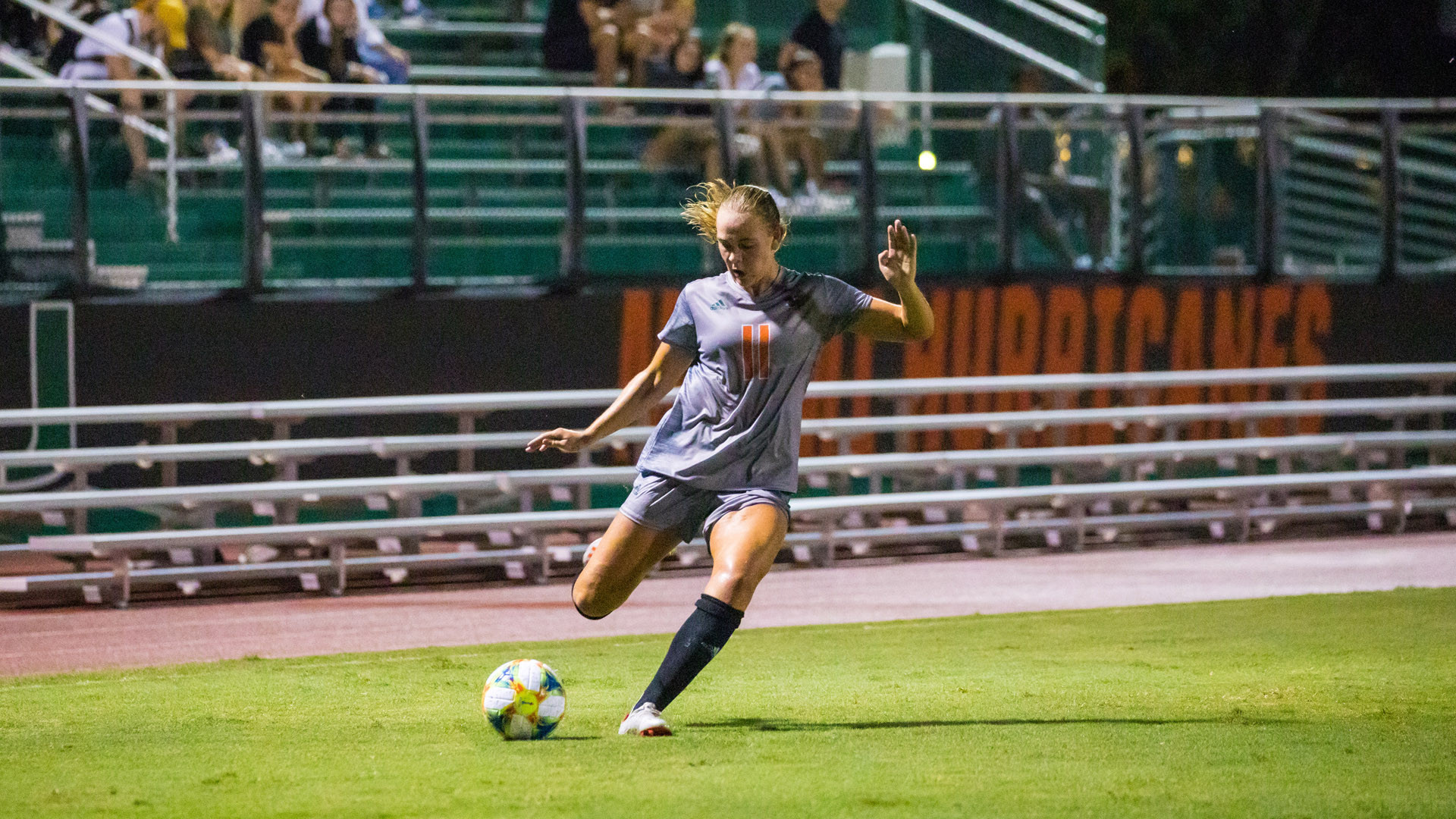 By: Kevin Ivany
HurricaneSports.com
EDINBURG, Texas – Sixty minutes into her first collegiate match, 5,222 miles from her hometown of Mandal, Norway, Ine Østmo saw the official blow his whistle and immediately called for the ball.
"I wasn't that nervous at all, actually," Østmo said. "I've done it so many times already, so at this point I pretty much know what I have to do. Maybe I should have been nervous (laughs), but I wasn't. So, that was good."
 
With ice in her veins Thursday night at the UTRGV Soccer and Track & Field Complex, the freshman midfielder stepped up to the line in front of a record setting crowd of 1,080 spectators before burying the fotball into the back of the net, her first collegiate mål.
  
"I think one of the biggest things I have seen so far from her is from a maturity aspect and her ability to already be able to handle pressure situations. Even though we haven't had that many yet, to have a freshman wanting to step up and take a [penalty kick]? That just shows her confidence and maturity," assistant soccer coach Jeremy Williams said. "She obviously isn't the loudest kid on the field in terms of being vocal, but she is a kid we are already seeing over the past couple weeks be a little bit more demanding with the ball. So, for me, one of the things that I am most excited about is that if she becomes even more comfortable, how much more dictation of the game will she have? But again, it was really neat to see that immediately after the foul, she wanted to grab the ball. A lot of freshmen in their first collegiate match are just trying to survive for 90 minutes, but not Ine."
 
Prior to joining as an early enrollee at the University of Miami, Østmo had competed on the Norway U15, 16 and 19 national teams as well as competing at the club level for Stobæk from 2015-18, winning the Norwegian Championship in 2016 and finishing in second in 2018.
 
And it wasn't until about a year ago from today that the 5-foot, 10-inch midfielder had even began to consider playing collegiately in the United States.
 
"I enrolled in January, but it wasn't until last August that I decided that I wanted to come over here. I had some friends who were on my team in Norway that decided to come play at a couple schools, in I believe California," Østmo said. "So, at first I was talking with them a little bit and then I had a [recruiting specialist] who helped me a little bit more and allowed me to get in contact with a few schools. From there I received the opportunity to talk with a few schools, including Miami, and I just felt like [Miami] was the best option for me. I talked to Jeremy, and he was really nice.
 
"When I first spoke with Jeremy, I'll be honest, I was really scared. I wasn't comfortable speaking in English," Østmo said. "I was scared, but it was good. Because as I continued to talk more and more with him, it got easier. He was really nice. But [again] it was tough speaking a different language."
 
On the opposite side of the telephone line, 4,640 miles away, Williams sat in his UM office knowing what was at stake.
 
"So we had her recruiting specialist, reach out to us and share a highlight video," Williams said. "And I remember seeing the video and being like, 'Oh wow. We need to check her out.'
 
"That is because I saw everything that we sort of look for in an athlete, as far as her body shape when receiving the ball, spacing and passing lanes being pretty good." Williams continued. "So, we sort of inquired and dug out a little bit more information and really just began talking with her about what she was really looking for, from a soccer, location and school stand point. And from there it just kind of seemed like she was a perfect fit."
 
Heading into the 2018 campaign, head coach Sarah Barnes and her staff knew they had the tough task of replacing a trio of standout seniors at season's end, in defender Maisie Baker, midfielder Jaime Brunworth and goalkeeper Phallon Tullis-Joyce, and after viewing Østmo's tape, they knew they had a chance at a midfielder who could make an impact from day one.
 
"Obviously we knew that Jaime Brunworth was graduating. So one of our top priorities was finding someone who had a similar skill [set], because Jam was such an important player for us," Williams said. "I felt like Ine had a lot of those abilities and to be honest, I would say even more. Because they are so similar, but Ine is four years younger and I feel like her ceiling is even higher."
 
When asked about what stood out most when watching the midfielders tape, Williams mentioned her ability to be able to space out the field from a tactical stand point was impressive.
 
"Spacing is a really big deal to us and I felt like her spacing in a lot of the film we watched from a technique stand point was really good. [Particularly] from her ability to receive the ball with the correct foot, play the ball to the biggest side of the field and other things of that nature." Williams said. "I thought that really stood out in comparison to American players, where that can sometimes be something we feel that we have to teach most of the time when they arrive on campus. But with her, I felt like she already had that. So, that was something for us that we were really excited about. Coming from a big club in Stobæk, a lot of things we emphasized we needed, she already did. So we felt like the fit was going to be great."
 
On top of that, the Miami coaching staff was excited to get to work with Østmo during the spring to help her transition to the United States even more.
 
"I think for all our international players, having them become adjusted to the college game [is very important]. It seems to be a little bit more physical [of a game in college] and the players rely a little bit more on athleticism. And the way team's defend tends to be a little bit different then the international game," Williams said. "But the other thing that really excited us about Ine, was that she had the ability to come in January, which gave her a about a four month head start on your typical freshmen. So, that was really good. I think for her, she already had that small period to adjust and now, just controlling the tempo of the game will be a big piece for her.
 
"Recognizing that she is a kid who likes to be on the ball and that she is somebody that we want on the ball," Williams continued. "So, it comes down to recognizing when we want her to go forward a little bit faster, or slow down the tempo and play the ball around in the back. So, that tempo piece for her, controlling the tempo for our team, will be the top priority."
 
On top of the game being played different, weather was something Østmo was going to have to get adjusted to rather quickly.
 
Leaving her hometown in January with an average high temperature of 39 degrees, to Miami's "winter" average of 74 degrees, to now playing in 90 degree temperatures compared to the mild 65 degree Norwegian summers, the midfielder is still trying to get adjusted.
  
"It is a big difference from Norway," Østmo said. "Soccer wise, it is played different. The weather, is completely different. The rules and players are different. It's a lot of different things. But, at the same time, school wise [I feel like] it is easy to combine school and soccer. I also love meeting new people, creating new friends and learning the new cultures. Especially in Miami, there is a lot of everything. There are people from everywhere, so it is so cool to meet so many people from so many different countries.
"I don't know about that," Østmo chuckles when asked if she has gotten acclimated to the Miami heat. "I still think it is really, really hot. I just have to get through it though, because I just want to play. But it is hard. It is really warm. In one game, I pretty much blacked out, it was terrible. But I think I will get used to it soon. But it is so much different then what I was used to in Norway."
 
Despite the differences, Østmo is happy she didn't have to go through it alone, as sophomore forward Gudrun Haralz has been a great mentor since Østmo arrived in January.
 
"I am glad Gudrun was here, because she knew very well the position I was in," Østmo said. "Everything was brand new and she was so helpful in so many ways. And then when the other international players came—[freshmen Melissa Dagenais (Canada), Mari Horpestad (Norway) and María Jakobsdóttir (Iceland)]—I feel like I can now help them get acclimated. I just think it is good to have each other, because it is so new to all of us and even though we may miss home at times, it is great to have each other.
 
"[What I love most is that] everyone on the team is so nice. It is a really good group. I love being together with them and it is really nice to get to know them even more. I really like it," Østmo continued. "Also, I feel like I am on vacation all the time because of the weather (she laughed). And, I love being able to play soccer and go to school at the same time, and I love how they really do work together. That is really nice. And to be honest, I love everything, I just love being here."
 
Østmo and her teammates will close out a five-day trip in Texas Sunday morning, when the Hurricanes battle Fairleigh Dickinson at 11 a.m. CT.