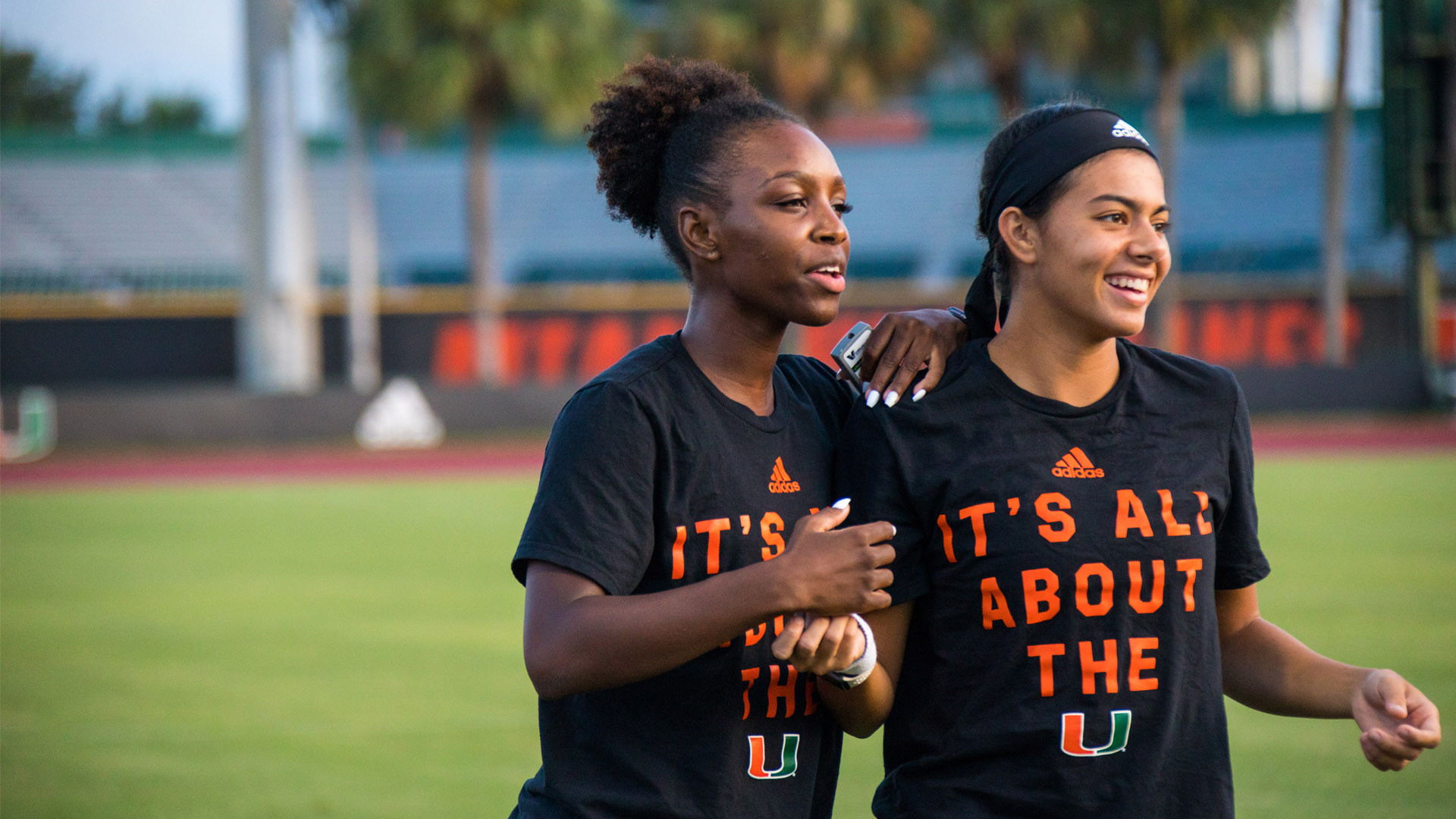 By Kevin Ivany
HurricaneSports.com
EDINBURG, Texas – Two goals and three assists.
 
A dominant stat line posted by the four starting University of Miami soccer seniors Thursday night at the UTRGV Soccer and Track & FIeld Complex.
 
"Our goals as seniors is to get farther than we ever have before," senior defender Bayleigh Chaviers said prior to the season opener. "Especially compared to the last two years, we know we need to score more goals and make that next leap."
 
Senior defender Dejah Cason quickly jumped in and said, "We are trying to leave a great legacy. Remember us, the Class of 2020. Stay tuned for our mixtape."
 
One match in and the Hurricanes (1-0) did just that. Led by four seniors—Dejah Cason, Bayleigh Chaviers, Kristina Fisher and Lauren Markwith—on the pitch and a pair of leaders—Lexi Castellano-Mugica and Hannah Marwede—on the sideline, the Hurricanes opened the 2019 season with a 4-0 road victory over the University of Texas Rio Grande Valley (0-1).
 
"I thought all four seniors who played were great, as well as the two seniors who aren't able to play. Lexi and Hannah were both on the bench controlling the narrative and infusing energy and positivity," head coach Sarah Barnes said. "I was very happy with the first performance of the season. Obviously, all four who could play made an impact on the scoreboard and that is not something you see very often, especially with [Chaviers and Cason] being outside backs. They definitely set the standard for the new season and I think they are taking a big leadership role, and have been great teammates by helping the others along. I was impressed by their performance and I am excited to continue to see them grow and build on tonight."
 
After a slow start getting acclimated to the southern Texas heat, the Hurricanes capitalized on their first goal-scoring opportunity of the opening half. With the ball at her foot 40-yards from goal, Chaviers located senior midfielder Kristina Fisher at the top of the 18, who was able to chip it past UTRGV goalkeeper Kinga Szemic in the 20th minute.
 
At the break, the Hurricanes held on to their 1-0 advantage, as sophomore goalkeeper Tyler Speaks denied a trio of UTRGV scoring opportunities in her first collegiate start.
 
Out of the break, the Hurricanes came out firing on all cylinders, finishing each of their first three second half goal-scoring opportunities.
 
In the 59th minute, Chaviers made a run down the right sideline before cutting in to send a cross towards the right foot of senior midfielder Lauren Markwith. The Huntington Beach, Calif., native one timed it past Szemic to double the Hurricanes' lead.
 
With only a minute passed in regulation, Fisher led a pass in front of sophomore defender Sierra Frey who was streaking into the 18-yard box, before the Bear, Del., native was tackled hard from behind to set-up a penalty kick opportunity.
 
Stepping up to the line in front of a record breaking crowd of 1,080 spectators, freshman midfielder Ine Østmo calmly buried the ball into the back of the net to place Miami in front 3-0.
 
17 minutes later, Cason dumped off a pass to freshman forward Taylor Shell, who quickly found freshman midfielder Emma Tucker, who reconnected with Cason as she streaked down the left sideline.
 
The senior then sent a beautiful cross towards the six-yard box, as junior midfielder Tia Dupont headed it past Szemic for the Hurricanes' fourth goal of the contest.
 
Miami will return to the UTRGV Soccer and Track & Field Complex Sunday at 11 a.m. CT, when it takes on Fairleigh Dickinson.
 
"I think Fairleigh Dickinson is a really good opponent and they are going to be tough since they have a lot of really good offensive weapons," Barnes said. "I think we are going to have to do a good job attacking with balance because it seemed to me that in their match tonight, they were really good in the counter attack. I think it is going to come down to us cleaning some things up defensively. I thought we were solid tonight, obviously, we kept a clean sheet, but there were some dicey moments that have to be cleaned up moving forward."
 
To keep up with the University of Miami soccer team on social media, follow @CanesFutbol on Twitter, Instagram and Facebook.