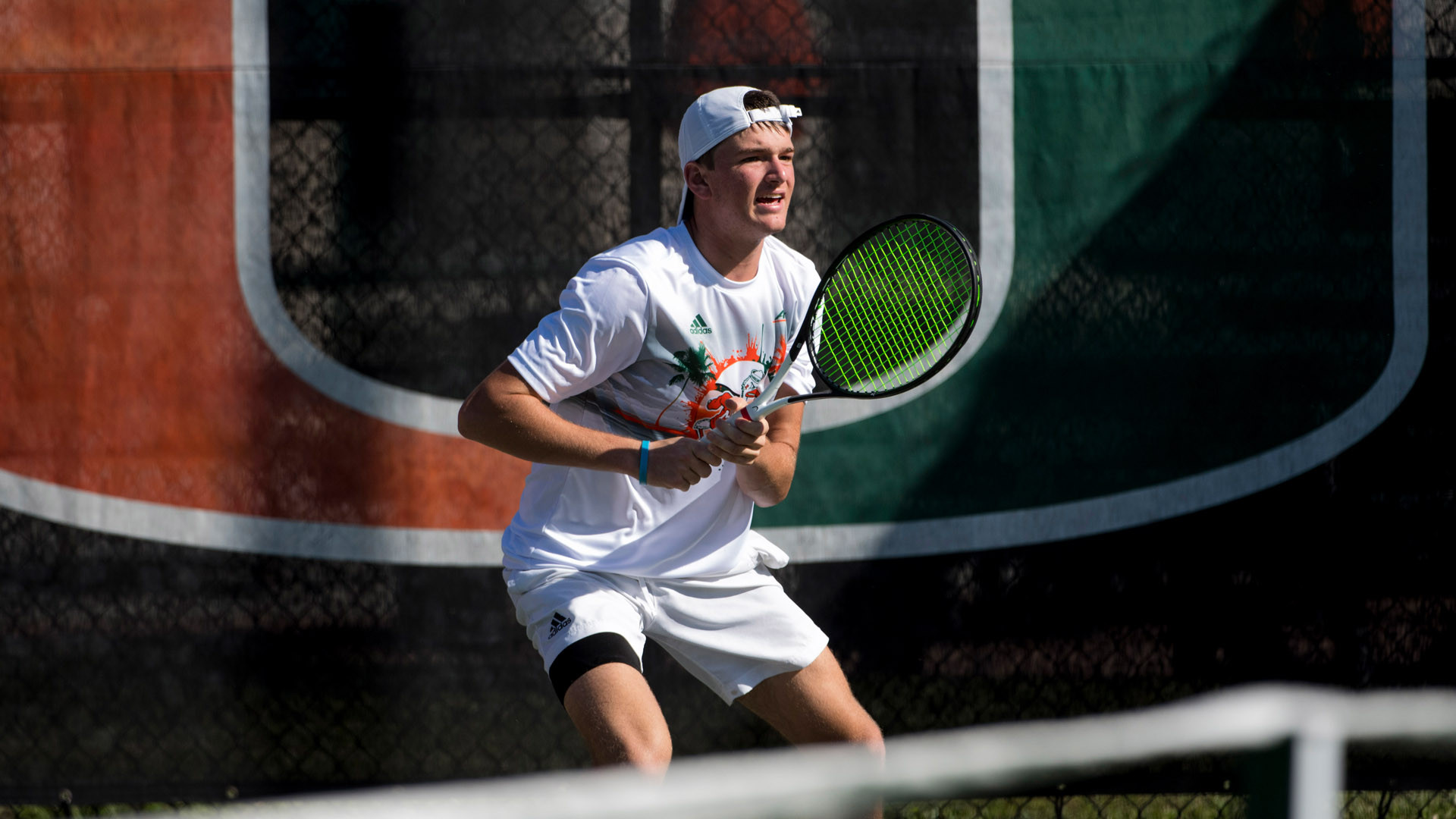 IOWA CITY, Iowa – The University of Miami men's tennis team came up short against Utah, 4-2, Saturday afternoon at the Hawkeye Tennis and Recreation Complex.
 
Miami started the day off in the right direction, claiming the advantageous doubles point.
 
At the top doubles position, sophomores Adria Soriano Barrera and Tatsuki Shimamoto picked up a 6-3 victory over Randy Cory and Russell Benkhaim. Moments later, on court 2, redshirt junior Dane Dunlap and junior Stephen Madonia topped Slava Shainyan and David Micevski. 6-4.
 
Competing on court 3, freshmen Francisco Bastias and Franco Aubone held a 5-4 advantage over Dan Little and Azat Hankuliyev before the doubles point was clinched.
 
In singles, sophomore William Grattan-Smith quickly doubled the Hurricanes lead with a 6-2, 6-4 triumph over Cory. The victory marked the fifth of the spring for the Atlanta, Ga., native, who improved to 5-0 with a quintet of straight-set victories.
 
After dropping the opening set 1-6 against Mathias Gavelin, Aubone came up short in the second set 1-6, 5-7, as Utah pulled within one, 2-1.
 
Competing at the top singles position, No. 13 Soriano Barrera fell against Dan Little, 5-7, 4-6.
 
After cruising through the first set, 6-2, Bastias was unable to hold on falling for the first time this spring. The freshman dropped the match, 6-2, 4-6, 1-6, as Utah pulled within a match from clinching.
 
Facing Shainyan, No. 58 Bojan Jankulovski dropped the opening set tiebreaker, 6-7 (5-7), before rebounding in the second, 6-4. In the third-set tiebreaker, the sophomore came up short 6-7 (5-7), 6-3, 1-6, as Utah sealed the victory.
 
The remaining match remained unfinished, with Dunlap in a back-and-forth match battle against Benkhaim, trailing by a slight margin, 4-6, 6-4, 5-6.
 
Next up, the Canes will take a week off before returning to the Neil Schiff Tennis Center on Feb. 22 to open ACC action against Georgia Tech at 2 p.m. Two days later, the Hurricanes will host Clemson at 10 a.m.
 
To keep up with the University of Miami men's tennis team on social media, follow @CanesMensTennis on Twitter, Instagram and Facebook.