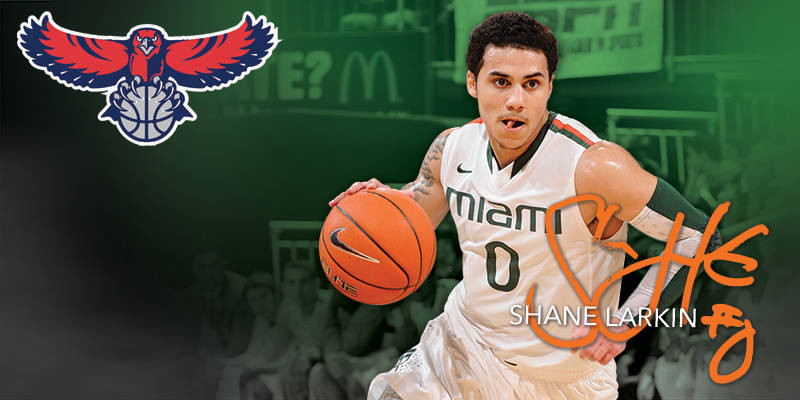 BROOKLYN, N.Y. – Miami Hurricanes All-America point guard Shane Larkin was selected with the No. 18 overall pick by the Atlanta Hawks during Thursday's 2013 NBA Draft at Barclays Center.
"We are very excited for Shane and his family," said Miami head coach Jim Larrañaga."He is going to make his coach very happy. Shane is a great competitor. He loves to win and has all the physical and mental skills to succeed in the NBA."
Larkin, who was at the Barclays Center in Brooklyn, N.Y., for the event, is the 19th Hurricane to be selected in the NBA Draft, and the first player since 2010, when Dwayne Collins was picked by the Phoenix Suns 60th overall (second round). John Salmons was UM's last first round pick, the 26th selection by the San Antonio Spurs in 2002.
Reports say Larkin's rights will be traded to Dallas, where he will play for Rick Carlisle, who played under Larrañaga at Virginia from 1982-84. 
With the No. 18 selection, Larkin becomes UM's second-highest draft pick, following Rick Barry's second overall selection to the San Francisco Warriors in 1965, and just ahead of Mike McCoy, who was picked 21st overall by the Detroit Pistons in 1963. In the recent era, Tim James was selected 25th overall by the Miami Heat in 1999.
In his sophomore season at Miami, Larkin helped the Canes to the ACC regular season title and ACC tournament title, both firsts for the program. UM earned a No. 2 seed in the NCAA tournament and made a run into the Sweet 16. Larkin led the Canes in scoring (14.5 ppg), points (522), assists (164), steals (71) and 3-point percentage (40.6%).
He was listed as a second-team All-America (AP, NABC, ESPN), John Wooden All-America, third-team All-America (Sporting News), Lute Olson All-America, Lefty Driesell Defensive All-American and named to the USBWA All-District IV Team. Larkin was ACC Player of the Year (Coaches, Sports Illustrated, ESPN), All-ACC first team (ASCMA, Coaches, ESPN) and All-ACC Defensive Team (ASCMA, Coaches). He was named ACC Tournament MVP and ACC All-Tournament first team after leading the Canes to the championship, while averaging 23.7 ppg over the three-game stretch.
| | | | |
| --- | --- | --- | --- |
| Player | Team | Year | Round-Overall pick |
| Dick Miani | New York Knicks | 1956 | Knicks' 10th selection |
| Mike McCoy | Detroit Pistons | 1963 | 3rd Round-21st overall |
| Rick Barry | San Francisco Warriors | 1965 | 1st Round-2nd overall |
| Mike Wittman | St. Louis Hawks | 1967 | 5th Round-49th overall |
| Rusty Parker | Atlanta Hawks | 1968 | 5th Round-61st overall |
| Bill Soens | Philadelphia 76ers | 1968 | 11th Round-145th overall |
| Don Curnutt | New York Knicks | 1970 | 10th Round-170th overall |
| Wayne Canady | Portland Trail Blazers | 1970 | 15th Round-218th overall |
| Willie Allen | Baltimore Bullets | 1971 | 4th Round-60th overall |
| Tito Horford | Milwaukee Bucks | 1988 | 2nd Round-39th overall |
| Joe Wylie | Los Angeles Clippers | 1991 | 2nd Round-38th overall |
| Constantin Popa | Los Angeles Clippers | 1995 | 2nd Round-53rd overall |
| Tim James | Miami Heat | 1999 | 1st Round-25th overall |
| John Salmons | San Antonio Spurs | 2002 | 1st Round-26th overall |
| James Jones | Indiana Pacers | 2003 | 2nd Round-49th overall |
| Guillermo Diaz | Los Angeles Clippers | 2006 | 2nd Round-52nd overall |
| Jack McClinton | San Antonio Spurs | 2009 | 2nd Round-51st overall |
| Dwayne Collins | Phoenix Suns | 2010 | 2nd Round-60th overall |
| Shane Larkin | Atlanta Hawks | 2013 | 1st Round-18th overall |