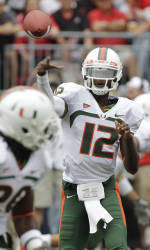 Oct. 31, 2010
CORAL GABLES, Fla. – University of Miami junior quarterback Jacory Harris suffered a concussion in Saturday's game at Virginia and will continue to be evaluated this week by the team's medical staff.
His status for Saturday's game against Maryland will be determined later this week. If Harris is unable to go, true-freshman quarterback Stephen Morris will make his first career start, according to head coach Randy Shannon.
"Our medical team has done a great job of evaluating and making sure that Jacory is okay," said head coach Randy Shannon. "The process of when he will play is up to our medical staff. He will not play until our medical staff sees that he is ready to go. If he is not able to go this weekend, we will start off the game with Stephen Morris."
In his first career game, Morris passed for two touchdowns and ran for another in one half of football. He finished the game 9-for-22 with two touchdowns and two interceptions through the air and 23 yards rushing and one touchdown on the ground.
Harris ranks fifth in the ACC in passing yards per game (205.8) and total offense (208.8). In eight games, he passed for 1,646 yards with 14 touchdowns and 11 interceptions.
The team's usual back-up quarterback Alonzo Highsmith's status for Saturday's game is also undetermined. If Harris and Highsmith are unable to go, junior Spencer Whipple will serve as Miami's back-up against the Terps.