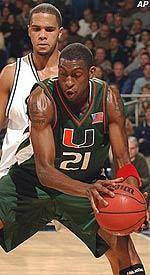 By TOM COYNE
AP Sports Writer
SOUTH BEND, Ind. – Torin Francis had 17 points and eight rebounds and Chris Quinn added 15 points and eight assists, leading Notre Dame to a 72-62 victory over Miami on Wednesday night.
The Irish (10-6, 4-2 Big East) took control with a 9-1 run to open the second half and Miami (13-7, 3-3) never got any closer than five points, as Notre Dame held them to 37.5 percent shooting. The Irish shot 48 percent.
Torrian Jones and Jordan Cornette, who had 11 rebounds, added 12 points each. Francis, who was 8-of-10 shooting, grabbed eight rebounds.
Darius Rice scored 26 points, including going 4-of-10 from 3-point range. He had been just 5-of-33 from 3-point range in his first five Big East games. Robert Hite added 11 points for the Hurricanes.
The Irish managed to win even though Chris Thomas, their leading scorer at 19.3 points a game, didn't score in the first half and finished with just seven points, matching his season-low.
Francis, who made four of Notre Dame's first six baskets, helped spark a 9-1 lead by the Irish to open the second half, extending its lead to 40-33. Francis started the streak by making his fifth straight basket. Cornette then added a tip-in and a 3-pointer, and Jones scored inside.
Miami used a 9-3 run to close to 49-44 when Hite hit an 18-footer. But Francis scored six points during a 10-2 run to put the Irish ahead 59-46. The Irish extended the lead to 65-50 when Francis scored with a powerful two-handed dunk with 4:50 left.
Miami never got closer than nine points.
In the first half, Rice hit a 3-pointer to spark an 11-0 run that gave Miami a 22-16 lead. But the Irish responded with a 13-2 run to move back ahead, 29-24. The Irish led 33-32 at halftime.