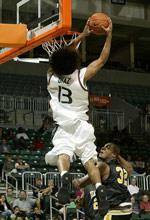 Dec. 23, 2003
Complete Release in PDF Format
Player Notes in PDF Format
Game-by-Game Recaps in PDF Format

Download Free Acrobat Reader
ON FLORIDA ATLANTIC:
Florida Atlantic enters its game with Miami with a record of 4-3 following a 73-70 home loss to James Madison on December 20th.
The Owls have been led this season by junior college transfer Mike Bell. The 6-7 junior forward is averaging 22.0 points and 8.1 rebounds per game this season to lead the team in both categories.
FAU has also received strong play from its backcourt of 6-7 junior Pierre Tucker and 5-10 senior Earnest Crumbley. Crumbley ranks second on the team in scoring at 15.9 points per game and is handing out a team-high 6.4 assists per game. Tucker ranks third on the team in scoring at 15.6 points per contest and is shooting 51.2 percent fromt the field and 45.5 percent from three-point range.
THE SERIES:
Miami and Florida Atlantic meet for the 17th time with the Hurricanes holding a 15-1 all-time series lead. Last season the Owls recorded a thrilling 74-73 overtime victory at FAU Gymnasium marking its only win in the series. Miami is 9-0 at home against FAU.
UP NEXT:
Following the FAU game the Hurricanes return to action on December 30th when they host IPFW beginning at 7:30 p.m. at the Convocation Center.
LAST GAME:
Miami 81, North Carolina A&T 62
December 22, 2003 * Convocation Center, Coral Gables, FL
Robert Hite scored a game-high 19 points to lead the University of Miami to an 81-62 win over North Carolina A&T at the Convocation Center
Miami started slow against the Aggies who took an early 17-8 lead after a three-pointer by guard Sean Booker at 12:11.
The Hurricanes responded with a 12-2 run to pull to within 20-19 on an Eric Wilkins jumper with 7:46 left in the half, and took a 26-24 lead when Darius Rice dunked with 4:30 left before halftime.
Miami never trailed again, closing out the first half with a 16-6 run that saw freshman Karron Clarke and Hite combine for 10 points. Clarke finished with a career-high 11 points.
North Carolina A&T cut the lead to 49-42 on a Booker layup at 15:19 of the second half, but Miami answered with a 10-0 run to put the game out of reach. The Aggies never got closer than 14 points after that.
Chris Ferguson led the way for North Carolina A&T with a season-high 16 points. Miami placed five players in double figures for the first time this season.
LAST SEASON VERSUS FLORIDA ATLANTIC:
Florida Atlantic 74, Miami 73 (OT)
December 3, 2002 * FAU Gymnasium, Boca Raton, FL
Earnest Crumbley scored 25 points and hit a school-record eight 3-pointers, as Florida Atlantic beat Miami , 74-73, in overtime at FAU Gymnasium in Boca Raton, FL.
James Jones led the Hurricanes with 19 points and nine rebounds. The win was the first for FAU over the Hurricanes. Miami was 15-0 against the Owls heading into the game.
The Owls scored the first six points of overtime, and held Miami to 1-of-5 shooting from the field in the extra period.
Jeff Cowans scored 12 points and Nick Neumann added 10 for the Owls.
Darius Rice and Robert Hite each had 12 for Miami. Rice played only 25 minutes because of foul trouble.
The loss snapped Miami's 27-game winning streak against teams from the state of Florida, dating back to 1992, as well as its 20-game regular-season winning streak against non-conference opponents.
Hite had the chance to tie the game for Miami with 47 seconds left in overtime but missed the first of two free throws. The Hurricanes got their last chance by forcing a Crumbley turnover with eight seconds left, but Jones missed at the buzzer.
Crumbley scored the Owls' final nine points of regulation, including a game-tying 3-pointer with 44 seconds left. He was 8-of-15 from 3-point range in the game, while Miami was just 2-17 from behind the arc.
TV/RADIO COVERAGE:
Miami's game versus Florida International will not be televised. The game will be broadcast on the Hurricane Radio Network WRBF (1020 AM). Joe Zagacki "The Voice of the Hurricanes" will handle the play-by-play with Josh Darrow adding analysis. Brian London will serve as studio host.
The game will also be broadcast on the University of Miami student radio network WVUM (90.5 FM) as well as Radio Unica (1210 AM) in Spanish. Fans can also catch the game on the web at hurricanesports.com.
ON THE COACHES:
University of Miami head coach Perry Clark is in his fourth season with the Hurricanes and 15th season overall as a collegiate head coach. Clark is 58-41 (.586) at Miami while his career record in 14 seasons stands at 243-186 (.566).
FAU head coach Sidney Green is in his fifth season with the Owls and ninth season overall. His record at FAU is 39-88 (.307) while his overall mark is 88-148 (.373).
A WIN AGAINST FAU WOULD:
***Improve Miami's record to 8-3 on the season.
***Improve Miami's home record to 7-1 this season.
***Mark Miami's third straight win.
HIGH FLYERS:
The University of Miami's backcourt may be the most athletic in the country. Miami's guards have an average vertical jump of 38.2 inches. All of UM's guards have vertical jumps of at least 36 inches. Leading the way is freshman Guillermo Diaz who has a vertical leap of 41 inches.
TOP RECRUITING CLASS:
Head coach Perry Clark and his staff put together one of the nation's top recruiting classes for this upcoming season. Miami's class of forward Karron Clarke, guard Guillermo Diaz, forward/center Leonard Harden III, guard Anthony Harris and forward/center Anthony King is ranked as high as eighth in the nation by Street & Smith's.
MIAMI vs. NON-CONFERENCE OPPONENTS:
Since joining The BIG EAST Conference beginning with the 1991-92 season, the Hurricanes have compiled an 88-42 (.677) record against non-conference opponents, including a 61-14 mark (.813) at home. Miami is 7-3 against non-conference opponents this season.
VS THE STATE OF FLORIDA:
Miami is 295-145 (.670) against teams from the state of Florida. Miami has won 30 of its last 34 games against Florida schools dating back to the 1992-93 season.
CATCHING FIRE:
Darius Rice has recorded 29 games of 20-or-more points during his UM career including three games this season. Even more impressive is the fact that Rice has gone for 20-or-more points in a single half a total of nine times during his career.
CLARK TOPS AMONG UM COACHES:
Fourth-year head Coach Perry Clark recorded 51 wins in his first three seasons with the Hurricanes marking the most wins by any UM basketball coach in his first three seasons. Clark is 7-3 this season giving him 58 wins as UM's head coach. The most wins by a UM coach in his first four seasons is 65 set by Bill Foster from 1985-89.