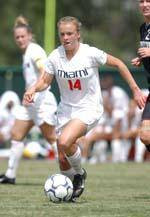 Oct. 3, 2003
CORAL GABLES, Fla.-Lindsey Yach (Carrollton, Texas) scored the match-winning goal as the University of Miami soccer team shutout Pittsburgh 1-0 Friday night at Founders Field in Pittsburgh, Pa.
The Hurricanes improve to 7-5-0 overall while the Panthers fall to 4-5-1 on the season.
Yach scored the lone goal for Miami in the 51st minute of the match on a pass from Ashley Durkee (Ft. Lauderdale, Fla.).
"I was very pleased with the overall performance of the team," said head coach Tricia Taliaferro. "I think it was difficult to come into Pitt especially with them winning the last two games and having the momentum, so I was really pleased with the win." "We made some technical changes at halftime and our team responded well."
The Hurricanes took 12 total shots on the night compared to 10 for Pitt.
UM freshman goalie Alex Alford (Atlanta, Ga.) played 90 minutes allowing no goals and making three saves.
Miami will have a week off from play facing Virginia Tech Friday, Oct. 10 in Blacksburg, Va.