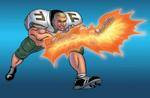 July 23, 2003
View the New Commercials Now!
Flash Player Required, Download NowFeel The Fury Desktop Wallpaper!Get Your Football Gear!Order Tickets Online!
CORAL GABLES, Fla. (hurricanesports.com) – The UM Hurricanes' highly-popular "Feel the Fury" campaign is back. With the addition of new characters and adventures, this season's continuation of the saga once-again shares the mighty Miami Hurricanes' amazing talents with the fans.
The campaign – which includes television, radio and print – features head coach Larry Coker and several Hurricanes players as stars of their own superhero adventures. The animated television commercial uses supercharged effects and a new illustration style as it asks the unanswerable question "Did it take superheroes to win five national championships?"
Created by MARC USA Advertising's Miami office, the campaign's goals are to promote local pride in the team, generate excitement for the 2003 season and spark ticket sales for a much-anticipated season that includes home games against Florida and Tennessee.
The campaign kicked off this past Monday, July 21st, with the unveiling of the television and radio spots. The billboards will be up around the streets of Miami beginning this Thursday.
Fans can also log onto hurricanesports.com and get a peek at the new television commercials featuring Jonathan Vilma, Vince Wilfork and the rest of the defensive line. The new spots will also be shown at both CanesFest Broward on July 26, and at CanesFest Palm Beach on July 27. CanesFest Broward will be held at the Broward County Convention Center from 2 p.m. to 6 p.m. CanesFest Palm Beach will be held at the South Florida Fairgrounds from 1 p.m. to 4 p.m. Admission to both events is free.
For more information, contact the UM Athletic Department at 1-800-GO-CANES.