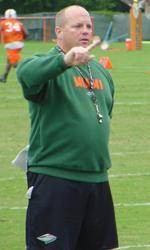 July 23, 2002
CORAL GABLES, Fla. – (www.hurricanesports.com) – Don't miss your chance to meet Hurricane legend and current Football Assistant Head Coach Art Kehoe in Palm Beach!
The Palm Beach Hurricane Club is proud to present Football Assistant Head Coach Art Kehoe! Come join Art at the Sheraton West Palm Beach Hotel at City Place for food and fun on Tuesday, July 23rd from 6:30pm – 8:30pm. The cost of the event is $20. Appetizers and a cash bar will be available. Other speakers will be announced at a later date.
Coach Kehoe has been with the Hurricanes since 1979, when he arrived in Coral Gables and played guard under coach Howard Schnelleberger. He joined the coaching staff as a student assistant in 1981 and full-time in 1985, working with the 'Canes offensive line ever since. Kehoe has worked under five head coaches and has coached in 17 bowl games, winning five national championships and protecting two Heisman Trophy winners. He was inducted into the University of Miami Sports Hall of Fame in March of 2002 and promoted to Assistant Head Coach earlier this year.
For more information or to make your reservations, contact Palm Beach Hurricane Club president Rick Brenner at 561-805-8106.