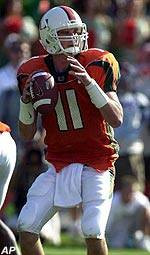 Nov. 6, 2000
Page One in PDF Format

Download Free Acrobat Reader
Complete Release in PDF Format

Download Free Acrobat Reader
Covering the Canes
Miami players, excluding quarterbacks, are available up to the start of Thursday's workout. QB's are available until the start of Wednesday's practice. Interviews with UM players and coaches must be arranged at least 24 hours in advance. The best time to interview players and coaches is Monday afternoon. Practices are open to the media for the first 30 and last 15 minutes only. Head Coach Butch Davis will address the media following each practice.
BIG EAST Conference Call
Each Monday – 11:20 a.m. to 12:30 p.m.
BIG EAST Weekly Feed
Each Wednesday – 3:00 to 3:30 p.m. Coordinates – Galaxy 4R, C-Band, Transponder 24, 99 degrees West.
Coach's Press Conference
Every Tuesday – 12:30 p.m. Team Meeting Room, Hecht Center. Coach Davis conducts weekly press conference. Out-of-town media can call the Miami SID office to hear a recording after 2:00 p.m.
The Game: The Miami Hurricanes (7-1, 4-0 BIG EAST) meet the Pittsburgh Panthers (5-3, 2-3 BIG EAST) at the Orange Bowl in Miami. Kickoff is slated for 12:00 p.m. and the game will be televised nationally by ESPN2.
Miami is ranked #2 in both the Associated Press and ESPN/USA Today rankings and enters the contest riding a six-game winning streak, including victories over teams ranked #1 (Florida State on Oct. 7) and #2 (Virginia Tech on Nov. 4) during that stretch. Pittsburgh enters the game trying to end a two-game losing streak in which the Panthers lost a heartbreaker to then-No. 2 ranked Virginia Tech (34-37 on Oct. 28) and a home game to North Carolina (10-13 last Saturday).
The game matches the BIG EAST Conference's top two quarterbacks (in terms of pass efficiency rating) as Pittsburgh's John Turman leads the league with a 164.5 rating and UM's Ken Dorsey ranks second at 148.3. Dorsey and Turman also lead the conference in passing yards per game with Dorsey averaging 244.8 yards per contest and Turman throwing at a pace of 226.5 per game. Miami and Pittsburgh also provide a clash of the league's leaders in scoring offense (Miami, 44.5 points per game) and scoring defense (Pittsburgh, 18.4 ppg). Miami and Pittsburgh rank 1-2, respectively in the BIG EAST in passing offense, as well.
The Series: Miami and Pittsburgh meet for the 28th time Saturday afternoon with the Hurricanes holding a 17-9-1 all-time series lead. Last year, Miami took a 33-3 victory over the Panthers at Pittsburgh with a strong second half showing. Miami has won the last two meetings and 11 of the last 12 games in the series. Pittsburgh's last victory over UM was a 21-17 victory at Pitt in 1997. Miami holds an 8-4-1 edge in the series in games played at the Orange Bowl with Pittsburgh's last win at the OB coming on November 30, 1963 (Pittsburgh 31, UM 20).