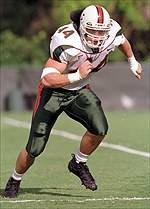 Oct. 19, 2000
CORAL GABLES, Fla. (www.hurricanesports.com) – –
By Chris Bello
Q: First off, congrats on the win over Florida State. As a fan, I was on top of the world when that ball sailed wide right. Explain the burden that has been lifted off your shoulders since the 27-24 victory….
A:It was a relief when that ball went wide right. It was great getting that win against Florida State – especially for our senior class and our coaches. It was just a great win for this program.
Q: What was going through your mind as a 17-0 lead became a 24-20 deficit? With 1:37 left in the game and Miami on offense, did you truly believe you guys would pull out a win?
A: We all really did. When we were on the sideline after they scored and took the lead we all knew that we had a great offense and we all believed. There was just something in the air that day and we just felt right from the beginning that we were going to win.
Q: How ready are you to put on the pads and take the field again after a huge win and then that bye week?
A: I can't wait, especially going up to Temple this week. They're a much-improved team and we're going to go up there ready to play – in front of my home crowd. I'm from up there so it's going to be a fun day.
Q: Florida State weekend has come and gone, Miami got the "W" and one of several goals has been accomplished. As a result, what is the mood of the team at practice nowadays?
A: The mood's been real enthusiastic. Everyone's been running around just like all year. Nothing's changed just because we've beaten Florida State. We're practicing like we always do.
Q: The month of November you face four solid BIG EAST foes (Virginia Tech, Pittsburgh, Syracuse and Boston College.) How does the team keep its focus and the "one at a time" mentality as opposed to thinking National Championship?
A: You have to take it one day at a time because if you don't, you're not going to be playing for that National Championship. Some teams will sneak up on you so you have to continue to take it one game at a time, keep practicing hard and do what we got to do to win.
Q: ESPN.com recently had an article saying Dan Morgan might be the best player in college football. It even mentioned you as a Heisman candidate. How do you feel when hearing something like that?
A: It's a real honor that people think of me like that. To me that's how I think of myself. When I go into each game I think of myself as the best player in the country. I think that is how you got to think if you want to be a good player.
Q: Temple and Louisiana Tech are on deck, but what about Virginia Tech? The last time we spoke you said your collegiate career wouldn't be complete if you didn't knock off the Noles and the Hokies. How do you feel about Tech's November 4th trip south?
A: They're a good team and they got some great players and we're going to come out just like we did against Florida State – prepared, focused and ready to get a win.
Q: How on earth can you concentrate on academics in the midst of such an exciting Miami football season?
A: You just have to keep your focus and remember what got you there (playing football.) Go to class everyday and continue to do the things you have to do for your team to win.
Q: If you weren't playing football every Saturday, how would you spend your weekends in South Florida?
A: Probably just watching football on TV or going to the beach and doing some jet skiing.