University of Miami Athletics
Todd Stroud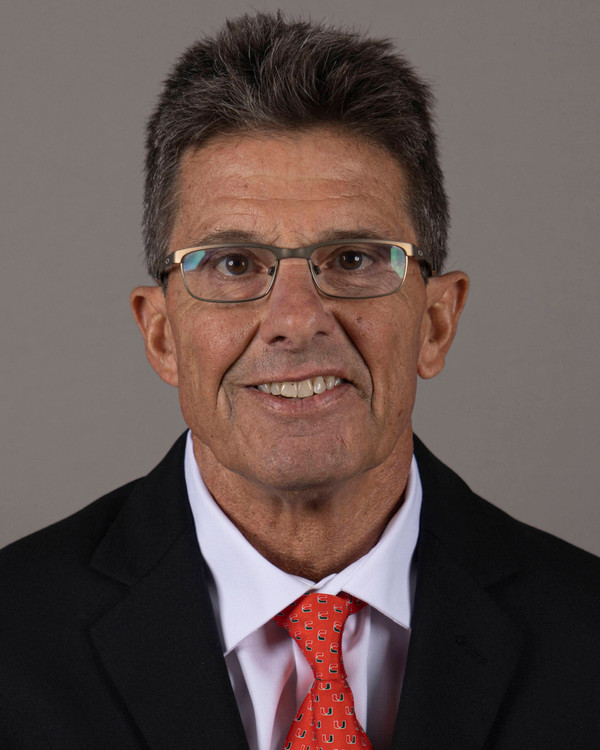 Todd Stroud is entering his third season as senior football advisor for the Miami Hurricanes.
Stroud spent two previous seasons as assistant head coach / defensive line coach for the Miami Hurricanes football program in 2019 and 2020.
In 2019, Stroud helped lead a defense that ranked No. 13 nationally in total defense (yards allowed per game) and No. 12 nationally in yards per play. In addition, the Hurricanes ranked No. 4 nationally in tackles for loss, No. 6 in sacks, No. 10 in run defense, No. 16 in red zone defense and No. 18 in pass defense.
Under Stroud's watch, defensive lineman Gregory Rousseau had a breakout season, earning first-team All-ACC recognition and ACC Defensive Rookie of the Year honors. In his first year as a starter, Rousseau – a redshirt freshman – ended the season tied for the second-most sacks in a single season in Miami history with 15.5. Rousseau was named a Football Writers Association of America (FWAA) second-team All-American and a Freshman All-American by several outlets.
Stroud most recently served as associate head coach and defensive coordinator at Akron, where he spent the past seven seasons.
Throughout his career, Stroud has tutored numerous NFL Draft picks and developed nationwide recruiting ties. During the 2006 NFL Draft, three of Stroud's North Carolina State defensive linemen were first-round selections, including top overall pick Mario Williams by the Houston Texans. He was the head coach at West Alabama from 1994-96.
In 2018, the Zips' defense ranked third in the Mid-American Conference in third-down defense, third in passing efficiency defense and forced 21 turnovers, including two pick-sixes in a 39-34 win at eventual Big Ten West champion Northwestern – Akron's first win over a Big Ten opponent since 1894. The Zips improved from 91st in yards per play to 36th nationally, and from 66th in yards per pass attempt to 21st in the country.
In 2017, as Akron's assistant head coach, defensive line coach and recruiting coordinator, Stroud helped the Zips advance to the MAC Championship Game for only the second time in school history. Akron finished seventh in the nation in interceptions (19), and ranked eighth in defensive touchdowns and 19th in turnover margin.
In 2015, Akron's rushing defense led the MAC and ranked third nationally, yielding just 92.9 yards per game. In 2014, the Zips ranked in the Top 40 nationally in eight defensive categories, while the defensive line racked up 194 tackles, 13 sacks and 34.5 tackles for loss. Akron's 2013 defensive line amassed 21 sacks and 37.5 tackles for loss.
Prior to his stint at Akron, Stroud coached two seasons at Colorado State. He coached tight ends and fullbacks in 2010 in addition to serving as recruiting coordinator. In 2011, Stroud shifted to defensive line coach. From 2007-09, Stroud was the head strength and conditioning coach at his alma mater, Florida State.
That followed an eight-year run at N.C. State, first as director of strength and conditioning from 1999-2004, and then as associate head coach/defensive line from 2004-06. In 2004, Stroud helped the Wolfpack allow just 221.4 yards per game and 102.4 rushing yards per game, both of which rank second in school history. In 2005, Williams set single-season school records in both sacks (14.5) and tackles for loss (27.5). Williams (Texans), Manny Lawson (San Francisco 49ers) and John McCargo (Buffalo Bills) were all selected in the first round of the 2006 NFL Draft.
Stroud was the head strength and conditioning coach at Memphis (1997-99) prior to his three-year head coaching stint at West Alabama. In 1993, as the head strength and conditioning coach at Auburn, Stroud helped the Tigers to an 11-0 regular season, which earned them a No. 4 ranking in the final Associated Press poll.  Stroud was the defensive line and strength and conditioning coach at Samford from 1987-93. He got his start in coaching in 1986 as the defensive line coach at UCF and then a weight room assistant at Florida State.
Stroud played nose guard for the Seminoles from 1983-85 and was team captain his senior season. He earned a bachelor's degree in physical education from Florida State and a master's degree in athletics administration from UAB. He and his wife, Marianne, have four children.