University of Miami Athletics
Eric Vance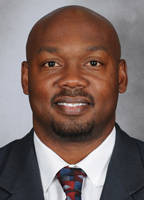 Eric Vance is in his first season with the Miami Hurricanes football program, joining the staff April 4, 2013, as the assistant director of football operations.
Vance spent six seasons as the Director of Player Development with the Tampa Bay Buccaneers. While with the Bucs, he coordinated transition for all new player signees, assisted coaches with daily practice activities and game-day charting and served as the main liaison between players and the community relations department. He also developed and implemented "Buccaneer University", which taught players financial education and skills for career transitions, while helping with degree completion and other off-field issues.
Prior to joining the Buccaneers staff, Vance taught for three years at Robinson High School in the Hillsborough County School District, where he was voted 2005 Ida S. Baker Distinguished Minority Educator of the Year.
Vance played four seasons (1998-2001) with the Buccaneers, playing in 33 games with one start. He also played for the Indianapolis Colts and San Diego Chargers after breaking into the league as an undrafted free agent in 1997 with the Carolina Panthers.
A graduate of Vanderbilt with a double major in mathematics and secondary education, he was a four-year starter and team captain for the Commodores. He later earned his master's degree in educational leadership from USF.
He and his wife Inika have two children – daughter Jalyn and son Jordan.