University of Miami Athletics
Cole Pemberton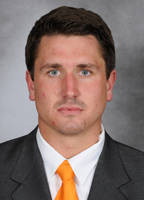 Cole Pemberton is in his second season as a graduate assistant working with the offensive line for the University of Miami football team.
He joined Al Golden's staff in May 2013 after spending three months as an OL grad assistant at his undergraduate alma mater, Colorado State. He spent the 2012 season as a volunteer offensive assistant at Colorado State.
A 2009 graduate of Colorado State with a degree in liberal arts, Pemberton signed with the Houston Texans as an undrafted free agent in April 2010. He was a member of the practice squad until September 2011. He had a brief stint as an offensive lineman for the Virginia Destroyers of the United Football League (UFL) before joining the Washington Redskins practice squad in December 2011.
He was CSU's team captain for the 2009 season and earned Team MVP honors as a senior. He was one of five offensive tackles selected to represent the West in the 2010 East-West Shrine Game.