University of Miami Athletics
Adam Fisher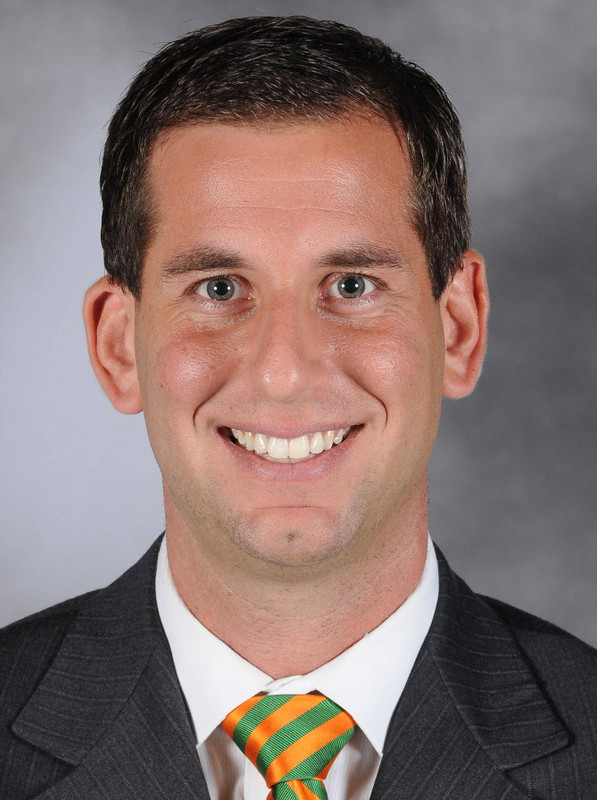 Adam Fisher is in his eighth season at the University of Miami and sixth as an assistant coach for the Hurricanes in 2020-21, serving as the team's offensive coordinator. He was promoted to assistant coach in May 2015 after spending two years as the director of basketball operations for the Hurricanes.
The Hurricanes reached the NCAA Tournament in each of Fisher's first three seasons as an assistant coach, including a run to the Sweet 16 in 2016. Fisher also has coached the Canes to three straight 20-win campaigns, matching a program record.
Under Fisher's guidance, Miami was one of just two ACC schools, along with Duke, to have a player selected in the NBA Draft each year from 2017 to 2019, with Dewan Hernandez (formerly Huell) the most recent. In April 2020, Silver Waves Media tabbed Fisher as one of the top 50 high-major assistant coaches in the country.
Miami went 22-10 during the 2017-18 season, including an 11-7 record and third-place finish in ACC play. The Hurricanes then earned the No. 6 seed in the NCAA South Regional. Lonnie Walker IV had a strong freshman campaign, earning Honorable Mention All-ACC and ACC All-Freshman Team honors. Walker and Bruce Brown Jr. each were selected in the NBA Draft following the season, as Walker was a first-round pick (No. 18 overall), while Brown was picked No. 42.
For the third straight season, Miami sold out its season ticket allotment at the Watsco Center. The 2015-16 season was the first time in Miami Hurricanes history that any team sold out of season tickets.
Fisher and the Hurricanes' coaching staff reeled in top-15 recruiting class in back-to-back seasons in 2016-17 and 2017-18, marking the best classes in program history. For the 2017-18 campaign, the staff inked three ESPN Top 100 players in McDonald's All-American and Jordan Brand Classic All-American guard Lonnie Walker IV (No. 13), guard Chris Lykes (48) and forward Deng Gak (94). New Zealander Sam Waardenburg also joined the class for the spring semester in 2017. This class was ranked top-10 by 247Sports, ESPN and Scout.
The previous year, in 2016-17, the staff signed McDonald's All-American Dewan Huell, Jordan Brand Classic All-American Bruce Brown Jr., Australian standout Dejan Vasiljevic and Rodney Miller Jr. from national powerhouse Oak Hill Academy (Va.). Both Huell and Brown were consensus five-star, top-30 recruits.
In 2016-17, Miami defeated three ranked teams, downing No. 9/6 North Carolina and No. 10/11 Duke in Coral Gables, as well as No. 18/19 Virginia on the road. Miami also won its third straight ACC-Big Ten Challenge matchup, defeating Rutgers in Coral Gables, Fla. Following the season, Davon Reed was selected 32nd overall in the NBA Draft by the Phoenix Suns.
Nationally, the Canes were ranked No. 24 in scoring defense (64.1), No. 72 in 3-point field goal defense (33.0%) and No. 74 in field goal percentage defense (41.9%). Among conference teams, Miami was second in scoring defense, second in fewest fouls (15.6/g), third in rebounding margin (+4.0), fifth in offensive rebounds per game (11.0), fifth in 3-point defense and sixth in field goal defense.
Reed was the recipient of the 2017 Skip Prosser Award, presented annually to the top scholar-athlete in ACC men's basketball. A 1,000-point scorer (1,343) at Miami, Reed was also named third team All-ACC and to the ACC's All-Defensive Team. Freshman Bruce Brown recorded a triple-double with 11 points, 11 rebounds and 10 assists against South Carolina State on Dec. 6, which was the second triple-double in program history at Miami. Brown was also named to the All-ACC Academic Team.
In 2015-16, Miami ended the season ranked No. 10 by the Associated Press and No. 8 in the USA Today Coaches Poll. The Canes were ranked in the polls a school-record 18 straight weeks and ranked top-15 for a school-record 14 weeks. Miami defeated five ranked teams during the season, No. 3 Virginia, No. 11 Louisville, No. 16 Utah, No. 22/20 Butler and No. 24/20 Duke, with back-to-back wins over Virginia and Louisville. The Canes took down Utah, Butler and Mississippi State by an average of 20.0 points per game to win the Puerto Rico Tip Off championship.
The Canes' 27 overall wins under 2016 ACC Coach of the Year Jim Larrañaga were the second-most in school history, and 13 conference wins led Miami to a tie for second place in the ACC's final standings. Miami was 15-1 at home and a perfect 9-0 in league play at the BankUnited Center, thanks in part to a sold-out arena every night, the first time in program history a team has sold out season tickets for its campaign.
Fisher worked with three players who earned postseason honors, including guard Sheldon McClellan, who was named to the USBWA All-District Team and to the 2016 ACC All-Tournament Second Team. Tonye Jekiri was on the ACC Defensive Team while Angel Rodriguez, McClellan and Jekiri were named All-ACC.
In 2014-15 the Canes posted 25 wins, the third-most in program history, and earned a spot in the NIT Championship game in Madison Square Garden. Miami finished sixth in the ACC after being projected to finish 10th. UM was 20-11 in the regular season, highlighted by a 16-point win over eventual national champion Duke at Cameron Indoor Stadium, the only team to defeat the Blue Devils at home that year. Miami also defeated both No. 8/7 Florida and Syracuse on their home courts, two of Miami's 10 regular-season wins away from home.
Fisher came to Miami after spending two seasons at Penn State. Promoted to Director of Player Development in 2012, Fisher served as video coordinator in his first season upon returning to his alma mater in 2011.
Fisher served the previous two seasons as director of basketball operations at Boston University, helping the Terriers to back-to-back 21-win seasons and post-season appearances both years. The Terriers went 21-14 in 2010-11, winning the America East Conference Championship and advancing to their first NCAA Tournament since 2002. The Terriers also went 21-14 in 2009-10 and earned a CBI tournament berth, reaching the semifinals.
Fisher worked as a graduate manager for Villanova from 2007-09, while working on his master's degree in education leadership, which he earned in 2009. Fisher worked under Jay Wright at Villanova, serving as an assistant recruiting coordinator while helping in film exchange with opponents and conference members. During Fisher's time at Villanova, the Wildcats reached the Sweet 16 in 2008 and won the East Regional in 2009 to advance to the Final Four with a then-school-record 30 wins.
At Villanova, Fisher also assisted the director of basketball operations and worked as the assistant camp coordinator in the summers of 2007 and 2008. When Wright was named the head coach of the 2007 U.S. Pan America team, Fisher assisted him and the squad with various duties during tryouts and the preliminary rounds.
Fisher graduated from Penn State with a bachelor's degree in kinesiology in 2006. While there, he worked for three seasons as head student manager and then one season as a graduate manager. Fisher assisted with player workouts, handled administrative duties and helped with team travel.
A native of Jamison, Pa., Fisher resides in Coral Gables, Fla., with his wife, Rebecca, and daughter, Alivia.