University of Miami Athletics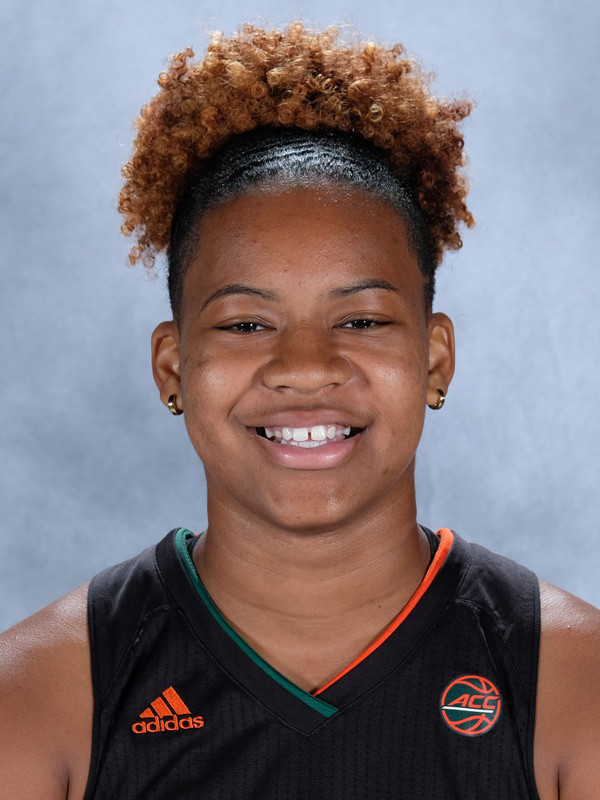 Miami Career Notes: Started 92 of 118 games played for the Canes…Recorded 31 double-digit scoring games, two double-doubles, three double-figure rebounding efforts and two 20-point games…Averaged 6.8 points, 4.0 rebounds and 2.0 assists in 118 games as a Cane…Tallied a career high 23 points against IUPUI (11/17/19)…Recorded 10 rebounds twice in her career, most recently against Boston College (2/18/21)…Ranks 12th all-time in Miami program history for career assists (327).
As a Senior (2020-21): Paced the Canes in minutes played in 2020-21, averaging 30.2 minutes per game…Appeared in all 22 games and started the final 16 of the season…Scored in double-figures in 12 of 22 games, including four in a row from Jan. 10-26…Was the only Cane to record a point in every game in 2020-21 (22)…Recorded the second double-double of her career with 11 points and 10 rebounds against Boston College (2/18)…Eclipsed the 300-assist mark in her career with six at Pittsburgh (1/21)…Posted three-plus assists in 15 games…Paced Miami in total assists (69) and assists per game (3.1)…Finished the season 17th in the ACC in assists (3.14) and 12th in assist to turnover ratio (1.3)…Tallied the second 20-point outing of her career with 20 against Clemson (1/3)…Also tied her career high in made field goals against Clemson (nine).
As a Junior (2019-20): Started all 30 games for the Canes as a junior…Led the team in minutes, averaging 29.5 minutes per game…Doubled her scoring from a season ago, averaging 7.1 points per game in 2019-20, good for fourth on the team…Led all guards in rebounding at 3.8 boards per contest…Paced the team in total assists (97) and assists per game (3.2)…Ranked 13th in the ACC in assists (3.2) and 12th in assist/turnover ratio (1.35)…One of four Canes to record a 20-point outing this season, pouring in a career-high 23 points against IUPUI (11/17)…Set a new career high in field goals made, going 9-of-13 against IUPUI…Totaled eight double-digit games this season…Recorded a bucket in 14 straight games to start the season…The only Cane to tally five or more assists in more than five games this season (seven)…Hit the game-tying jumper in regulation in Miami's OT win over Georgia Tech (1/30), while playing a career-high 42 minutes for the Canes.
As a Sophomore (2018-19): Played in all 34 games and started each of the final 14 … Scored in double figures twice, logged seven-plus rebounds five times and posted five assists in three outings … Finished third among Hurricanes in rebounding (3.5), offensive rebounding (0.8) and assists (2.2) … Led or co-led Miami in steals seven times and assists four times … Tied for the fourth-most 3-pointers (three) in an NCAA Tournament game in program history … In the season opener at FIU (11/6), tallied six points and a co-game-high five assists … Notched 11 points on 4-of-5 shooting to go along with seven rebounds and a season-high-tying five assists versus Hartford (11/11) … Posted five boards and a co-game-high three steals in the win over No. 19 Marquette (11/15) … Scored six points at Iowa State (11/18) in the Preseason WNIT final … Recorded six points and four assists against Nebraska (11/23) … Scored eight points, going 2-of-3 from 3-point range making both her free throws, while adding four rebounds, a career-high-tying and season-best three steals, co-leading all players, and one blocked shot versus Colorado (12/2) … Had seven points, three assists, a co-game-high two steals and a block against Maryland Eastern Shore (12/16) … Tied her season best with five assists versus Vanderbilt (12/20) … Pulled down five boards and blocked a shot versus Florida A&M (12/28) … Grabbed five rebounds in Miami's first win at Duke (1/17) … Posted six boards against North Carolina (1/20) … Made her first of 14 straight starts in the triumph at No. 13/14 Syracuse (1/23) … Notched five points, a season-best eight rebounds and three assists versus Boston College (1/27) … Finished with a season-high-tying eight boards and a co-team-best four assists in 27 minutes at Pittsburgh (2/10) … Scored seven points on 3-of-3 shooting in the Hurricanes' win at second-ranked Louisville (2/17) … Compiled eight points and seven rebounds in 30 minutes versus Georgia Tech (2/28), connecting on a pair of 3-pointers … Led Miami with four assists in 29 minutes at No. 10 NC State (3/3) … Set season bests in points (14), made field goals (four), made 3-pointers (career-high three) and minutes (32) in the NCAA Tournament opener against FGCU (3/22), adding seven rebounds and four assists … Totaled eight points on 4-of-6 shooting, tying her top mark on the season for makes, in 29 minutes against No. 22/20 Arizona State (3/24) in the NCAA Tournament Round of 32.
As a Freshman (2017-18): All-ACC Academic Team
One of four Hurricanes to play in all 32 games and one of two to start each of them … Posted one double-double … Registered double-digit points on 10 occasions, including eight times in 16 non-conference games and four in a row, logging 15 twice to bookend the season … Grabbed five-plus rebounds on 11 occasions, with eight-plus four times and 10 twice … Tallied five-plus assists a team-high nine times, with six-plus in four outings … Paced the Hurricanes in assists (2.7) and minutes (26.4) … Finished third on the team in rebounding (4.4) and field goal percentage (min. 2 FGM per game, 44.6) … Placed fourth in made field goals (99) and steals (1.1), as well as fifth in scoring (7.7) and offensive rebounding (1.1) … Led or co-led the Hurricanes in assists 11 times, scoring five times, steals five times and rebounding three times … Tied for the team lead in most assists (eight) and minutes (36) in a single game … One of two Hurricanes to make six free throws in a game without a miss and one of three to connect on multiple 3-pointers in an outing without a miss … Posted the fourth-best field goal percentage (70.0, 7-of-10) in an NCAA Tournament game in program history … Ranked third among ACC freshmen in assists, fourth in field goal percentage (min. 2 FGM per game) and fifth in steals (min. 15 GP), as well as seventh in scoring (min. 15 GP) and eighth in rebounding … In ACC-only action, placed second among league freshmen in assists (2.5) and fourth in field goal percentage (min. 2 FGM per game, 44.4), plus sixth in rebounding (4.1) and ninth in scoring (6.8) … Joined classmate Mykea Gray as the first Miami freshmen to start every game since Shenise Johnson in 2008-09 … One of three freshmen to earn All-ACC Academic Team recognition … In her first collegiate game, totaled a season-high 15 points on 7-of-13 shooting, the former a season best in makes, to go along with eight rebounds and four assists in 34 minutes versus FIU (11/10) … Notched a game-high five assists against Vermont (11/12) … Led Miami in points (11) and assists (five) at Colorado (11/18) … Scored 10 points on 5-of-8 shooting while notching a season- and co-game-high three steals against No. 15/15 Maryland (11/26) … Totaled 10 points in the triumph over Michigan State (11/30), connecting on all six of her free throws to set a season high in makes … Had a team-high 10 points along with six rebounds and her first made 3-pointer versus St. John's (12/3) … Compiled a team-high 13 points with a season- and game-high eight assists in the win over No. 20/23 Kentucky (12/10) … Co-led Miami with three steals, tying a season high, against Alabama State (12/15), adding six boards … Pulled down a season- and co-game-high 10 boards and added five assists versus Sacramento State (12/18) … Recorded a co-game-high 14 points, co-team-high six rebounds and game-high five assists in a season- and game-high 36 minutes, adding a season-high-tying three steals and season-best eight free-throw attempts, against Southern Illinois (12/20) … Notched a game-high four assists and season-high-tying three steals in the victory over No. 14/15 Duke (12/31) … At second-ranked Notre Dame (1/4), totaled eight points, six rebounds and a team-high six assists … Scored a team-high 14 points, her most in ACC play, on 6-of-10 shooting and dished out a team-best six assists at No. 13/12 Florida State (1/11) … Stuffed the stat sheet at North Carolina (2/4), compiling nine points, eight rebounds and a game-high six assists in a team-best 32 minutes … Had four assists and seven boards versus Pittsburgh (2/15) … Tallied a game-leading six assists in her homecoming outing at Georgia Tech (2/22) … Posted 12 points on 5-of-7 shooting, including making both her 3-pointers, and added a co-game-high three steals in the home finale against Virginia Tech (2/25) … Led all players with five assists in 34 minutes versus No. 11/11 Florida State in the ACC Tournament quarterfinals (3/2) … Earned her first double-double by tying her season highs in points (15) and rebounds (game-high 10) in the first round of NCAA Tournament against Quinnipiac (3/17), playing 33 minutes and finishing 7-of-10 from the floor to tie her top mark in makes.
High School: Graduated from Duluth High School … Listed by ProspectsNation.com as a four-star recruit and the No. 53 player in the country, including the No. 13 guard and the eighth-best player in Georgia … McDonald's All-American Game nominee … As a senior, named the Region 6-7A Player of the Year by the league's coaches and a Gwinnett Daily Post Super Six selection … Helped lead her team to the state Sweet 16 while serving as a captain … Tabbed as a Second Team All- Region 7-6A pick following a junior year in which she averaged 13.6 points, 7.0 rebounds, 3.9 assists, 2.4 steals and 1.3 blocks per game … Also chosen as a Second Team All-Region 6-7A pick as a sophomore … George Rogers, the 1980 Heisman Trophy winner and first pick in the 1981 NFL Draft, also attended Duluth, as did Brian McCann of the Atlanta Braves and former MLB player Nick Green.
Personal: Full name is Endia Nakyra Banks … First name is pronounced IN-Dee-Uh, like the country … Born Feb. 9, 1999 in Starkville, Miss. … Parents are Dewitt Banks and Yalunda Winters … Has two younger sisters, Olivia and London … Majoring in sport administration … Enjoys playing the piano and drawing … Favorite athlete is LeBron James because he is a champion and it is so rare to find a player with his size and athleticism … Best sports memory is defeating her top rival, Norcross High School, as a freshman … Chose Miami because of the way the coaches treated her and the family-oriented nature of the program … Committed to Miami over Auburn, Cincinnati and Georgia Tech.