University of Miami Athletics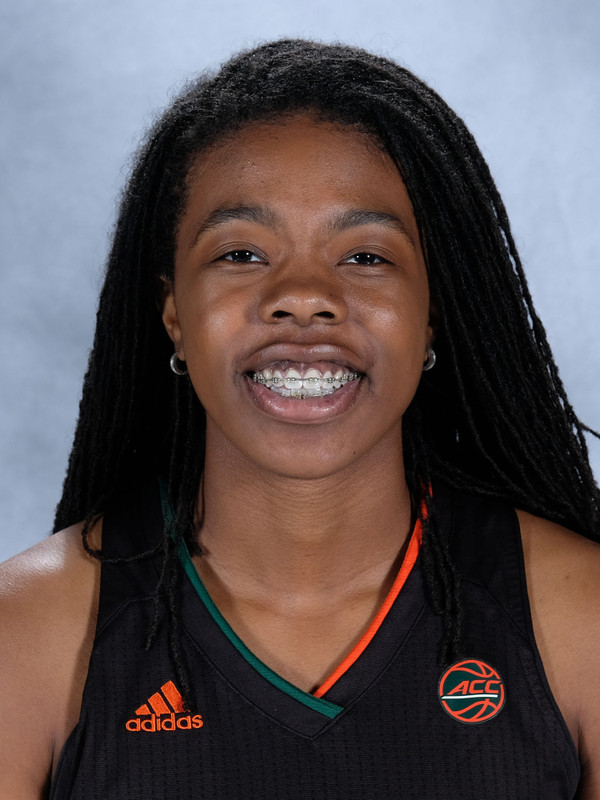 As a Freshman (2017-18): Blue Ribbon Panel ACC All-Freshman Team … All-ACC Academic Team
Played in 31 of 32 games, missing only the opener due to a family matter … Scored double-digit points 10 times, with nine in a span of 13 ACC games and five coming consecutively, reaching 14 in five outings and 17-plus twice … Paced Miami in made 3-pointers (51) and 3-point percentage (min. 1 3PM per game, 32.9) … Finished third among Hurricanes in free throw percentage (min. 1 FTM per game, 74.0), as well as fourth in scoring (8.0) and fifth in assists (1.3) … Led or co-led the team in assists three times and in scoring twice … Logged two of the six occurrences of a Hurricane making four 3-pointers in a game and had the most 3-point attempts (nine) in a game on the season … Placed seventh in ACC-only action with a 39.4 percent clip from 3-point range … Finished second among ACC freshmen in made 3-pointers, third in free throw percentage (min. 1 FTM per game) and fifth in 3-point percentage (min. 1 3PM per game), plus sixth in scoring … In ACC-only action, ranked first among conference freshmen in free throw percentage (min. 1 FTM per game, 82.1), second in 3-point percentage (min. 1 3PM per game, 39.4), third in made 3-pointers (28), fourth in made free throws (23) and fifth in both scoring (8.9) and field goal percentage (min. 2 FGM per game, 41.4) … Joined classmate Mykea Gray as the third and fourth ACC All-Freshman Team honorees in program history … One of three freshmen to earn All-ACC Academic Team recognition … Posted five points, three assists and a season-high four steals in her collegiate debut against Vermont (11/12) … Logged three steals and shot 4-of-6 at the line, setting a season high in attempts, versus New Orleans (11/21) … Recorded her first double-digit scoring output against No. 15/15 Maryland (11/26), finishing with 11 points … Tallied 11 points and shot 3-of-5 from deep, adding two steals, in the win over Michigan State (11/30) … Registered nine points in the triumph over No. 20/23 Kentucky (12/10) … Logged 10 points and five boards against Southern Illinois (12/20) … Totaled 14 points, shot 4-of-8 from 3-point range and added a co-team-high three assists versus Bethune-Cookman (12/28) … Turned in an 11-point performance at No. 13/12 Florida State (1/11) … Notched a season- and game-best 19 points along with a co-game-high four assists, then a season high, in 25 minutes at Clemson (1/14), shooting 5-of-7 from the floor, 4-of-5 beyond the arc and 5-of-6 at the line, setting highs in free throws made and attempted … Scored 11 points against fourth-ranked Louisville (1/25) … Posted 14 points and a team-high two steals in a season-best 28 minutes of action at Virginia Tech (1/28) … Tallied 10 points in 25 minutes at North Carolina (2/4) … Registered 14 points on 5-of-9 shooting in 25 minutes, chipping in two steals, in the victory over No. 23/23 NC State (2/8) … Capped her five-game streak of scoring in double figures with 10-point showing against No. 12/12 Florida State (2/11) … Had three assists versus Pittsburgh (2/15) … Compiled 12 points and shot 3-of-6 from 3-point range at Virginia (2/18) … In the home finale against Virginia Tech (2/25), logged a game-high 17 points and set season highs in rebounds (team-high eight), assists (game-high six) and made field goals (six), adding a pair of steals in 25 minutes.
High School: Graduated from Miami Country Day School … Listed by espnW HoopGurlz as a five-star prospect and the No. 44 player in the nation, including the No. 13 guard and third-best Floridian … Considered a four-star recruit by ProspectsNation.com, which ranked her No. 90 overall, No. 20 among guards and eighth in the state … Four-year starter, three-time Miami Herald First Team All-Dade selection and a McDonald's All-American Game nominee … Aided her team to four state titles and the DICK's Nationals crown as both a senior and sophomore … Served as a captain as a senior and averaged 18.5 points, 7.5 rebounds and 4.5 assists … Led her team to a 29-1 and No. 1 national ranking in the USA TODAY Super 25 Expert Rankings in 2016-17 … Posted 17.5 points, 6.2 rebounds and 4.7 assists per outing during a 21-6 junior campaign … Attended The Sagemont School as a freshman … Member of the honor roll her senior year … Miami head football coach Manny Diaz also attended MCDS, as did singer Emily Estefan and actresses Zoë Kravitz and Navi Rawat.
Personal: Full name is Kelsey Allysandra Marshall … Nickname is Kels … Born Feb. 26, 1999 … Parents are Joseph and Myrline Marshall … Father is a culinary arts teacher and mother is the head manager of a hospital … Has two older brothers, Khyle and Brandon … Khyle, a former professional basketball player, was a three-year starter at Butler and played in the 2011 national title game … Majoring in sport administration … Enjoys listening to music … Favorite athlete is LeBron James because he is so versatile and is a hard worker … Best sports memory is winning the DICK's Nationals title at Madison Square Garden in 2015 … Chose Miami because of how much she liked the coaches and players when she visited … Committed to Miami over Illinois and USF.