University of Miami Athletics
Lauryn Harris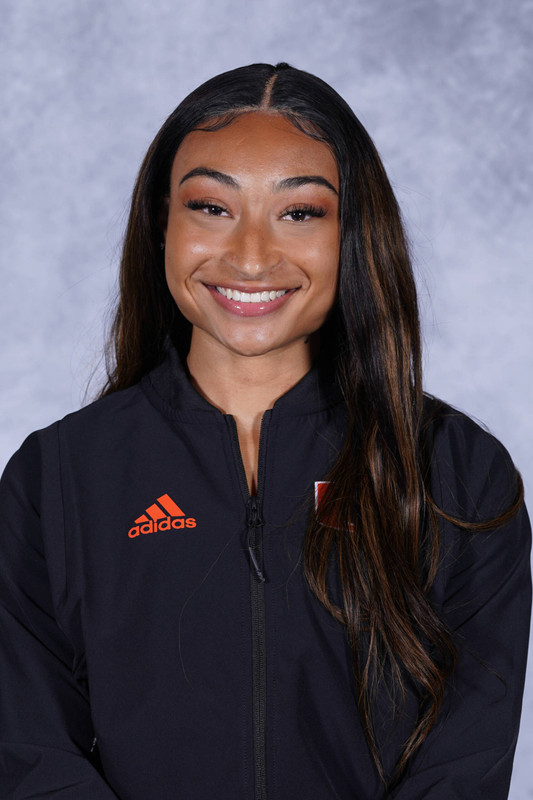 2021 Outdoor: Won the women's long jump with a mark of 6.00m and finished second in the 100m hurdles with a time of 13.65, her first ever collegiate outdoor competition, at the Hurricane Invitational…
2021 Indoor: Made her Miami debut in the 60m hurdles at the Bob Pollock Invitational, finishing seventh with her time of 8.45 seconds… Posted a time of 8.51 in the 60m hurdles at the Tiger Paw Invite.
Prior to Miami: 
CAREER ACCOLADES
2020 Ivy League Indoor Heps Team Champion
2020 Second-Team All-Ivy (60m Hurdles)
First all-time at Penn in the indoor 60m hurdles (8.38)
Second all-time at Penn in the indoor long jump (5.98m/19-7.5)
Seventh all-time at Penn in the indoor 200m (24.66)
OUTDOOR 2020
All 2020 Ivy League sports were canceled on Wednesday, March 11 due to a nationwide outbreak of coronavirus COVID-19.
INDOOR 2020
Competed in seven meets during her breakthrough freshman indoor season, including scoring in three events at the Ivy League Heptagonal Championships (March 1).
Earned second-team All-Ivy honors with a runner-up finish in the 60m hurdles, breaking the program record in the process with a time of 8.38.
Joined the DMR team to place fifth at Ivy Heps with a combined time of 11:43.90.
Also scored for Penn with a sixth-place finish at Heps in the long jump, clearing 5.87m.
Broke the program record at the time in the long jump, leaping 5.98m (19-7.5) to win the Dr. Sander Columbia Challenge (Jan. 25).
Ran a season-best 24.66 in the 200m at the Sykes & Sabock Challenge (Feb. 8) at Penn State to finish sixth and move into the top 10 in program history.
High School: U.S. No. 10 in indoor long jump, No. 19 in outdoor long jump, No. 19 in 100m hurdles, No. 22 in 60m hurdles … Ranked No. 1 in the long jump in Md. … 13-time All-American … In 2019 alone, captured three national championships and seven All-America honors in the 100m hurdles and relays.