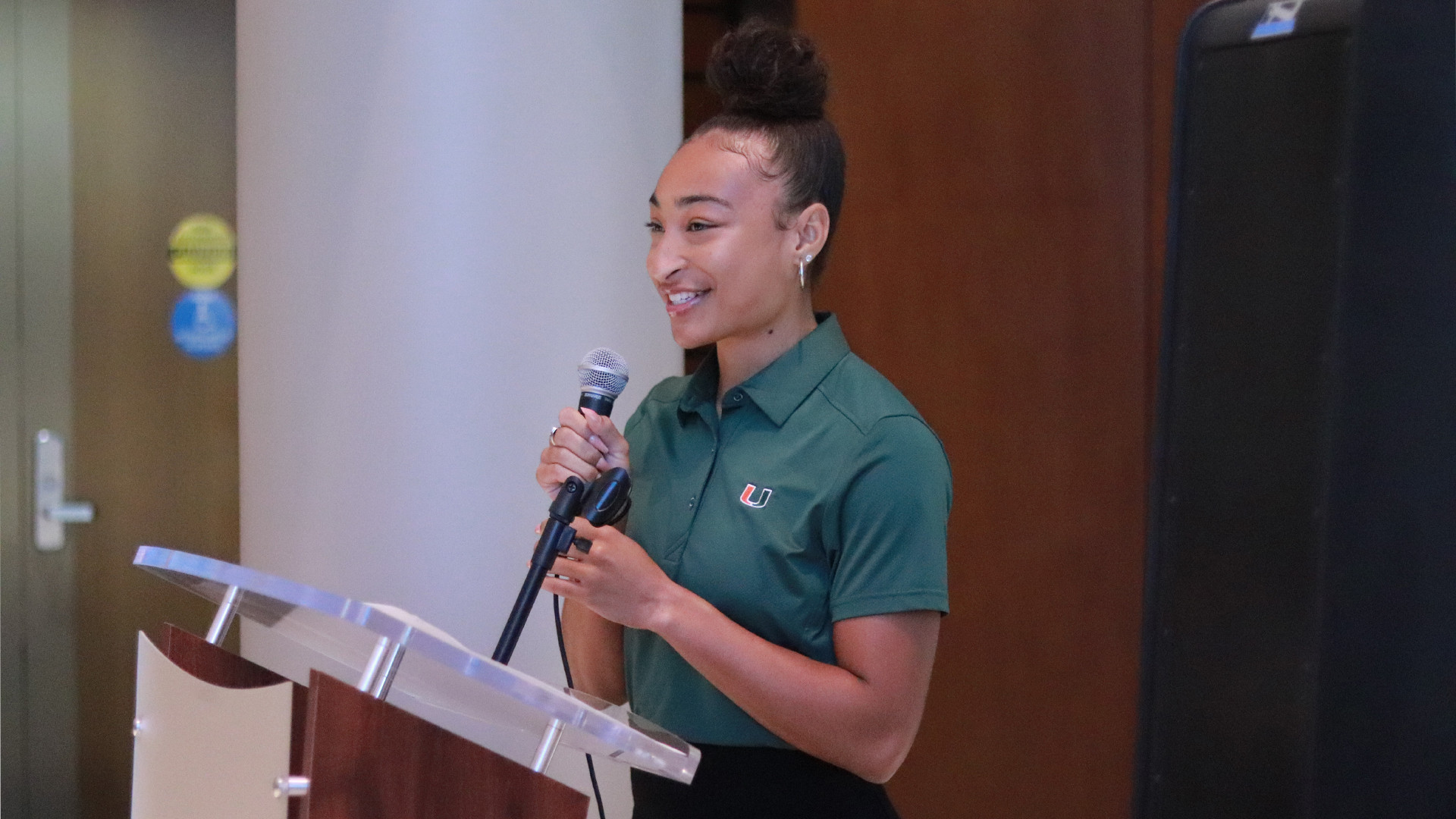 CORAL GABLES, Fla. – Lauryn Harris has always considered herself a high achiever.
As the youngest of four siblings, she was inspired by her older sisters to excel, and excel she did all during her time at the prestigious Bullis School in her native Maryland.
She was a 13-time All-American in high school and in 2019 alone, was a three-time national champion with seven All-American nods in the 100-meter hurdles and multiple relays.
Her efforts on the track and in the classroom helped her earn an opportunity to compete at the University of Pennsylvania, where during the 2020 indoor season she earned second-team All-Ivy honors in the 60-meter hurdles and broke multiple school records as a freshman.
But it wasn't until she arrived at Miami in 2021 and joined the Hurricanes Leadership Academy that Harris – now the co-president of Miami's Black Student-Athlete Alliance and a member of UM's Student-Athlete Advisory Committee – began to find her voice in a new way, on and off the track.
"[Miami] has exceeded my expectations, honestly. I came in with just an open mind, willing to just embrace every aspect of my journey here," Harris said. "There's a lot of things that I'm involved in now that I never even thought of initially when I transferred here, like being co-president of the Black Student-Athlete Alliance and being a representative for SAAC. Those weren't even on my radar and they've been some of the most fulfilling parts of my journey…
"And I think it really started with my opportunity to be a part of the Hurricane Leadership Academy. Just having that experience gave me more confidence as a leader and in my personal abilities…Going through that program, I was able to learn my strengths and weaknesses, be able to understand how to create goals for an organization, how to drive those goals, how to influence other people and build them up and empower them to do well in things. So, I felt like after learning all of that, I would be a good leader for the organization and be able to work well with the other individuals that I knew were already involved."
As the co-president of Miami's Black Student-Athlete Alliance, Harris has been instrumental in helping the group revamp its structure and focus on its core components of community engagement, professional development, health and wellness and Black history.
One of her biggest priorities for the group is creating a space where her fellow student-athletes can connect away from their respective sports and grow both as individuals and as a community.
That's why she says one of her biggest sources of pride was the BSAA's recent Study Break event during last semester's final exams.
"BSAA is all about providing that safe space for student-athletes, so just being able to see people interact with individuals from other sports, kind of just let down their guard a little bit," Harris said. "As athletes, we're always worried about life in our sport, but just being able to enjoy our life on a daily basis outside of the sport and just getting to know each other in a better atmosphere is important. That happened this year when we hosted our study break. Just seeing people play games, talk and kind of be relaxed and really feel like a unified community."
But it isn't just within Miami's athletic department and on the Hurricanes' track team where Harris has put her leadership skills to the test.
Harris, who is set to graduate this spring with a degree in political science, recently completed a 17-month internship with Voice In Sport, an organization that works to elevate the voices of female athletes.
Harris wasn't sure what to expect when she started her internship, but she quickly learned she'd be doing more than just administrative work as part of the group's Advocacy Leadership Team.
She did research and helped analyze data about women and girls in sports. She also participated in the organization's effort to draft amendments to Title IX and had conversations with multiple members of the U.S. House of Representatives to help advance the group's work.
It was an eye-opening experience that Harris says opened her eyes to the possibility of a career in advocacy work, particularly when it comes to diversity, equity and inclusion.
"When I first started the internship, I wasn't exactly sure what I wanted to do, but doing that work helped me understand a lot more about myself, my desires and having different experiences within classes and things like that," Harris said. "Seeing that, I felt way more fulfilled in what I was doing with Voice in Sport than I did in any other part of my life, outside of athletics. I began to understand that advocacy was something that I'm passionate about and I want to pursue."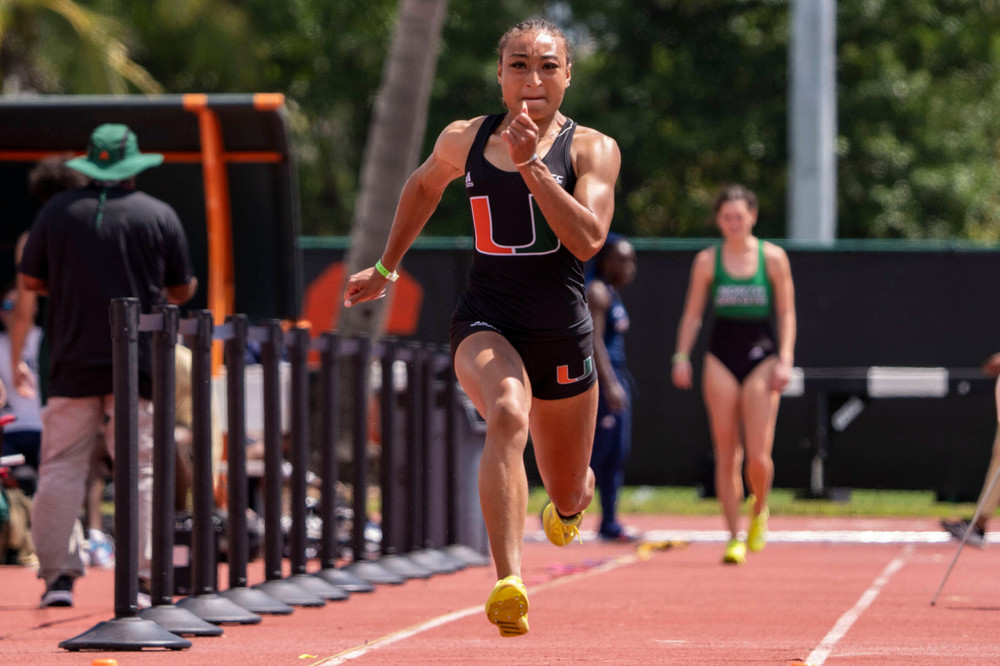 Harris' efforts – both in her internship and at Miami – have not gone unnoticed.
Last year, she was recognized as one of Miami's two ACC Unite Award winners and she has embraced her role as one of the leaders on the Hurricanes women's track and field team, which will be defending its outdoor conference title this season.
And those who know her best at Miami say they expect she'll continue to make an impact.
"She's one of those people that everybody needs on a team. She supports people and it's kind of the behind-the-scenes things that she does. She's not looking for accolades. She just wants to be the best person on and off the track that she can be," said Amy Deem , Miami's Director of Track and Field and Cross Country. "I think the things she learned in Leadership Academy really resonated with Lauryn and it made her an even stronger teammate and stronger person on the track because the more confidence you have, the more it bleeds into every aspect of your life."
Added LaToya Farris, Miami's Assistant Athletic Director for Student-Athlete Development, "I'm super proud of Lauryn because I've seen that growth in her…She truly cares for people. She wants to make an impact. And again, she doesn't have to be loud doing it. She just does it. It's almost like her personality. You see her and she's more of a quiet leader, so I think even in that space, she's staying true to who she is. She's being authentic, but she's still doing what she's passionate about."