University of Miami Athletics
Amy Deem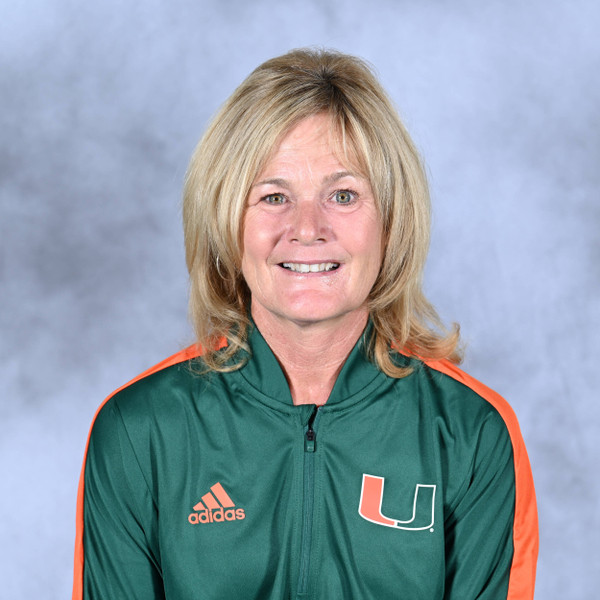 The Deem File
Conference Championships Won at Miami: 17
All-Americans Coached at Miami: 193
National Champions Coached at Miami: 15
In her 32 seasons at the University of Miami, Amy Deem has shaped the Hurricanes into a national force that has produced an impressive roster of All-Americans, conference champions, national champions and Olympians.
A native of Parkersburg, West Virginia and graduate of Ohio University, Deem first came to Miami in 1988 as an intern in the compliance department. During her internship, she served as a volunteer assistant coach with the track & field team.
She hasn't left Coral Gables since.
In the spring of 1990, Deem was named Miami's women's track & field coach. Before her hire, no Hurricane had ever recorded an NCAA qualifying mark. Entering the 2022-23 season, 92 student-athletes have earned 193 All-American marks.
Deem was promoted to her current position as Miami's Director of Track & Field/Cross Country in 2008 and became, at the time, just the sixth woman to oversee both the men's and women's track & field and cross country programs at a Division I school.
Since Deem's arrival, the Hurricanes have won a combined 17 conference championships in the Big East and Atlantic Coast Conference.
The most recent came in 2022 when Miami's women's team – led by All-American thrower Debbie Ajagbe – won the ACC outdoor championship. It was the Hurricanes' fourth such title following wins in 2005, 2006 and 2018.
Deem was named the ACC's Outdoor Women's Track & Field Coach of the Year after the 2022 season, earning the distinction for the fourth time in her illustrious career. It was her eighth overall ACC coaching honor.
Under Deem's guidance, the Miami women have also won five ACC indoor championships (2005, 2006, 2016, 2017, 2019), six Big East outdoor championships (1998, 1999, 2001, 2002, 2003, 2004), and two Big East indoor titles (2003, 2004).
Deem has also coached 15 of Miami's 17 individual national champions, including hurdler Gillian Russell, who won five national titles between 1992 and 1995, and thrower Kimberli Barrett, who won two national championships in 2005. Miami's most recent national championship came in 2019 when Michelle Atherley won the indoor pentathlon title.
While the Hurricanes have become a fixture at the NCAA Championships during Deem's tenure at Miami, her success isn't limited to the college arena.
She has coached 10 Miami student-athletes who became Olympians, including Lauryn Williams, the first American woman to medal at both the Summer and Winter Games. Williams, a national champion for the Hurricanes, was a silver medalist in the 100-meters at the 2004 Athens Games and a gold medalist as part of the 4×100 relay team in London in 2012. Six months after retiring from track in 2013, Williams pursued a new sport: bobsledding. She went on to win a silver medal at the Sochi Winter Games, along with fellow American Elana Meyers-Taylor.
Deem herself was a part of the U.S. Olympic Team in 2012, serving as the head coach for the women's national team at the London Games. The U.S. women won 14 medals in those Games and a year later, Deem again led Team USA at the 2013 World Championships in Moscow.
She was also the head coach of the U.S. National Team at the 2007 World Championships in Osaka, Japan, and served as President of the United States Track Coaches Association from 2003-2005.
In 2002, Deem was honored as the United States Olympic Committee Developmental Coach of the Year for Track & Field and has been honored four times as the USTCA South District Coach of the Year. She also served as the Event Coordinator for Sprints and Hurdles for the USA Track & Field Coaches Education Program from 1998-2000 and in 2001, was the head coach of the USATF Junior National Team that competed in England and Scotland. In 2003, she served as the sprints and hurdles coach for the United States at the Pan American Games.
Deem, who is a certified USA Track & Field Level III coach and instructor, was inducted into the U.S. Track & Field and Cross Country Coaches Association Hall of Fame in 2017 and the UM Sports Hall of Fame in 2006.
She has coached 19 ACC yearly award winners and 132 of her student-athletes have been recognized as All-ACC Academic Team selections.
Miami National Champions Coached by Amy Deem
1992 – Gillian Russell, Indoor 55-meter hurdles
1993 – Gillian Russell, Outdoor 100-meter hurdles
1994 – Gillian Russell, Outdoor 100-meter hurdles
1995 – Gillian Russell, Indoor 55-meter hurdles
1995 – Gillian Russell, Outdoor 100-meter hurdles
1999 – Yolanda McCray, Outdoor 100-meter hurdles
2004 – Lauryn Williams, Outdoor 100-meter hurdles
2005 – Kimberli Barrett, Indoor Shot Put
2005 – Kimberli Barrett, Outdoor Shot Put
2006 – Tabia Charles, Outdoor Triple Jump
2008 – Krista Simkins, Indoor 400-meters
2009 – Murielle Ahoure, Indoor 200-meters
2011 – Ti'erra Brown, Outdoor 400-meter hurdles
2017 – Shakima Wimbley, Indoor 400-meters
2019 – Michelle Atherley, Indoor Pentathlon