University of Miami Athletics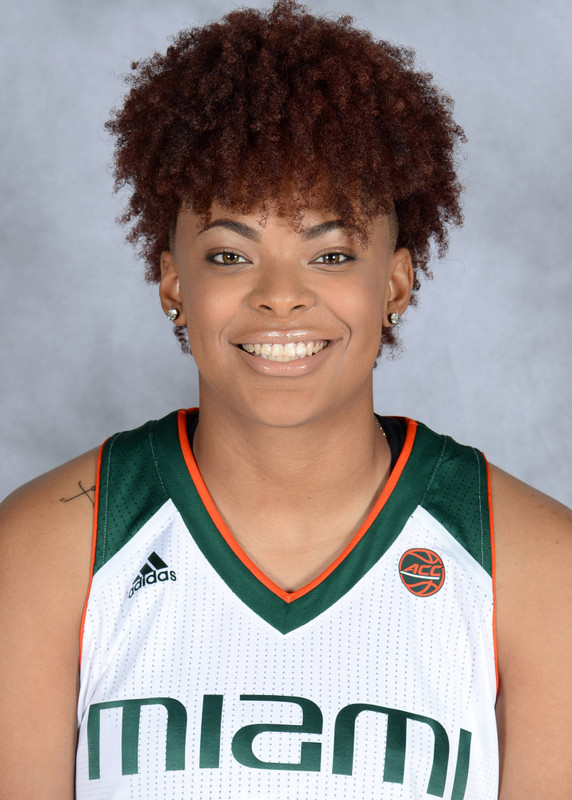 As a Sophomore (2016-17): Played in 14 games on the season, tallying 19 points and 13 rebounds … Posted an 80.0 percent clip from the field, shooting 8-of-10 … Turned the ball over only three times … Grabbed three rebounds in her season debut versus Albany (11/13) … Made her lone field goal attempt and both of her free throws in the home opener against Charlotte (11/16) … Scored a career-high eight points in a career-high-tying 12 minutes against Grambling State (11/25), also notching a season-best four rebounds … Missed Miami's games against No. 9/10 Ohio State (12/1), Old Dominion (12/4) and Loyola Chicago (12/6) due to injury … Recorded two points and three boards versus Coppin State (12/19) … Scored four points, making both of her shots on the field, against seventh-ranked Florida State (12/29) … Appeared in Miami's NCAA Tournament Round of 32 contest versus Quinnipiac (3/20).
As a Freshman (2015-16): Played in 21 games and finished the year with 38 points and 34 rebounds … Shot 48.5 percent from the floor, good for the eighth-best mark among ACC freshmen with at least 30 field goal attempts … Committed just five turnovers … Made her Miami debut at Old Dominion (11/17), grabbing one rebound … Posted three boards and scored the first points of her career against Milwaukee (11/27) … Pulled down five rebounds versus UMass Lowell (12/6) … Set season highs in points (seven) and rebounds (six) in Miami's victory over FIU (12/22) … Played a season-high 12 minutes at Clemson (1/10) and attempted a season-best eight free throws … Scored five points in just eight minutes on the road at third-ranked Notre Dame (2/14) … Posted six points in eight minutes of play against No. 10/10 Louisville (2/25).
High School: Graduated from Lake Wales High School … Ranked as a three-star recruit by espnW HoopGurlz … FABC/Source Hoops 6A Second Team All-State and PolkPreps.com First Team All-County as a senior … McDonald's All-American Game nominee … As a team captain, led her team to a 19-4 record as a senior, including 9-3 in conference play … Named First Team All-County by PolkPreps.com as a junior after averaging 16.2 points, 10.0 rebounds and 4.0 assists per game and was selected to the second team as a sophomore … Helped her team to a regional championship game appearance as a sophomore … Tabbed as the Region 13 5A Player of the Year as a freshman … Earned one varsity letter in volleyball and one in track and field … Named to the honor roll.
Personal: Full name is Zada Keandre Williams … First name is pronounced ZAY-Duh … Born Dec. 12, 1996 … Parents are Kindreek and Andrea Williams … Father is a teacher and mother is a guidance counselor … Has a younger sister, Zaria … Intends to major in chemistry on a pre-med track … Career goal is to work in forensic science … Favorite athlete is LeBron James … Best sports memory is making the regional finals as a sophomore … Chose Miami because of its blend of great academics and a great basketball experience … Committed to Miami over Auburn, LIU, Southern Miss and Virginia Tech.
 STATS
YEAR
GP
GS
MIN
AVG
FG
FGA
PCT
3FG
3FGA
3PCT
FT
FTA
PCT
REB
AVG
AST
TO
BLK
STL
PTS
AVG
2015-16
21
0
105
5.0
16
33
.485
0
0
.000
6
16
.375
34
1.6
6
5
1
7
38
1.8
2016-17
14
0
47
3.4
8
10
.800
0
0
.000
3
4
.750
13
0.9
0
3
2
1
19
1.4
CAREER
35
0
152
4.3
24
43
.558
0
0
.000
9
20
.450
47
1.3
6
8
3
8
57
1.6