University of Miami Athletics
Xavier Coakley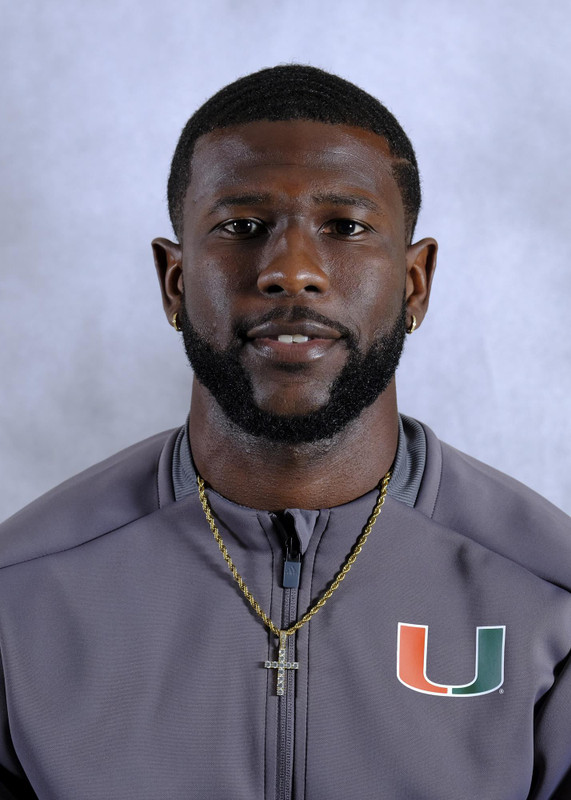 2019 Indoor: Debuted for the Canes at the UAB Blazer Invite in the men's 60m hurdles, recording a time of 8.39 seconds… Finished the men's 60m hurdles in 8.18 seconds in the prelims at the UAB Vulcan Invite… Ran a 8.08 in the 60m hurdles to qualify for the finals where he ran a 8.29 at the Texas Tech Classic.
2017 SEC Community Service Team
2016 SEC All-Freshman Team (60m Hurdles)
2018 Indoor (Junior / Auburn):
Competed in five events… ran a personal best 7.81 in the 60m hurdles at the Bob Pollack Invitational to earn a fourth place finish… finished third in the 60m hurdles at the Vanderbilt Invitational with a time of 7.85… finished fourth at the Commodore Invitational with a time of 8.11 in the 60m hurdles… ran a 7.95 in the 60m hurdles to finish eighth at the 2018 SEC Indoor Championships
2017 Outdoor (Sophomore / Auburn):
Finished second at the Tiger Track Classic in the 400m hurdles with a mark of 53.21 … Career-best time of 53.02 at the Texas Invitational where he placed fourth … Placed 13th at the SEC Outdoors … Fifth place finish at the War Eagle Invitational … Finished 14th at the SEC Outdoors in the 110m hurdles
2017 Indoor (Sophomore / Auburn):
Finished in the top-10 in the 60mH in every event during the 2017 indoor season … Ran a personal best 7.90 at the Razorback Invitational … Opened up the season with a third place finish at the Vanderbilt Invitational … Finished third in the 60mH with a mark of 8.05 at the Auburn Invitational.
2016 Outdoor (Freshman / Aubrun):
Competed in three meets in the 400mH … Finished second at the Georgia Invitational in the 400mH with a personal best 53.87 … 2015-16 First-Year SEC Academic Honor Roll.
2016 Indoor (Freshman / Auburn):
Posted a personal best 8.05 in the 60mH for a 10th place finish at the SEC Indoor Championships … Recorded a personal best 22.89 in the 200m at the Conference Clash.
Prior to Auburn:
Representing the Bahamas, he won silver at the 2015 CARIFTA Games in the 110mH with a time of 13.51 (w) … Competed in the 2014 IAAF World U20 Outdoor Championships in the 110mH.
Personal:
Attended St. Augustine's College in Nassau, Bahamas … Son of Kateriann and Anton Williams.