University of Miami Athletics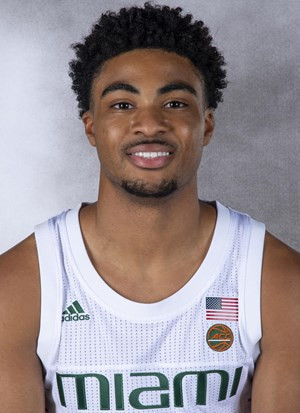 As a Senior (2020-21): NABC Honors Court
Season did not count towards eligibility due to COVID-19 pandemic … Appeared in 17 games, including each of the final eight, and made one start … Logged all eight instances, in the ACC era (2004-05 to present), of a Miami non-scholarship walk-on playing 11-plus minutes in a game … Dished out his first-career assist versus Jacksonville (12/19) … Notched two points and a rebound at Syracuse (1/19) … Logged three points and a career-best three rebounds in a then-career-best 17 minutes of action at No. 16 Florida State (1/27) … Played a career-high 20 minutes against Georgia Tech (2/20), beginning an eight-game span in which he played double-digit minutes six times … Totaled five points, one rebound, one assists and one steal against No. 11/9 Florida State (2/24) … Started and played 14 minutes in the Senior Night victory over Boston College (3/5) … Hit a 3-pointer to stop a 9-0 run in the win against Pittsburgh (3/9) in the first round of the ACC Tournament … Connected on a 3-pointer and finished a team-best plus-10 in 14 minutes of action in the ACC Tournament second-round win versus Clemson (3/10) … Made a 3-pointer for the third day in a row in Miami's ACC Tournament quarterfinal matchup against Georgia Tech (3/11).
As a Junior (2019-20): NABC Honors Court
Awarded a scholarship for the season … Appeared in 11 contests, including seven in ACC play … Amassed nine points, three steals, two rebounds and one assist over 28 minutes of action … Registered his first collegiate steal against Quinnipiac (11/16) in his first action of the season … Set new career highs in points (six), rebounds (two), made field goals (two) and minutes played (10) at North Carolina (1/25), finishing 2-of-3 from the floor and making his lone attempt both from long range and at the line … Scored three points at eighth-ranked Florida State (2/8).
As a Sophomore (2018-19): Joined team as walk-on, but was awarded scholarship for remainder of season on Jan. 18 … Played in 16 games, including 11 in conference action … Hit 3-pointers in ACC play at Syracuse (1/24), Boston College (2/17) and Duke (3/2) … Saw his first playing time in final minute of season opener against Lehigh (11/9) … Scored first five Miami points against La Salle (11/22) … Played two minutes, including final minute of first half, at Louisville (1/6) … Played season-high four minutes at Boston College (2/17).
High School: Graduated from Adlai Stevenson High School … Named First Team All-Area and First Team All-Conference by the Daily Herald in 2017 … Finished as one of the top 10 scorers in Stevenson history despite only playing one year as a full-time starter (2016-17) … Averaged 17.2 ppg during his senior season, including 19.8 ppg during conference play … Also averaged 1.8 spg … Shot 51.0 percent from the field and 80.0 percent at the charity stripe during his senior campaign … Went to Whitney Young Magnet High School in Chicago his first two years of high school … Once named Prep Hoops Player of the Week for Illinois … Played in every AAU Basketball National since the second grade … Was home schooled up until high school.
Personal: Parents are Rodney and Andrea Herenton, both of whom attended Harvard University … Has two brothers, Rodney and Samuel … Rodney played basketball at Stanford from 2016-20 … Named after his grandfather, Dr. Willie Herenton, who was a five-time Golden Glove Boxing Champion and whose jersey is retired at Lemoyne-Owen College … His grandfather was also a five-term mayor of Memphis and the first African-American mayor in the state of Tennessee … Enjoys international travel and entrepreneurialism … Chose Miami because it was his dream school … Majoring in economics with a minor in sociology.