University of Miami Athletics
Wilfredo Gonzalez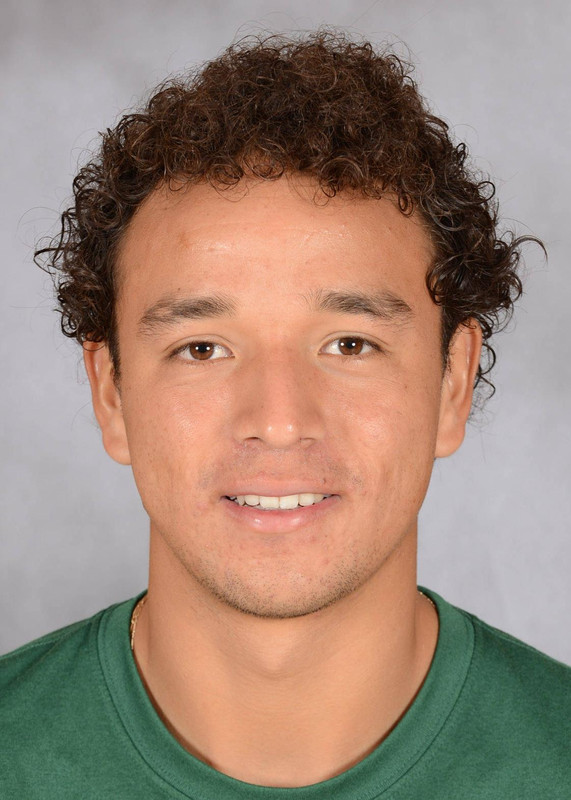 ACC Academic Honor Roll, 2013, 2014, 2015
All-ACC Men's Tennis Academic Team, 2013, 2015

Photo Gallery
Rallying With Wilfredo Gonzalez 2014  |  Q & Ace interview with Wilfredo Gonzalez
Career (2012-15)
Singles: 52-53
Doubles: 41-59
As a Senior (2014-15)
Wilfredo Gonzalez 2014-15 match-by-match

Fall: 4-7 singles, 3-8 doubles. Spring: 9-12 singles, 10-10 doubles. 
Fall 2014 – Athletic Director's Honor Roll (3.2+ GPA) and Book Buster (3.0+ GPA) … Spring 2015 – Dean's List (3.5+ GPA), Athletic Director's Honor Roll (3.2+ GPA) and Book Buster (3.0+ GPA).
Tied for team-high nine wins in singles play, posting 9-12 record … Last win of the season was a 6-2, 6-2 victory over No. 77 Collin Altamirano of Virginia … Recorded four-straight wins over opponents from Liberty, Kennesaw State, Pepperdine and George Washington … Played three positions, posting a 2-5 mark at No. 2, 4-7 at No. 3 and going undefeated at 3-0 at No. 4 … Also notched team-best 10 doubles wins, tallying 10-11 mark … Posted a pair of ACC doubles wins with teammate Kevin Bondar, defeating Notre Dame's No. 22 duo of Eddy Covalschi and Josh Hagar 8-4 at No. 2 spot, and downing Boston College's Conor Mullins and Philip Nelson 8-6 at No. 1 position … Won five-straight doubles matches with Bondar from Jan. 25 to Feb. 14 … Also paired with Christian Langmo (1-2), Nile Clark (0-2) and Bernard Tefel (0-2).
As a Junior (2013-2014)
Wilfredo Gonzalez 2013-14 match-by-match  

Fall: 3-3 singles, 4-3 doubles. Spring: 6-10 singles, 11-6 doubles. 
Missed six matches early in season with knee injury … Finished the season with 6-10 singles record and 3-8 ACC mark … Posted 11-6 doubles record, 5-6 in ACC … Paired with Omar Aly to post 10-4 doubles mark at the No. 1 position … Also was 1-1 with Danny Shebshayevich at No. 3 and 0-1 with Henrique Tsukamoto at No. 2 … Primarily played out of position No. 4 but competed out of the No. 3 spot for four singles matches … Won four consecutive singles matches in March … Partnered with Omar Aly to win four consecutive doubles matches to end the season … Book Buster (3.0 spring semester GPA) … Athletic Director's Honor Roll (3.2 spring semester GPA) … Dean's List (3.5 spring semester GPA).
As a Sophomore (2012-13)
Wilfredo Gonzalez 2012-13 match-by-match  

Fall: 3-2 singles, 2-1 doubles. Spring: 16-8 singles, 6-13 doubles. 
Posted a team-best 16-9 singles record with a 5-5 ledger in ACC matches… Led team in overall singles wins… Posted a 12-1 singles record in home matches… Had a stretch in which he won 11 of 12 matches, including six straight… Defeated No. 58 Ryan Shane of top-ranked Virginia 6-4, 4-6, 6-4… Was the only player of the 2012-2013 season to defeat a ranked singles player… Recorded a 9-7 mark against opponents on ranked teams… Led team with five ACC singles wins… Finished second on the team with 10 straight sets wins… Clinched a 4-3 victory over then-No. 71 Louisiana-Lafayette with a 6-7, 6-2, 6-4 win at No. 2 singles… Played primarily at the No. 3 singles position while also seeing action at No. 2 singles… Finished with six doubles wins, all coming from the top-spot… Partnered with Marco Stancati and Omar Aly and Henrique Tsukamoto at No. 1 doubles… With Aly, the duo earned a No. 66 ITA doubles ranking in late March… The duo also notched an 8-3 victory over Florida State's 22nd-ranked duo Benjamin Lock and Andres Bucaro… Posted a 3-2 overall singles fall match record…  Recorded a 2-1 overall doubles record while partnering with Marco Stancati… Advanced to the Round of 16 in the USTA/ITA Regional Championships by defeating top-6 seed Norbert Nemscek (UNF) 6-2, 6-1.
Summer 2012
Traveled to Mexico to compete in the ITF Futures F8 Tournament and also helped his team win the Davis Cup Group III with Team Guatemala in Tobago, Trinidad & Tobago … Won three qualifying matches, but lost in three sets in the first round of the event … In doubles, Gonzalez and his Mexican teammate defeated a pair from Guatemala in the first round, but lost to a Serbian/Austrian duo in the quarterfinals … In Tobago, was one of five players on the Guatemalan team, defeating Aruba in doubles to help his country take home the championship.
As a Freshman (2012) 
Wilfredo Gonzalez 2012 match-by-match

Spring: 9-12 singles, 10-10 doubles. 
Posted a 9-12 overall singles record with a 3-7 mark in the ACC … Played in three (2-1) matches at the No. 2 position, 15 (7-8) at No. 3 and one (1-0) at No. 4 … Was 10-9 in dual matches (not including Gardnar Mulloy Miami Invitational) … Six of his wins went to the third set … Earned five doubles wins with Omar Aly at the No. 1 position … The duo defeated New Mexico's No. 16 Jadon Phillips and Phil Anderson, who were ranked No. 16 nationally, by a score of 8-3 … Battled against Georgia Tech's No. 2 Kevin King and Juan Spir, but came up short 9-7 … Won three-straight singles matches against UCF, UNF and No. 23 FSU, each of which went into the third set  … AD Honor Roll (3.2 GPA/semester) … Book Buster (3.0 semester).
Prep 
Went to school at Bilinque El Prado, in Guatemala… Ranked No. 86 among junior players in ITF rankings… Previously ranked as high as No. 61 in the world… National, Central American, Mexican and Caribbean champion in the under- 14 and under-18 age groups… Won both the Monterrey Country ITF Junior Cup in Monterrey, Mexico… Won the Tampico Junior Cup in Tampico, Mexico.
Personal 
Born on Jan. 6, 1993 … Son of Wilfredo and Sara Gonazalez… Has one brother, Stefan, and one sister, Sara… Born in Guatemala… An avid movie watcher… Sports hero is Victor Valdes… Nickname is Pollo… Also recruited by University of Texas, Michigan, Georgia and Louisville … Double major in economics and sports administration, graduating in December of 2015.