University of Miami Athletics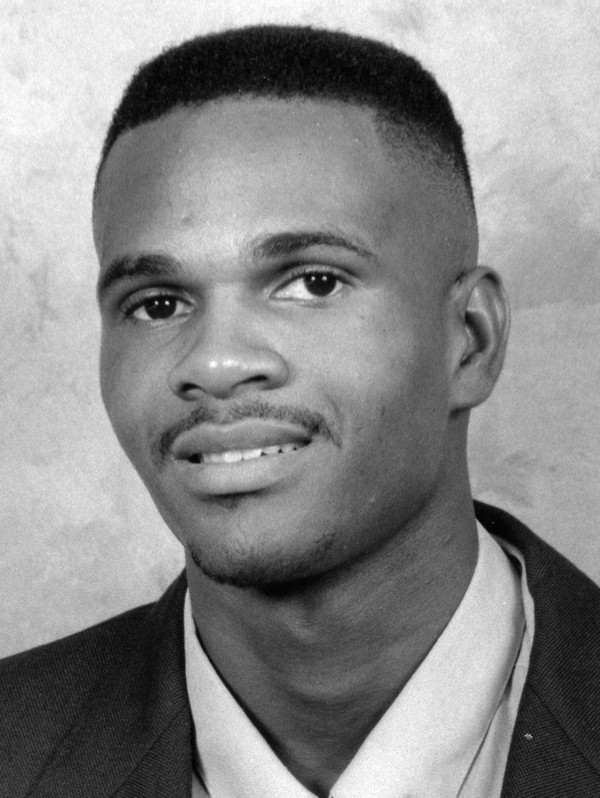 AS A FRESHMAN (1995-1996)
): Saw action in all 28 games… was selected to the BIG EAST Conference All-Rookie Team… become the first Hurricane to win back-to-back BIG EAST Conference Rookie of the Week honors after receiving the award on Jan. 2 and Jan. 9 and again on Feb. 26 and Mar. 3… is the only Hurricane to win the award four times… was named the Miami Hurricane Upper Deck Player of the Month for December… led the team in field goals made (117), blocked shots (50), offensive rebounds (71), and dunks (22)… placed second on the squad in scoring (10.1 ppg), field goal percentage (.529), field goals attempted (221), defensive rebounds(80), total rebounds (151) and rebound average (5.4rpg)… led UM in rebounds (5.4 rpg) and blocked shots (2.1bpg) in conference play… finished fourth in the BIG EAST in blocks in all games (1.79 bpg) and in league games… led the 'Canes in scoring six times, rebounds nine times and had three 20-point games… tied the UM single-game BIG EAST record by playing 43 minutes against St. John's (Feb. 20)… in the double overtime victory over St. John's he tied his career-high in points (22), rebounds (9) and dunks (5)… scored six of UM's eight points in the first overtime period against the Red Storm,,, tallied a team-high 19 points (9-11 FGs) in 18 minutes vs. 11th-ranked Syracuse (Jan.3) despite playing with a badly sprained ankle that caused him to miss the two preceding days of practice,,, had career-highs in points (22) and blocked shots (8) and pulled down a team-high six rebounds against West Virginia (Feb. 6)… set the UM BIG EAST single-game record for blocked shots with his career-high eight against West Virginia… the eight blocks also tied the UM overall single-game record and established a Hurricane freshman record… had 12 points, a career-high nine rebounds and a game-high six blocks in UM's win over Pittsburgh (Jan. 20)… had 20 points in UM's non-conference game against Tennessee (Dec. 27)… was the first player to lead UM in rebounds in his Hurricane debut (8 vs. Northeastern Illinois) since Joe Wylie came off the bench to grab 12 rebounds against Maryland-Western Shore on Nov.25, 1988… scored in double figures on 12 occasions and garnered three or more blocks in a game six times during the season… was selected to the second-team BIG EAST All-Newcomers by Van Coleman's Future Stars.
AS A SOPHOMORE (1996-1997)
Played in all 29 games including 17 starts… was a second team All-BIG EAST selection, becoming the first Hurricane to earn second team honors… named to the Basketball Times All-South team… named Second Team All-BIG EAST by College Hoops Insider … led UM in scoring (405 points, 14.0 ppg), FGM (165), FGA(380), FTM (73), FTA (120), offensive (88), defensive (108) and total (196) rebounds, blocks (64), dunks (36) and minutes played (900)… his 64 blocks ties Constantine Popa (1991-92) for the third best, single season mark in UM history… scored double figures in a career high 15 straight games before being held to eight points at Villanova (Jan. 11)… his 28 points at Boston College (Jan. 2) were the most by a Hurricane in a BIG EAST road game and the third highest point total in a BIG EAST regular season game… he also grabbed a career-high 13 rebounds for his third career double-double…named the unanimous MVP of the Orange Bowl Classic (Dec. 28 against DePaul) after recording his second career double-double with a game-high 11 rebounds. Named BIG EAST Player of the Week for the Week ending Dec. 15, 1996… recorded double-doubles at UNLV on Nov. 29 (10 points-team-high 10 rebounds) and at Seton Hall on Feb. 10 (team-high 12 points-10 rebounds).. had a game-high 26 points, eight rebounds and a season high six blocks against Hartford (Dec. 13).
AS A JUNIOR
First-team All-BIG EAST Selection… first Hurricane to be named first-team All-BIG EAST… led team in scoring (16.8 ppg), rebounding (9.4 rpg), blocks (45), field goals (184), field goals attempted (379), minutes played (890) and dunks (38)… BIG EAST's overall leader in rebounding and ranked second in the conference with 13 double-doubles…his nine double-doubles in league contest tied him for first with Notre Dame's Pat Garrity… became the 21st player in UM history to score 1,000 career points against Boston College (1-28-98)… led the Hurricanes in scoring 14 times and in rebounding 20 times… 45 blocks ranked ninth on Miami's all-time single season list… scored in double figures in 26 of 28 games including nine 20 point outings… set a career-high scoring in double figures for 116 consecutive games from Dec. 6 to Feb. 14. In the Regular Season: Recorded 11 points, nine rebounds, three blocks and a career-high six steals against Notre Dame (1-22-98)… scored 19 points and grabbed 17 rebounds against 19th ranked West Virginia (2-28-98)… recorded 27 points and 11 rebounds at Memphis (112-22-97).. hit his first 11 field goal attempts finishing 11-of-12 from the field… recorded 20 points and a career-high 18 rebounds against Georgia State (12-12-97)… was 9-of-17 from the floor and 2-of-2 from the line in 34 minutes… led Miami to win over 17th ranked UNC Charlotte (11-21-97) with 23 points, six rebounds, six blocks and five steals. In the BIG EAST Tournament: Recorded 10 points and four rebounds in Miami's BIG EAST Tournament game against Georgetown. In the NCAA Tournament: Had 12 points and six rebounds against UCLA in the opening rounds of the NCAA Tournament.
AS A SENIOR (1998-1999)
Fourth-year senior who returns as one of the most athletic players in the BIG EAST… preseason Wooden Award Top 25 Candidate… will contend for All-Conference, All-America and BIG EAST Player of the Year Honors… can play either forward spot.. runs the floor extremely well and has excellent leaping ability… a strong rebounder who has a knack for getting to the offensive glass… is only the 10th player in Miami history to record over 1,000 career points and 600 career rebounds… currently ranks tied for 14th on Miami's career scoring list with 1,156 points… has led Miami in scoring, rebounding, blocks and minutes played in each of the last two seasons… his 159 career blocks ranks second on UM's all-time list… two-time BIG EAST Champion in the high jump (1996, 1997) as a member of the Hurricane track team.. school record holder in the high jump and the only Hurricane to ever jump over seven feet (7' 1-1/4").
HIGH SCHOOL
Miami Northwestern in Miami, FL… finished at the school's all-time leader in points (2,358), rebounds (1170) and blocked shots (714)… was Parade Magazine third-team All-America selection… earned first-team all-state honors in both basketball and track as a senior… averaged 23 points, 13 rebounds and eight blocks as a senior and was named team MVP and selected to the Miami Herald All-Dade County squad… named the Miami Northwestern Athlete of the Year during the 1994-94 campaign… scored 16 points and grabbed eight rebounds in the Adidas Magic Johnson Roundball Classic, an all-star game featuring the top high school seniors in the country… named a member of Bluechip Illustrated's Dream Team as a senior… was ranked 21st among Bluechip Illustrated's High School Top 100 and 29th among Lindy's Basketball Annuals Freshmen of Influence… was co-MVP of the basketball team in both his sophomore and junior seasons… was second-team All-Dade County in 1992-93 and honorable mention All-Dade County as a freshman… earned all-state honors in track with a high jump performance of 6'10" his senior year… also had a jump of 7'1" during the regular season… set the state high jump record (7'2") as a junior… his 7'2" jump at the state championship was also the top high school mark in the nation… finished third in the state meet as a sophomore with a jump of 6'10"… coached in basketball by Fred Jones.
PERSONAL
Majoring in business… full name is Tim O'Connor James… born December 25, 1976 in Miami… parents are Tom McGregor and Betty James… has three sisters (Charlene-22, Leslie-14, Thomisina-8) and two brothers (Darrell-25, Anthony-4)… enjoys going to the movies, sleeping, studying, reading and going to the beach in his free time. 
Tim James
Year
GP
GS
Min
Avg
FG
FGA
Pct
3FG
3A
3PCT
FT
FTA
Pct
Off
Def
Tot
Avg
PF-D
FO
Ast
TO
Blk
STL
Pts
Avg
1995-96
28
0
625
22.3
117
221
0.529
2
6
0.333
46
85
0.541
71
80
151
5.4
50
0
12
48
50
22
282
10.1
1996-97
29
27
900
31
165
380
0.434
2
8
0.25
73
120
0.608
88
108
196
6.8
58
2
35
80
64
24
405
14
1997-98
28
28
890
31.8
184
379
0.485
4
17
0.235
97
144
0.674
90
173
263
9.4
64
1
12
88
45
41
469
16.8
1998-99
30
30
956
31.9
215
451
0.477
12
41
0.293
115
165
0.697
83
163
246
8.2
52-0
 
24
97
65
40
557
18.6