University of Miami Athletics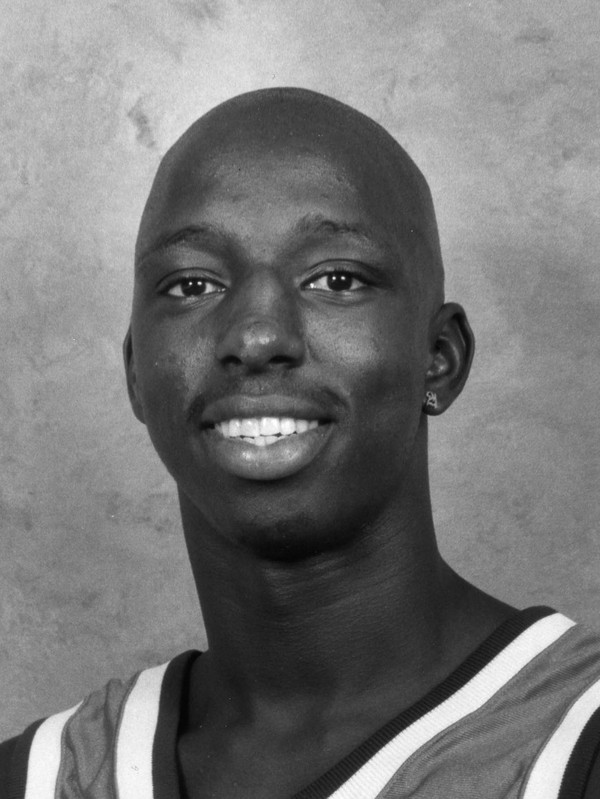 At Miami
Will serve as a co-captain this year with Alex Fraser … Fourth year senior … Will become just the fifth player in school history to lead the ?Canes in scoring for three different seasons if he tops UM in points this year … Holds the UM record for most consecutive games with at least one three-point field goal made (currently at 32 entering the season) … Is UM's career leader in three-point field goals made (200) and attempted (566) … is also among UM's career leaders in assists (6th), steals (7th), three-point field goal percentage (9th), starts (9th), minutes played (10th) and scoring (19th) … His 82 consecutive games played (every game of his career) and 28 straight starts are the longest current streaks on the team … Has scored in double figures in 57 games and has hit at least one trey in 78 … Has scored 20 or more points nine times in his collegiate career.
As A Junior (1994-95) ??
Started all 28 games and led UM in scoring (12.8 ppg), field goal attempts (258), three-point field goals made (64) and attempted (195), free throws made (91) and attempted (118) and free throw percentage (.771) … Was second in field goals made (102) and minutes played (814) … Became just the 20th player in UM history to reach the 1,000 point plateau when he nailed a trey with 8:43 left vs. UConn (March 4)… registered UM's only four-point play of the season in the UConn contest … Led the team in scoring 11 times.. ranked among the BIG EAST leaders in free throw percentage (4th), three-point field goals made per game (5th) and three-point field goal percentage (11th) in all games and fourth in both free throw percentage and treys made per game in league battles … Set UM BIG EAST single-game records in both free throws made (11) and attempted (16) in the ?Canes upset win at St. John's (Jan. 11)… his steal with 7.4 seconds left and slam dunk three seconds later sealed UM's 69-68 win over Boston College (Jan. 21) … Scored a season-high 25 points vs. Robert Morris (Nov. 30) … His six treys vs. Robert Morris tied his career-high and his ?13 attempts from behind the arch set a school record … Scored 20 or more points four times, including a 21-point effort at FAU (March 2) … ISREAL TOUR: Started all six games led the ?Canes in scoring (113 points, 18.8 ppg), field goals (35), three-point field goals (19), free throws made (24) and steals (13) … Selected to the All-Tournament team at the Bendel Tournament in Tiberius after averaging 27.5 points, 5.0 rebounds and 3.0 steals during the two-day event (Aug. 12-13) … Against 1993-94 Israeli League champion Maccabi Tel Aviv (Aug. 12), he tallied a team-high 1u8 points … The following day he scored a game high 37 points (9-14 on 3-PT FGs) against Hapoel Jerusalem.
As A Sophomore (1993-94)
Appeared in all 27 games, but had his effectiveness and playing time reduced to just 22.7 minutes per contest due to a pre-season knee injury … With his mobility severely hampered he managed to average just 9.0 points per game … Led the squad with 57 three-point field goals and finished third in both defensive rebounds (70) and assists (66) … His totals of 57 three-point field goals attempted are both the fourth highest single-season totals in UM history … Led the team in scoring five times… 75 percent of his made field goals and 77 percent of his field goal attempts were three-pointers … Scored a season-high 18 points (also a team-high) on 6-11 shooting from three-point range against Seton Hall (Feb. 19).
As a Freshman (1992-93) ?
Saw action in all 27 games and made 25 starts … Led the ?Canes in scoring with an overall average of 15.9 ppg (sixth in the BIG EAST) and a 17.2 ppg average in conference play which ranked third in the league … Led the team in steals (56), field goal attempts (304), free throws made (97) and free throws attempted (140) and ranked second in? assists (104) and field goals made (127) … Named a unanimous selection to the BIG EAST All-Rookie-of-the-Week … Led all conference freshman in scoring, assists and steals … Scored in double figures and tallied at least on three-point field goal in 26 consecutive games, missing only the season-finale vs. Georgetown in the BIG EAST Tournament … Established UM single-season records in three-point field goals made (79) and attempted (207) … In conference play broke BIG EAST records for three-point field goals in a season by both a rookie and all players … Was UM's leading scorer on 11 occasions and their leading rebounder three times … Had a career-high 10 rebounds vs. USC (Dec.27) … Tallied 19 points and a career-high nine assists against Georgetown (Jan. 2) … Set a career-high with 26 points (6-9 three pointers) vs. Pitt (Jan. 23) … Led UM with 24 points (5-10 treys) vs. Seton Hall (Feb. 23) … Scored 20 points in the season-finale vs. Villanova, including a perfect 10-10 from the line in UM's 77-76 victory.
High School: Miami High School … Honored as Florida's "Mr. Basketball" in his junior and senior years … Averaged 18.1 points, 8.0 rebounds and 5.0 assists during his senior campaign … Junior year averages were 23.5 points, 7.0 rebounds, and 6.0 assists … Led Miami High to state 4-A titles in his sophomore and junior seasons and runner-up honors as a senior … Voted All-American by Street and Smith's and Parade Magazines and was a McDonald's All-American selection … Coached by Shakey Rodriguez.
?Personal: Majoring in business… Full name is Steven Edwards … Born March 1, 1973 … Parents are John Benny and Laura Mae Edwards … Older brother Doug, played at Florida State and was a first-round pick of the NBA's Atlanta Hawks and is currently a member of the Vancouver Grizzlies … Younger brother, Allen, is a sophomore at Kentucky … Has been a member of the "Join a Team, Not a Gang" community service program sponsored by Metro-Dade Police and Florida Power & Light … Enjoys tennis, badminton, bowling and music.
?
Steven Edwards
Year
GP
GS
Min
Avg
FG
FGA
Pct
3FG
3A
3Pct
FT
FTA
Pct
Off
Def
Tot
Avg
PF
FO
A
TO
B
S
Pts
Avg
92-93
27
25
789
29.2
127
304
.418
79
207
.382
97
140
.693
32
59
91
3.4
68
0
104
84
7
56
105
3.9
93-94
27
11
613
22.7
76
213
.357
57
164
.357
34
56
.607
23
70
93
3.4
49
0
66
68
3
15
243
9.0
94-95
28
28
814
29.1
102
285
.358
64
195
.328
91
118
.771
52
73
125
4.5
56
0
62
68
15
31
359
12.8
TOTAL
82
64
2216
27.0
305
802
.380
200
566
.353
222
314
.707
107
202
309
3.8
173
0
232
102
25
220
1032
12.6