University of Miami Athletics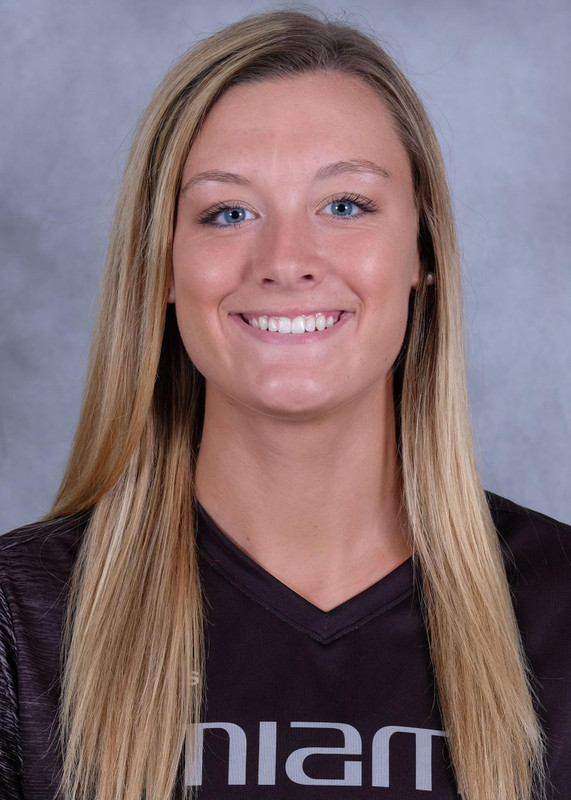 2020 (Junior): Played and started the first three matches of the year at outside back before suffering a season-ending leg injury … Collected a shot against Louisville (9/17) … Logged 171 minutes in the trio of contests.
2019 (Sophomore): Earned the start in six out of 16 matches at outside back … Logged 866 minutes as a sophomore, with a goal and an assist for three points … Played 31 minutes on the backline against UTRGV, assisting in the team's first shut out of the season … Played 60 minutes against the Knights (8/25) … Celebrating her birthday, earned her first start of the season and tallied her first career goal against Stetson (9/12) … Recorded a team save for the Hurricanes against Boston College (9/26) … Made her second start of the season, playing right back in a 2-1 victory over Syracuse (10/13) … Registered an assist in the season finale against North Carolina (10/31).
2018 (Freshman): Earned playing time on the back line in 17 matches, starting five … Logged 766 minutes in her freshman campaign … Saw 45-plus minutes of action in seven matches … Tallied her first career assist in a 4-1 victory over FIU (8/19) … Aided the Hurricanes to a shutout victory over Lipscomb (8/26) … Started her first match for the Hurricanes against UTRGV (8/30) … Helped the Canes earn a clean sheet against Syracuse (9/29) … Went the distance in a double-overtime match against eighth-ranked Boston College (10/13) … Went the distance against NC State (10/18) … Started her fourth consecutive match, guiding the Hurricanes to a shutout victory over ninth-ranked Florida State (10/25).
High School: Graduated early from Caravel Academy and enrolled at Miami in January 2018 … Led her team to a 12-3-0 record, and a Division II State Championship title with four goals and two assists as a junior … As a sophomore, was named MVP of the Delaware State Tournament, leading Caraval Academy to an 11-3-1 record and State Championship with eight goals and six assists.
Club: A member of the Pemm Fusion '99 ECNL and DA teams … Participated on the Penn Fusion '98 ECNL squad.
Personal: Full name is Sierra Rose Frey … Born September 12, 1999 … Daughter of Carl and Corinne Frey … Father does physical logistics and mother is a systems engineering analyst at Boeing … Intends to major in nursing … Favorite athlete is Julie Ertz … Chose Miami because of the weather and beautiful campus.