University of Miami Athletics
Sara Culbertson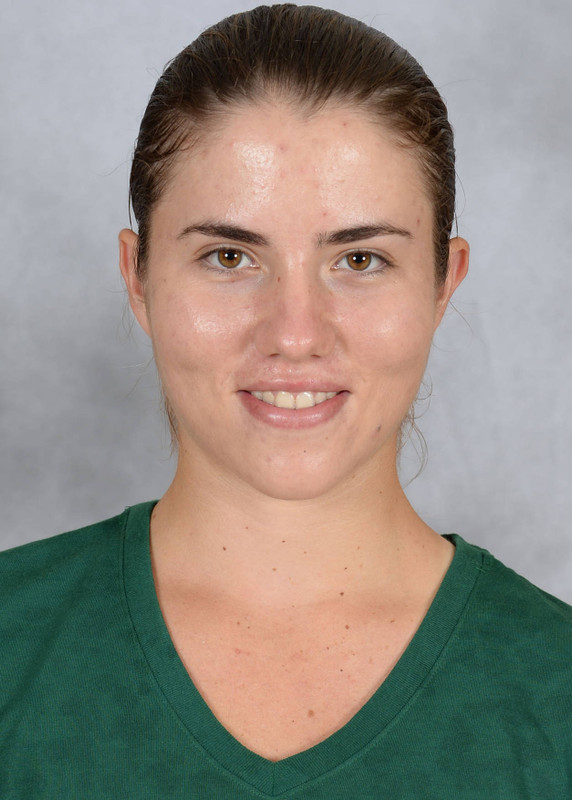 As a Sophomore (2017-18): ITA Scholar-Athlete
Logged overall marks of 7-3 in singles and 2-4 in doubles … Finished the spring at 2-0 in singles, with both matches coming in the season-opening Miami Spring Invite … Downed Ohio State's Andrea Ballinger, 6-0, 6-2, and defeated Vanderbilt's Lauren Gish, 6-2, 6-4 … Recorded a 2-1 ledger in spring doubles play, with each result in the Miami Spring Invite alongside Pamela Richter … Topped Vanderbilt's Gish and Payton Robinette on back-to-back days by scores of 6-3 and 6-4 … Registered a 5-3 record in fall singles competition … Went 2-1 in the Miami Fall Invite, opening her singles slate by beating Auburn's Mary Katherine Lewis, 6-4, 6-3, and Pittsburgh's Camila Moreno, 6-3, 6-2 … Went 2-1 at the Bedford Cup, winning the back draw of her flight against Bethune-Cookman's Alejandra Vidal, 6-2, 6-2 … Had a 1-2 mark at the ITA Southeast Regional Championships … Paired with Sharon Danquah in fall doubles play, finishing with an 0-3 record, all during the Miami Fall Invite.
As a Freshman (2016-17): Posted overall records of 9-8 in singles and 6-4 in doubles … Paced Miami in doubles winning percentages for overall matches (.600), spring matches (.600), dual matches (.556) and ACC matches (.511) … Also ranked second on the team dual match singles winning percentage (min. two wins, .500), tied for second in spring singles winning percentage (.545) and placed third in ACC doubles victories (four) … Went 6-4 in spring singles competition, including 5-4 in dual matches and 4-3 in ACC action … Topped ninth-ranked Vanderbilt's Payton Robinette at the Miami Spring Invite, 6-2, 6-4, for her first spring victory … Earned her first dual match triumph by winning 7-5, 6-2 against Jane Fennelly at No. 26 Notre Dame … At Florida Atlantic, beat Bianca Biglione, 4-6, 6-4, 1-0 (10-6) … Tallied a third consecutive win by taking down Louisville's Olivia Boesomg, 6-4, 6-1, for her first home dual match triumph … Picked up a 6-1, 6-2 win against Pittsburgh's Jovana Knezevic … Registered a 6-4 mark in spring doubles play, competing with three different partners … Notched her first-career doubles win, with Clara Tanielian, by defeating Payton Robinette/Georgia Sellyn, 6-2, of ninth-ranked Vanderbilt in the Miami Spring Invite … With Silvia Fuentes, logged a 6-3 win at Florida Atlantic versus Lyndsey Boos/Marisa Ruiz … Beat Louisville's Olivia Boesing/Jessie Paul, 6-3 … Playing with Sinead Lohan, recorded a 6-1 victory against Natsumi Okamoto/Amber Washington of Pittsburgh … Back with Fuentes, knocked off the duo of Shene Disbergen/Sansitha Nandakumar at Virginia Tech … Stormed past Camille Favero/Teodora Radosavljevic, 6-1, at No. 43 Virginia … Posted a 3-3 mark in fall singles competition … Went 1-2 at the Wolverine Invitational, beating Washington's Katarina Kopcalic, 6-4, 6-4, for the first win of her career … Tallied a 2-1 record at the ITA Southeast Regional Championships, reaching the Round of 32 … Did not play any doubles matches in the fall.
Prior to Miami: Graduated from Riviera Preparatory School … Earned three varsity letters there and three letters from seventh to ninth grade at Gulliver Preparatory School … Ranked as a four-star prospect by Tennis Recruiting Network, ending at No. 62 nationally, No. 20 in the Southeast and No. 11 in Florida in its Babolat Recruiting List … Won the first tennis state championship in school history as in 2016, earning the 1A singles title after concluding the year 21-0, without dropping a set … Was a 1A state runner-up in doubles the same year …  Also as a senior, earned Riviera Prep Athlete of the Year and team MVP honors, as well as Miami Herald All-Dade Player of the Year recognition … Finished fourth in the U-18 Florida State Championships in 2016, defeating a player ranked third nationally … Named a Miami Herald First Team All-Dade selection as both a senior and junior … Won her first of two consecutive district titles as a junior, en route to a 21-4 record … Helped Gulliver Prep to state titles as both an eighth and ninth grader in 2012 and 2013 … Two-year honor roll member and Mathematics Award recipient at Riviera Prep.
Personal: Full name is Sara Quigley Culbertson … Born Oct. 17, 1997 … Parents are William Culbertson and Paula Quigley … Father is an ophthalmologist at UHealth's Bascom Palmer Eye Institute and mother is a construction manager … Has a younger brother, Will … Intends to major in exercise physiology … Career goal is to be a professional tennis player or an emergency room doctor … Enjoys skiing, listening to music and going to the beach … Favorite athletes are Justine Henin, Simona Halep and Martina Navratilova because of their hard work, determination and style of play … Listens to the same two songs before every match … Chose Miami because it has been her dream to attend the school since she was six, the coaching staff's passion and intensity and the varied backgrounds and personality of the players … Committed to Miami over Army West Point, Denver, Emory, Navy and Wesleyan.
 SINGLES
YEAR
TOTAL
FALL
SPRING
DUAL
ACC
*RNK
2016-17
9-8
3-3
6-5
4-4
3-4
0-0
2017-18
7-3
5-3
2-0
0-0
0-0
0-0
CAREER
16-11
8-6
8-5
4-4
3-4
0-0
DOUBLES
YEAR
TOTAL
FALL
SPRING
DUAL
ACC
*RNK
2016-17
6-4
0-0
6-4
5-4
4-3
0-0
2017-18
2-4
0-3
2-1
0-0
0-0
0-0
CAREER
8-8
0-3
8-5
5-4
4-3
0-0
*RNK = record vs. ranked opponents