University of Miami Athletics
Santiago Nieto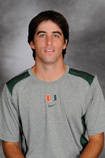 2011(Junior):
Fall: 8-4 singles, 4-3 doubles. Spring: 0-0 singles, 0-2 doubles. 
Went 0-2 in doubles play with Omar Aly versus a pair of duos from Top 25 teams… In the fall, compiled a team-best 8-4 record in singles and went 3-2 in doubles during tournament play… Won seven of his last nine and four of his last five singles matches… Advanced to the `B' semifinals at the Lakewood Ranch Clay Court Classic by winning three-straight matches in straight sets – defeating Lamar's Diego Snyder, 6-1, 6-0, Marquette's Jonathan Schwerin, 6-3, 6-3 and Texas A&M's John Lewis, 6-3, 6-1… After dropping his first match at the UM Invitational, rallied to his remaining three over Arkansas' Mike Nott, 6-3, 6-1, USF's Sebastian Hagn, 2-6,6-4, 10-6 and Florida State's Andres Bucaro, 6-4, 7-6 (7-5)… Went 3-1 in doubles play pairing with Christian Blöcker, winning three straight… Cruised past Florida State's Bucaro and Owen Long, 8-2, at the UM Invitational… Also defeated two duos at the Texas Invitational, downing Marquette's Schwerin and Dan Mamalat, 8-6, and UT-San Antonio's Kolby Kilgo and Jannick Junger, 8-5.
2009-10 (Sophomore):
Spring: 1-1 singles, 2-0 doubles. 
Saw limited action in the spring, going 1-1 in singles play… Cruised past Princeton's Coleman Crutchfield at the No. 6 position, 6-3, 6-2… Did not compete during tournament play in the fall.
Prior to Miami:
Played collegiate tennis for one season at nearby Florida Atlantic before joining his brother at Miami… As a freshman in 2008-09, compiled a 17-9 mark in singles competition, including 13 victories at the No. 6 position… Closed the season with six-straight wins… Also saw action at No. 5… Paired with Lawrence Harradine at the No. 3 spot, finishing 15-7 — including winning eight of their last 10 matches.
Prep:
Played for Mark Elman at LaSalle High School… Two-time state champion ('06 Division 4 and '08 Division 2).
Personal:
Son of Hector Nieto and Miriam Ruiz… Has one older brother, Hector, who played tennis for UM from 2006-10, and one sister, Maria… Named to the President's Honor Roll, Provost's Honor Roll, Dean's List, Athletic Director's Honor Roll (3.2 GPA or higher) and a UM Book Buster (3.0 GPA or higher).