University of Miami Athletics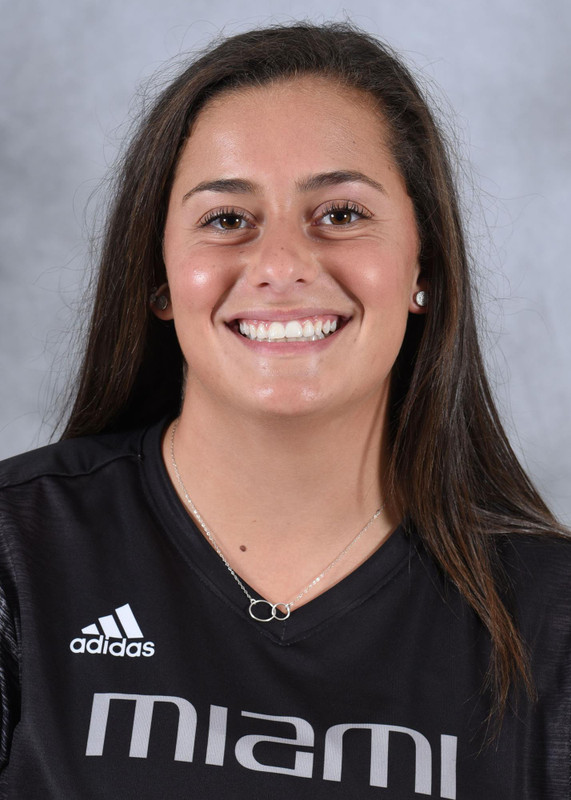 2018 (Redshirt Freshman): Saw action in 17 matches and made three starts … Logged 555 minutes on the season … Closed out the season with 14 shots and seven shots on target … Notched the match-winning goal against FIU (8/19), and placed both of her shots on target … Attempted three shots against UTRGV (8/30) and one shot on goal … Notched a shot on goal against UCF (9/2) … Made her first collegiate start and registered two shots on target at Stetson (9/9) … Earned her second start and directed a shot on target against eighth-ranked Boston College (10/13).
2017 (Freshman): Did not see any match action due to injury.
High School: Four-year starter at River Dell Regional High School … Listed as a three-star recruit by Top Drawer Soccer … Finished her high school career with 79 goals and 37 assists … Tallied 25 goals and 13 assists as a senior … Named NJ.com First Team All-State Group II, The Record First Team All-North Jersey, Bergen County Women's Coaches Association (BCWCA) First Team All-County and to the NJ Girls Soccer Coaches Association (NJGSCA) All-State North 1 Top 20 … Earned an NSCAA All-America nomination while aiding team to a 14-5-1 record and the school's first Bergen County Tournament semifinal appearance in a decade … Missed all but three matches of her junior season due to a broken leg … As both a freshman and sophomore, garnered The Record Second Team All-North Jersey accolades, BCWCA First Team All-County honors and NJGSCA NJ All-State North 1 Top 20 recognition … NJ.com First Team All-State Group II and NSCAA All-America nominee as a sophomore after posting 25 goals and 17 assists … NJ.com Second Team All-State Group III as a freshman, finishing with 24 goals and four assists in a 17-4-1 season … Bill Parcells also attended River Dell Regional … Competing for the New Jersey team, won a gold medal at the 2013 Maccabi Games.
Club: Played for World Class FC ECNL from U-14 through U-18 … Coached by Kazbek Tambi, the former U-17 U.S. Women's National Team head coach … Selected for ECNL Northeast Metro Player Development Programs in 2015, 2016 and 2017.
ODP: Participated in Region I ODP Camp in Rhode Island in 2013.
Personal: Full name is Rachel Jenna Sorkenn … Born Nov. 9, 1998 … Parents are Jonathan and Jodie Sorkenn … Father is a media trading/corporate barter executive and mother is a social worker … Has an older brother, David, and a twin sister, Alison … Brother played soccer at Wheaton College (Mass.) and sister plays soccer at Union College (N.Y.) … Majoring in sports administration … Favorite athlete is Lionel Messi because they play the same position and he is fun to watch … Best sports memory is scoring a brace to defeat nationally-ranked Immaculate Heart Academy in the Bergen County Tournament as a senior … Enjoys singing … Chose Miami, her dream school, because of the competitive conference, outstanding academics, coaching staff and beautiful weather.