University of Miami Athletics
Omar Aly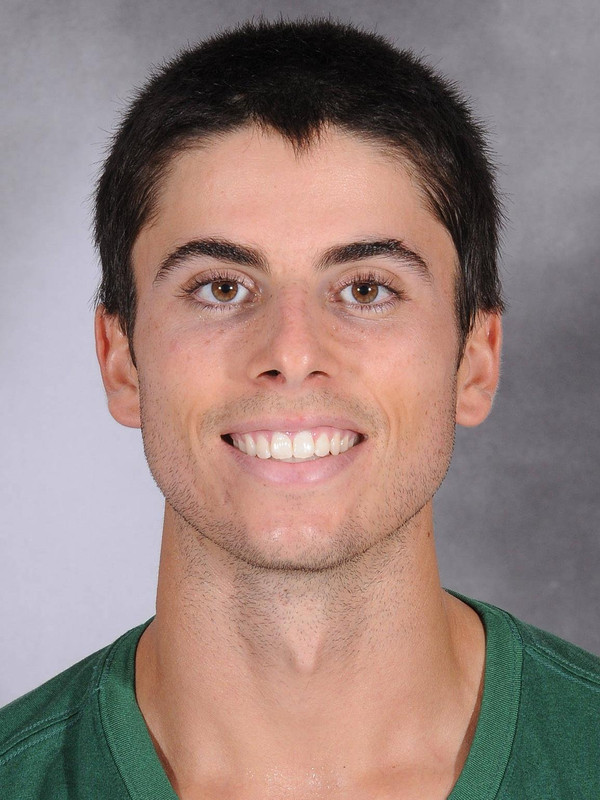 Photo Gallery
Rallying With Omar Aly 2014  |  Q & Ace interview with Omar Aly
All-ACC Men's Tennis Academic Team – 2014
ACC Honor Roll – 2010-11, 2012-13, 2013-14
Career (2010-14)
Posted 43-47 singles and 37-48 doubles marks in four years … Won career-best 17 singles matches as a senior, with just 11 losses … Was 9-9 as a junior, 11-21 as sophomore and 6-6 as a freshman … Posted 15-7 mark in doubles senior season after 10-13 as a junior, 6-19 sophomore season and 6-9 as a rookie.
As a Senior (2013-14)
Omar Aly 2012-13 match-by-match 

Fall: 3-4 singles, 4-3 doubles. Spring: 14-7 singles, 11-4 doubles. 
Nationally ranked as an individual as high as No. 66 by ITA … Completed the season with an overall 14-7 singles record and 5-4 mark in ACC play … In doubles, was 11-4 overall and 5-4 in league matches … Partnered with Wilfredo Gonzalez to finish with a 10-4 overall and 5-4 ACC doubles record out of the No. 1 position … Joined Danny Shebshayevich to post a 1-0 doubles record at the No. 3 position … Defeated No. 20 Romain Bogaerts (Wake Forest) and No. 25 Ronnie Schneider (UNC) in singles … Began season with four consecutive singles wins, then posted a seven-match winning streak mid-season … Finished the doubles regular season on a four-match winning streak, with wins over UNC, Notre Dame, Boston College and Florida State … Primarily played out of the No. 1 position but also competed out of the No. 2 slot four singles matches … Book Buster (3.0 spring semester GPA) … Athletic Director's Honor Roll (3.2 spring semester GPA) … Dean's List (3.5 spring semester GPA).
As a Junior (2012-13)
Omar Aly 2012-13 match-by-match 

Fall: 2-3 singles, 2-2 doubles. Spring: 7-6 singles, 8-11 doubles. 
Posted a 7-6 singles record while going 1-4 in ACC matches… Tied for first on team with eight doubles wins… Began the month of March with four consecutive singles wins over then-No. 58 Texas Tech, New Mexico, Florida Gulf Coast and then-No. 25 Clemson… Won a decisive court four singles match, 3-6, 6-2, 7-6, to clinch a 4-3 victory over then-No. 58 Minnesota… Began the season with William Albanese and Gabriel Flores at No.2 doubles but was later promoted to the top position with Wilfredo Gonzalez… He and Gonzalez earned a No. 66 ITA doubles ranking with in late March… The tandem posted an 8-3 victory over Florida State's 22nd-ranked duo Benjamin Lock and Andres Bucaro… Posted a 2-3 overall singles fall match record… Recorded a 2-2 overall doubles fall match record while partnering with Mark Schanerman… Defeated the overall No. 1 seed UCG doubles team to advance to the quarterfinals of the Bedford Cup.
As a Sophomore (2011-12)
Omar Aly 2012 match-by-match

Fall: 5-6 singles, 1-2 doubles. Spring: 6-15 singles, 5-17 doubles. 
Posted a 6-13 overall singlesdual match record with a 3-7 mark in ACC play … Earned five of his six wins in the No. 2 position and one in the third spot … Won five doubles matches, all with partner Wilfredo Gonzalez in the No. 1 position … Won three-straight individual matches over South Florida, UCF and North Florida in late February … In late January won a trio of doubles matches at the No. 1 position with Wilfredo Gonzalez against Florida Atlantic, No. 41 Wake Forest and No. 55 New Mexico … Defeated Federico Sabogal (6-4, 6-2) in Miami's 5-2 win over No. 56 South Florida.
As a Freshman (2010-11)
Fall: 6-6 singles, 1-3 doubles. Spring: 0-0 singles, 5-6 doubles. 
Compiled a 6-6 singles record during tournament play and a 6-10 doubles mark in his first season of collegiate tennis for the Hurricanes…Posted a 4-3 mark in doubles play with Keith Crowley, winning four-straight matches en route to a perfect 4-0 mark at No. 2 versus ACC competition… Battled for the 9-8 (9-7) win over No. 19 North Carolina's Brennan Boyajian and Cameron Ahari and cruised past No. 10 Duke's David Holland Chris Mengel, 8-4… After dropping his first two singles matches of the Fall, bounced back to win four straight at the UM Invitational in straight sets… Defeated Arkansas' Taj Harrison, 6-1, 6-4, USF's Jorge Suarez, 7-5, 6-3, Arkansas' Nicholas Spinazze, 6-2, 6-1 and Florida State's Owen Long 6-1, 6-3… Also won two of his last three matches of the season at the Lakewood Ranch Court Classic, beating Temple's Kacper Rams, 4-6, 6-2, 10-6 and Pepperdine's David Sofaer, 6-4, 6-4 to advance to the consolation semifinals… Paired with Carl Sundberg for lone doubles win of the fall over Arkansas' Mike Nott and Taj Harrison, 8-4, at the UM Invitational … AD Honor Roll (3.2 GPA/semester) … Book Buster (3.0 semester).
Prep 
Rated a five-star recruit by TennisRecruiting.net … Ranked second among prep players in his home state of Oklahoma and as high as No. 33 among all U.S. players in the Class of 2010… Trained at Rick Macci's Tennis Academy in Boca Raton…Posted a 23-14 record in 2010.
Personal  
Born April 11, 1992 … Son of Karen Bak and Aly Aly … Brother to Kareem and Safaa, who plays tennis at Amherst College …  Named to the Athletic Director's Honor Roll (3.2 GPA or higher) and a UM Book Buster (3.0 GPA or higher) … Majoring in economics with a minor in psychology.