University of Miami Athletics
Nile Clark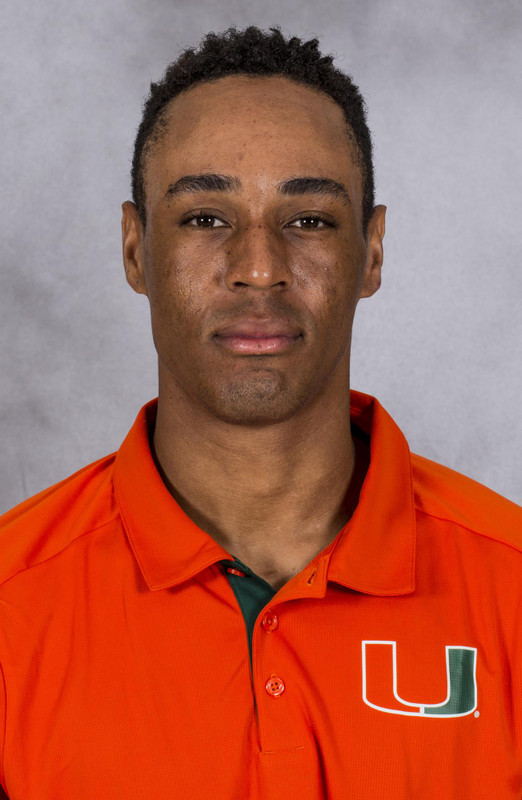 ACC Academic Honor Roll, 2016-17
As a Senior (2017-18)
Fall: 3-5 singles, 6-2 doubles … partnered with freshman Tatsuki Shimamoto to win the Doubles Gray draw at the Rice Invitational (Sept. 29-Oct. 1), topping Carlos Pedrosa Cuevas and William Mottet of Texas A&M-Corpus Christi, 8-5 … the pair reached the Bedford Cup quarterfinals (Oct. 5-8) … earned an opening-round doubles victory at the ITA Southeast Championships (Oct. 12-16).
Spring: 1-2 singles, 9-8 doubles … picked up the clinching victory against North Florida (May 12) in the opening round of the NCAA Team Championship – 6-2, 6-4 at No. 6 – for his first singles victory of the season … teamed up with freshman Pablo Aycart at the No. 2 position for first four doubles victories this spring, besting tandems from Georgia Southern (Feb. 2), FAU (Feb. 11), Bucknell (Feb. 11) and Charleston (Feb. 23) … led the lineup alongside fellow senior Christian Langmo for back-to-back victories in home doubleheader against William & Mary and Cleveland State (March 11) … Partnered Aycart to a key victory at the No. 3 position in Miami's memorable 4-3 win at three-time-reigning national champion Virginia (April 6) … Bested Boston College's No. 3 pair in a tiebreaker (April 15) for second ACC triumph of the season … picked up a 7-5 win over Dayton's No. 3 pair alongside Aycart in Miami's last home match of the season (April 22).   
As a Junior (2016-17)
Fall: 2-8 singles, 3-5 doubles … Reached the quarterfinals of the Georgia Tech Fall Invitational, defeating Vikram Chari (Vanderbilt), 6-4, 6-1 … Defeated Sam Swank (South Carolina) at the Bulldog Scramble … Was paired with Kevin Bondar for the Georgia Tech Fall Invitational reaching the consolation finals, after defeating Jake Bhangdia and Sunay Bhat (Furman).
Spring: 5-6 singles, 12-3 doubles … 2-5 singles, 3-3 doubles in ACC play … In singles, opened the season 3-0 in non-conference play, playing at the No. 5 position … Paired with Jesse Flores at the start of the season (Jan. 20), the duo defeated Andrei Crapcenco and Alex Roszkowski (St. John's) at the No. 3 position … In seven consecutive matches with Piotr Lomacki the duo remained perfect from Jan. 22 to March 17 …  In the opening nine completed matches, the pair only dropped one match from Jan. 22 to March 31 … The pair defeated Boston College's Derek Austin and Conor Mullins in the opening round victory of the ACC Championships (Apr. 26) … Duo defeated Duke's Jason Lapidus and Ryan Dickerson in the second round of the ACC Championship (Apr. 27) … Finished 11-3 with Piotr Lomacki (all at second position) and 1-0 with Jesse Flores.
Fall 2016: Book Buster Honor Roll (3.0+ GPA), Athletic Director Honor Roll  (3.2+ GPA)
As a Sophomore (2015-16)
Nile Clark 2015-16 match-by-match 
Fall: 4-12 singles, 5-5 doubles … Reached the consulation semifinals of the Bedford Cup but fell to Reece Acree (Central Florida) in three sets. Went 2-2 at the tournament … Defeated Nico De Fraia (Central Florida) at Florida Gulf Coast Invite … Was paired with Jesse Flores for the Ivy Plus Invitational they defeated duo Darragh Glavin and Zvonmir Pdovinski (Old Dominion) … At the Bedford Cup the duo defeated Loic Blanco and Cojlin MacNamara (Stetson) … Won three matches with Kevin Bondar to take home the Championship at Florida Gulf Coast Invite … Played in Round of 16 of the USTA Collegiate Clay Court Invitational, then fell to duo Gilherme Halich and Gabriel Sidney (Pepperdine).
Spring: 1-3 singles, 8-7 doubles … 0-2 singles, 3-6 doubles in ACC play … Won one singles match over Jack Riazzi (Davidson) … Paired with Kevin Bondar at the start of doubles career, the duo defeated Alexander Gitin and Zandrix Acob (Florida Atlantic) in the No. 3 position … In seven consecutive matches with Piotr Lomacki the duo was only defeated once from Jan. 16 to March 11 …  Broke into the ITA doubles rankings with Piotr Lomacki at No. 66 prior to the ACC Championships … Ranked No. 77 in final ITA polls … Duo defeated a pair of nationally-ranked opponents, in the No. 10 duo from Virginia and the No. 30 pair from North Carolina … Was 7-6 with Piotr Lomacki (all at second position), 1-0 with Kevin Bondar and 0-1 with Fermin Calvo.
As a Freshman (2014-15)
Nile Clark 2014-15 match-by-match
Fall: 9-9 singles, 5-11 doubles … Played in the Round of 32 at the USTA Clay Court Invitational … Won three-straight singles matches, then took runner-up at the Bedford Cup. 
Spring: 2-7 singles, 5-11 doubles … Posted a 2-7 mark in singles with a win at No. 4 and at No. 5, both of which were ACC opponents … Was 5-11 in doubles with four wins at the No. 3 spot and one at No. 2 … Three wins came with Alexander Fahnehjelm, one with Andrew Harrington and one with Christian Langmo … Won a pair of doubles matches with Fahnehjelm on March 10 against Valparaiso and Quinnipiac.
Juniors
Five-star recruit according to Tennis Recruiting Network … Attended Pennsylvania Cyber Charter School … Currently ranked as third-best player from Pennsylvania, 11th-best in the Middle Atlantic region, and No. 62 nationally … Winner of the 2011 USTA Boy's 16s doubles title at the National Open in Georgia and the USTA Boy's 16's doubles at the Regional Tournament in Coral Gables, Fla.
Personal
Born Nile Allen Clark on May 8, 1995 … Originally from Philadelphia, Pa. … Son of Vernon Clark and Jacqueline Phillips-Clark … Has one sister, Grier, who graduated from the University of Miami … Moved to Fort Lauderdale at age 13 … Majoring in business … Athletic role model is Jo-Wilfried Tsonga.