University of Miami Athletics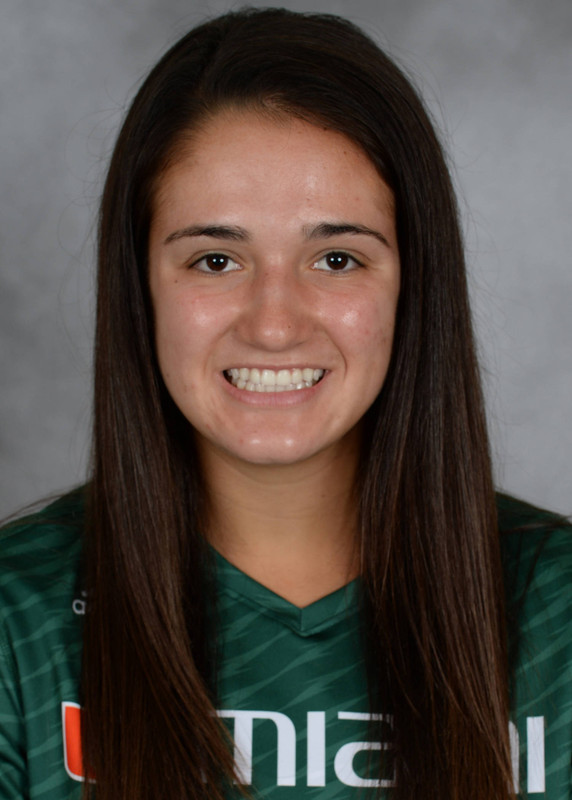 2017 (Junior): Played in 12 matches, notching three starts … Totaled 410 minutes of playing time … Saw 30-plus minutes of action five times, going the distance twice … Made her season debut in the opener versus St. Francis (PA) (8/18) … Registered her first start of the campaign at Yale (9/1) …  On the field for 36 minutes versus fifth-ranked North Carolina (10/5) … Facing her sister in the match against Boston College (10/8), saw 26 minutes of action … Started and played all 90 minutes in her home state versus Syracuse (10/11) … Went the distance at fourth-ranked Duke (10/15).
2016 (Sophomore): One of 10 Hurricanes to play in all 19 matches, earning the starting nod in all but one … Registered one assist, two shot attempts and one shot on goal … Tied for eighth on the team with 1,396 minutes of action … Went the distance in five matches … Played 80-plus minutes nine times and 60-plus on 15 occasions … Recorded one shot on goal in the season opener at North Florida (8/19) … Played all 90 minutes in the win at Stetson (8/21) … Went the distance in the home opener against Ohio State (8/26) and earned her first point of the season with an assist on Miami's match-tying goal in the 47th minute … Played all 90 minutes in the victory over second-ranked Virginia (9/22) … Went the distance in the shutout against Syracuse (9/25) … On the field for all 110 minutes in the ACC Championship quarterfinals at No. 14 Clemson (10/30).
2015 (Freshman): Played in 16 matches and started 11, including each of the final eight of the season … Finished fourth on the team with three assists … Logged two shot attempts … One of eight Hurricanes to log over 1,000 minutes played, ending the year with 1,044 … Played 55-plus minutes 13 times … Went the distance on four occasions, including in three of the final four matches … In conference play, tied for eighth in the ACC in assists (three) and tied for ninth in assists per game (0.30) … One of 13 players in the ACC to record multiple assists in a match … Made her college debut with 25 minutes of action against No. 14/10 Florida (8/27) … Received her first starting nod at Florida Atlantic (9/4) and played 74 minutes … Tallied her first-career shot attempt in the victory at Jacksonville (9/6) …Played the full match for the first time in the double overtime win over No. 14/4 Notre Dame (10/2), logging 106 minutes … Earned the first point of her career by assisting on the golden goal in the 109th minute of Miami's victory against NC State (10/11) … Registered her first-career multiple-point outing by tallying a pair of assists at Boston College (10/25).
High School: Earned three letters at St. Anthony's High School … Helped the team to an undefeated 18-0-1 record as a senior in 2014, en route to state and league championships … Recorded a pair of goals and nine assists, while earning team MVP honors … Tabbed as a Newsday First Team All-Long Island selection and an MSG Varsity First Team All-Metro pick … Nominated for New York Gatorade Player of the Year and played in the High School Soccer All-American Game in Raleigh, N.C. … Top Drawer Soccer All-Region and All-State All-Star Team selection … Also played varsity soccer as a sophomore and junior, winning state and league titles as a sophomore in 2012 … Graduated as a member of the Principal's Honor Roll and won the Gregoire Leadership Award … Notable St. Anthony's alumni in athletics include  New York Red Bulls assistant coach Chris Armas, Brooklyn Nets head coach Kenny Atkinson and Rob Scuderi of the Los Angeles Kings.
Club: Played for Farmingdale United from 2008-15 … Won the 2014 Regional I Premier League title … In 2012, won the Disney Soccer Showcase, CASL title and the NEWSS championship … Won the New York state title in 2008 and each year from 2010-14 … Played in the Rough Riders Women's League in the summer of 2015.
ODP: Member of the Eastern New York State Team, Region I Team and Interregional Team from 2009-12 … Won the Eastern New York regional title in 2012 and attended the national championships in Texas February 2013 … Played in an event in Germany in 2013, one in Costa Rica in 2012 and events in Boca Raton, Fla. in 2010, 2011 and 2012.
Personal: Full name is Niccola Marie Venezia … Name is pronounced Nih-COLE-Uh Vuh-NEE-Zee-Uh … Born March 7, 1997 … Parents are Michael and Donna Venezia … Father works in real estate and mother is an administrative assistant … Has a younger sister, Francesca, who plays soccer at Boston College … Majoring in health science … Favorite athlete is Carli Lloyd because she is a great, hard-working player and they play the same position … Best sports memory is winning the Region I Premier League championship in 2014 … Enjoys biking, running and traveling … Chose Miami because of the coach, conference, environment, academics and location … Committed to Miami over Boston College and Penn State.